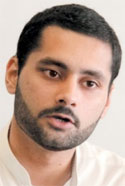 By Jibran Nasir
December 25, 2013
I plan to take my family out for dinner. I may call it a Christmas dinner and I don't think there is anything wrong in calling it that.
As Pakistanis, I think it is a great coincidence and blessing that today is also the birthday of our founder, Quaid-e-Azam, whose message wasn't far off from what Jesus Christ, taught us. Not only is there a religious connotation but a national association to this day for us to be united as one, spread the love and share the blessings with those less privileged.
Before anyone takes objection to the term "Jesus Christ" please note that there is also nothing unIslamic in calling him Jesus Christ as a Muslim.
Here is a little page out of history that can help those confused about whether to celebrate this day or not.
Argument One: December 25 Is Not Christ's Birthday
The name Jesus is of Latin origin which means "to rescue" and the word Christ is a Hebrew title meaning "the liberator". He was a sign of blessing, goodwill and mercy for the human race. His stature is high and he is revered by both Muslims and Christians. There is no specific date of celebration of the birthday of Hazrat Isa in the Bible.
Islam had not been revealed by then and so a reference could not be made to the Islamic calendar, in case you were wondering. Unaware of an actual date of birth, Hazrat Isa's birthday was celebrated during spring.
When the Roman Empire saw its emperor Constantine convert to Christianity, thereby becoming the first Christian Roman emperor, Roman tradition took stage. December 25, was originally the birthday of the pagan god Mithra (also referred to as the sun) which was the pagan god of light. With Constantine accepting Hazrat Isa as the Messiah (meaning saviour) he declared that Hazrat Isa was the true source of light and guidance, and hence December 25 would be observed as his date of birth and not of Mithra anymore.
This is not devil worship in disguise. Constantine didn't stop the people from celebrating wisdom, guidance and light, he just directed them to the right source of wisdom, guidance and light.
Argument Two: Christmas Has No Connection to Islam
Celebrating Christ's birthday or rather marking a day to celebrate his arrival on earth as a sign of Allah (swt) reaching out to mankind is as Islamic as celebrating the birth of any other Prophet. It is thanking God for continuing to be merciful to us despite our shortcomings. It is just like we take out one day in the year to celebrate Father's Day and Mother's Day and see nothing unIslamic in thanking our parents and treating them or being super nice to them for giving birth to us and taking care of us.
Hazrat Isa is also like a father to our forefathers who lived in the time before Prophet Muhammad (pbuh). Where there was no Holy Quran, no Kalima and guidance from Makkah or Madina, Allah/God guided us through Hazrat Isa from Bethlehem and Jerusalem, for the entire world belongs to God and so does every city and every creature in it. Hence, Christmas is primarily and foremost a day when we people, as Muslims and Christians, should come together as humans just to thank God for delivering to us (regardless through whatever means) his blessings, mercy and guidance.
Argument Three: How Would A Muslim Celebrate Christmas Anyway?
As a Muslim, you need not necessarily go to the Church, but just like you send a tirade of texts on Eid day, do remember that there is nothing wrong in wishing all your Christians friends and colleagues a Merry Christmas.
You don't have to bake a Christmas cake; you can also take Kheer or Sawaiyan to your friends regardless of whether they are Muslims or Christians. Encourage those who don't celebrate it to get in the spirit and humble themselves to the various gifts God has given us.
Let this be a father's, mother's, sister's and brother's day all combined in one. In fact, you should even go and buy special treats for your pets because we have been taught to love, care for and be sweet to every creature. Hazrat Isa taught us to love and be together, and who better to love and be together with than family and friends?
To many, today will be 'just another day', but to me today is a reason to be even more grateful to God for the blessings He has bestowed upon us and making sure that those around me are happy and feel loved.
After all, loving and caring for people is one of the best ways to say "thank you Allah (swt)/God".
Have a Merry Christmas everyone!
Source: http://blogs.tribune.com.pk/story/20265/i-am-a-muslim-that-celebrates-christmas-and-you-should-too/
URL: http://www.newageislam.com/islam-and-pluralism/jibran-nasir/i-am-a-muslim-that-celebrates-christmas-–-and-you-should-too/d/35008