By Ghulam Rasool Dehlvi, New Age Islam
December 11, 13
In Islam, the prime objective of visiting a grave is to do Tafakkur (spiritual contemplation) thinking of the death of the person in the grave and praying for the atonement of his sins, if any. However, if the person in the grave is someone who attained close relationship with God by virtue of his righteousness such as prophets (Ambiya), their companions (Sahaba) and other beloved friends of God (Auliya), a great deal of bliss and benefits are expected from visiting their shrines.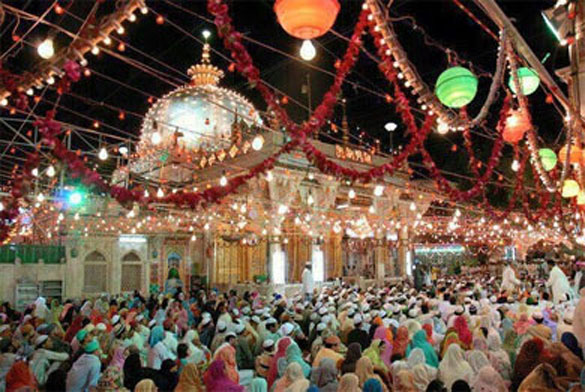 The friends of God or Auliya-e-Keram are also known as Sufi saints. It is a common knowledge that Sufi orders have deep roots in Indian sub-continent. A great number of Sufi Salasil (orders) mainly Chishtiyya, Naqshbandiyya, Quadriya and Suhrawardiyya emerged in India as harbingers of peace, love, social amity, communal harmony and interfaith synergy. Among them, the Chishti order has been the most influential and predominant and is still more popular in big cities as well as small villages of the Indian states. Khwaja Moinuddin Chisti, widely known as Hazrat Gharib Nawaz (r.a), was the pioneer of this order in India. Born in 536 A.H./1141 CE (in Sistan, a region of East Persia) Hazrat Moinuddin Chishti (r.a) came to India in 1193 A.D. Soon after he travelled to India, reportedly after he saw a dream in which the Prophet Muhammad PBUH recommended him to do so, he chose Ajmer (Rajasthan) as his permanent abode. Since then, Ajmer has been a famed Indian city and a great place of spiritual attraction, pilgrimage and tourism.
In Ajmer, Hazrat Moinuddin Chishti (r.a) formed his Khanqah (Sufi seminary) to reach out to the larger communities of the country, regardless of faith and creed, and offered selfless welfare services to them. Thus, he attracted a huge following from among non-Muslim residents of the city who, impressed by the nobility of his spirit, held him in high esteem. Epitomising the old-age harmonious Sufi traditions, he embraced the concept of Sulh-e-Kul (peace for all) to foster mutual love and compassion between Muslims and non-Muslims of India. It shows that Islam spread in India with these humanitarian efforts of holy Sufi saints, not with the present day extremist ideology of religious coercion and forced conversion propounded by Wahabis and other fanatic strains of Islamism. Of all Sufi orders which flourished in India, Chisti cult gained much momentum establishing its centers all across the country and attracting an unprecedented number of non-Muslim devotees particularly from among Hindus and Sikhs. For many of them, the shrine of Hazrat Moinuddin Chishti is an abode of spiritual solace as well as a destination of interfaith harmony.
All this was just hearsay to me until I myself visited the Dargah-e-Khwaja (Khawaja 'shrine) recently on an especial occasion celebrated in every Islamic month of Muharram. On reaching there, I was overwhelmed by inner peace and spiritual solace and pleasantly surprised to see devotees from all faiths flock to the shrine and roam altogether in and around the city of Ajmer. Along with Muslims, a large crowd of Hindus, Sikhs, Christians and Jains were walking shoulder to shoulder to get blessings from the tomb of the Sufi saint and enter the Jannati Darwaza (heavenly door) which was opened for the devotees on the occasion. This beautiful scene at Ajmer that goes on daily from early morning till late night is a sheer delight for everyone who hopes to see India's dream of interfaith harmony come true. The most impacting sight for me was that there were some Sufi lovers who were constantly on the lookout for any poor left hungry or any needy depressed for want of money. More importantly, they believed their Namaz (Islamic prayer) would not be acceptable to God unless they satiate the hunger and other needs of the poor in their neighbourhood. A great number of people particularly from Muslim, Hindu and Sikh faiths were seen generously contributing to the arrangement of Langar, a Sufi tradition to give food and money to the poor on a daily basis.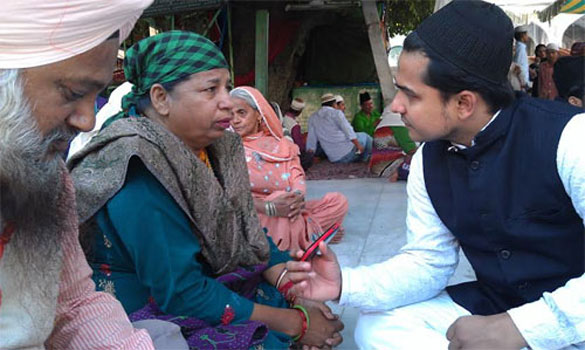 Mss Harvinder Kaur reflects on her deep association with the shrine
----------
Since I came across people from different faiths at the shrine, I took it as a grand opportunity to know about the visitors' perspectives on interfaith harmony with special reference to the Indian scenario. Speaking in Punjabi-accented English, a frequent lady visitor of the shrine and a principal of a convent English school at her town in Ludhiana, Punjab, Mss Harvinder Kaur reflects on her deep association with the shrine. She says, "I have been an avid devotee of Hazrat Khwaja (r.a) right from my childhood days, and was extremely delighted when I first visited the shrine 20 years ago. Since then, I regularly take 2-3 trips to Ajmer every year, especially when I feel inner spark to get the blessing of Khwaja's Darshan or Ziyarat (visit to the shrine)."
Her story of falling in spiritual love with Khwaja Gharib Nawaz (r.a) is quite different from many others. During her childhood days, she narrates; she was often blessed with the Ziyarat (sight) of Khwaja (r.a) in her dreams and, therefore, she would feel like visiting his shrine while waking up. "After I had the blessing of his Ziyarat, I was greatly wondered, being a Sikh, if I should offer pilgrimage to the shrine of a Muslim Sufi saint" She said. "I was particularly worried about the people of my community who did not seem comfortable with this idea. Nevertheless, inspired by my exuberantly increasing love for the saint, one day I set out for Ajmer and fulfilled my long-cherished wish", she added.
Initially, Kaur had to fight stiff opposition from both her family and community to the extent that she was socially boycotted and denied from preaching the Sufi doctrines she believed in. However, she avers, "Sufis' message of human affinity and brotherhood is infinite and boundless and, therefore, it spread in my family as well as locality soon after my Sikh husband helped me disseminate it by organizing Urs (spiritual programs on the Sufi teachings). Thank God, our Urs gradually became a big spiritual event in our locality with a huge following. Now, not only all my family members but also a lot many of my community brethren and sisters regularly attend the Urs of Khwaja Gharib Nawaz and the Fatiha ceremony of Ghaus ul Azam Abdul Quadir Jilani (r. a.) (Gyarahween Shareef) held annually at our town."
Last but not the least, she says in well-spirited words: "I can say with full conviction that all these Sufis are just agents and intercessors to help us draw closer to the one and only God."
Getting to see a regular Hindu visitor, Mr. Vikas Khanna, a Delhi-based telecom software engineer, was a great surprise to me. He drove his car all the way from Gurgaon (a metro city adjacent to Delhi) to Ajmer only for the attainment of the shrine's blessings. Accompanied by his wife, he was clad in Kurta pyjama with a skull cap (a cultural Muslim dress in India) wearing a Tika (a Hindu religious mark worn on the forehead). He does frequent tours to Ajmer shrine to build his cultural bonds with Muslims, he says. To his view, visiting Sufi shrines should not be associated with a particular religion; rather it should be treated as an uplifting experience of cultural and social affinity. "Although I don't understand the meaning of even a single Quranic verse being recited in Namaz (Islamic prayers), but listening to an Imam reciting the Quran melodiously at the shrine's mosque is a very soothing and soul-searching exercise which I do whenever I turn up here", he says.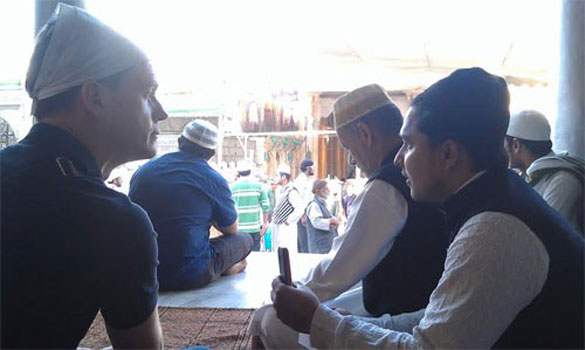 Protestant Christian research scholar Mr. Jacob
-----------
Luckily, I came across a Protestant Christian research scholar Mr. Jacob accompanied by Mr. Ajmal Chishti, a well-known Khadim (custodian) at the Dargah, who hails from Germany and is presently living in Mumbai for the accomplishment of his research related to the historic past of India. Deeply influenced by the Sufis' approach of God-consciousness, he is an avid reader of Sufi prose and poems. Considering himself as an Indian national, as he has been living in India for one and half year, he takes great pride in associating with the old-age Sufi spiritual heritage of the country. He says, "Although my country, Germany, embraces people from all faiths as well as their different places of worship, I have never come across such a great example of religious inclusiveness, social integration and tolerance as seen in the Sufi shrines of India."
Talking about the history of social integration in his own country, Germany, he says, "A hundred years ago, it was almost impossible to see marriages happen between Catholics and Protestants, but social values have changed a great deal in Germany and now even I have a sister married to a Muslim guy from Iran." A great number of Muslims in Germany, he elaborates, emigrated mainly from Turkey and Iran in the 70s and 80s and continue to live in complete peace and harmony with their non-Muslim counterparts. Citing an example of Turkish-origin German Muslims' efforts to foster social integration and religious harmony, he said that "recently over a thousand mosques welcomed a hundred thousand non-Muslim visitors, mostly Christians, in an annual event celebrating the social integration of Germany's four million Muslims".
We do see Islamophobia growing in Germany after 9/ 11, Jacob admits, but fears are of Islamists' extremism and fundamentalism not of the true version of Islam. "Unfortunately, the second- and third-generations of Muslims in Germany are likely to fall prey to the orthodox Islam that poses great threat to the norms of German inclusive culture and its Grundgesetz (basic law for the Federal Republic of Germany)" he warns.
Adding his observations to this serious point raised by the German scholar, Mr. Ajmal Chishti, a Khadim (custodian) at the Dargah remarked, "This orthodox and extremist interpretation of Islam is completely alien to the traditional Sufi Islam. Sufism, particularly Chishti order, embraces the spirit of tolerance and inclusiveness in both its precepts and practices". "This is precisely why Sufis, especially Hazrat Khwaja Gharib Nawaz (r.a) succeeded in the wide dissemination of true Islam, especially in South Asia, making it the second biggest religion in the world," he added.
Indeed, it is pressing need of the time to revive and rejuvenate the message of universal love and brotherhood, national unity, communal harmony, inclusiveness and tolerance exemplified by the glorious life and lofty teachings of Sufi saints like the chief of the Indian Sufis, Hazrat Khwaja Gharib Nawaz (r.a).
Ghulam Rasool Dehlvi is an Alim and Fazil (classical Islamic scholar) with a Sufi background. He has graduated from a leading Sufi Islamic seminary of India, Jamia Amjadia Rizvia (Mau, U.P.), acquired Diploma in Qur'anic Arabic from Al-Jamiat ul Islamia, Faizabad, U.P., and Certificate in Uloom ul Hadith from Al-Azhar Institute of Islamic Studies, Badaun, U.P. He has also graduated in Arabic (Hons) and is pursuing his M. A. in Comparative Religion from Jamia Millia Islamia, New Delhi.
URL: https://www.newageislam.com/islam-and-pluralism/ghulam-rasool-dehlvi,-new-age-islam/visiting-sufi-shrines-is-an-uplifting-experience-of-religious-harmony-and-social-amity,-say-the-hindu,-sikh-and-christian-visitors-at-ajmer-dargah/d/34798