By Jadaliyya Reports
02 September 2012
The total number of detainees is nearly 30,000. Those imprisoned do not know when they will be out, as they are often not given any trials or sentences, and if they are tried and sentenced, then they are not released when the sentence expires. This is the situation of most political prisoners." These are the words of more than five hundred Saudi women in a petition appealing for support to release their imprisoned relatives. Alkarama, a Swiss Non Governmental Organization (NGO) based in Geneva and whose work centers on the promotion and protection of human rights in the Arab World, received the petition on 23 July 2012. Arbitrary or illegal detention is a serious matter of concern regarding the human rights situation in Saudi Arabia.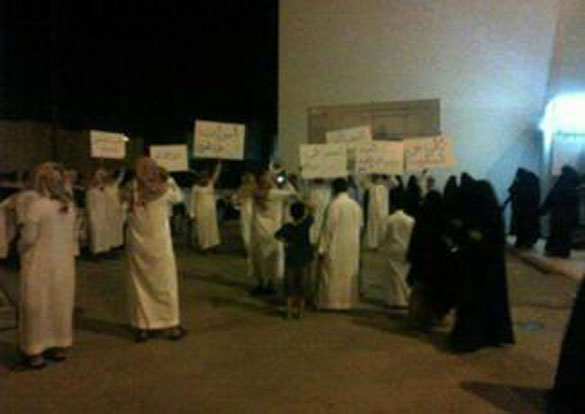 The ongoing events in al-Hayer Prison near Riyadh in Saudi Arabia highlight this dramatic situation. Families of detainees and human rights activists claim that a serious crackdown has been occurring against prisoners in al-Hayer for almost two months. Al-Hayer is a maximum-security detention facility and Saudi Arabia's largest prison. The complex includes facilities for both common criminals and security offenders, and reportedly houses a number of presumed terrorists as well as political prisoners. In September 2003, a major fire occurred at al-Hayer in which sixty-seven inmates died and at least twenty were injured.
Starting in July 2012, tensions were reported in the prison due to the unjust and poor conditions that the large number of individuals detained arbitrarily have to endure. On Friday 13 July, Mohammad Mosleh Al Shahri, who suffers from cancer, was refused medical treatment. This action led to a mass protest by detainees in Wing 3 of the New al-Hayer Prison, one of the recent extensions of the prison built in 2009. The attendant violent clashes between detainees and security forces quickly spread to other wings as guards failed to quell the protests and control the detainees. Families of detainees have since been prevented from visiting their relatives, with the near complete information blackout provoking deep fears and concerns amongst families and human rights organizations.
Faced with this total information blackout, the families wrote an urgent letter to the Saudi Arabian Bureau of Investigation and Prosecution (the governmental unit charged with investigating reports of wrongdoing) expressing their deep concerns. They eventually met an official who simply denied any wrongdoing was taking place. On 17 July, Saudi authorities issued a statement describing "minor incidents" in the prison, while other sources reported the death of two detainees and injury of several others. Unsatisfied by the Saudi authorities' response, the families sent a letter to the King and to the High Commissioner for Human Rights, demanding that their right to visit their relatives be reinstated. They also approached the Saudi Human Rights Commission (the national human rights institution) and the National Human Rights Society (an NGO close to the Government), to no avail. The public prosecutor even chased families out of his office, while both the Saudi Human Rights Commission and the National Human Rights Society deny anything of concern is happening at the infamous prison.
Denied access to the detainees, their families started gathering in protest in front of al-Hayer to obtain more information and to visit their relatives. They were dispersed violently. On 13 August, a group of detainees' families were called to the prison to "reason" with their detained relatives. Once at the prison, they were taken to what appeared to be an empty isolation wing. A prison official asked the brother of a detainee and other relatives to sign an "official document" that was not on letterhead, on which was simply written: "I visited my brother and tried to convince him to stop the rebellion and he refused." The families refused to sign the document despite threats from the prison officials, fearing it could justify their relatives' deaths at a later date. Other family members were contacted on 14 August and were also told they would be allowed to meet with their relatives. However, when a group of approximately one hundred fifty people turned up, only a smaller group of almost twenty people was allowed into the prison. Family members who were able to enter the prison were only shown pictures of their relatives and then asked to leave. The smaller group inside protested and was violently beaten and attacked with tear gas and non lethal weapons. Some were even arrested for a few hours. Then on 19 August, on Eid el Fitr—the religious festivity that marks the end of Ramadan—approximately one hundred family members tried to visit their relatives in prison to give them presents. Anti-riot forces precented them from entering the prison, using live ammunition for the frist time since the beginning of the events. No injuries or casualties have been reported.
It has been close to two months since families of detainees have been able to visit their relatives or even get information about their well-being. The situation has been accompanied by a near-total media blackout on the issue, both domestically and internationally. Concerns about the events inside the prison are only disseminated through social media by Saudi human rights defenders and Saudi associations of families. The violent crackdown on protesters in Qatif following the arrest of Sheikh Nimr al Nimr, which caused the death of two protesters and the ongoing events in al-Hayer raise serious concerns about the current human rights situation in Saudi Arabia. These events and the large number of reported cases of arbitrary detention raise concerns about Saudi Arabia's compliance with its international obligations in dealing with demands from political opponents and human rights activists. Rachid Mesli, head of the legal department of Alkarama points out that "these events raise questions on how the Saudi authorities will respond to the rising demands for increased political participation from its population and what the consequences of this type of repression will have for the rest of the region."
Given this alarming situation, Alkarama calls on the Saudi authorities to provide information on what is happening in al-Hayer prison and to ensure families have access to their relatives. Saudi Arabia should furthermore end all arbitrary detention and either try or release all those currently detained without any legal proceedings in order to comply with its international obligations.
The article was originally published on Jadaliyya's website:
Source: http://www.jadaliyya.com/pages/index/7135/serious-crackdown-on-saudi-detainees-and-their-fam
URL: https://www.newageislam.com/islam-and-human-rights/jadaliyya-reports/serious-crackdown-on-saudi-detainees-and-their-families-in-al-hayer-prison/d/9707