By G.E
Sep 23rd 2014
AFTER a two-day trial last week, Ilham Tohti, a scholar who has spoken critically of China's policies toward people of his Uighur ethnicity, was sentenced on September 23rd to life in prison for separatism. The ruling by a court in Urumqi, the capital of his native region of Xinjiang, was harsher than many had expected but in line with a recent trend of repression of activists in China. Mr Tohti (pictured above) is an economist who had been teaching at Minzu University in Beijing. He has long been considered a moderate voice for Uyghurs, a Turkic-speaking mostly Muslim minority, many of whom feel economically disadvantaged by China's ethnic policies.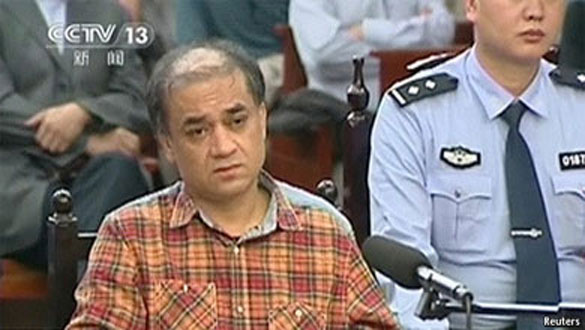 Ilham Tohti in court
-------
Though he has always advocated nonviolence and says he opposes separatism, Mr Tohti appears to be paying a price for a series of episodes of violent unrest involving Uyghurs. These include acts of terrorism both in Xinjiang and in other parts of China that, although crude in nature, are said by the government to be part of an increasingly organised separatist movement with links to jihadists outside China. In May, after a deadly attack on a market in Urumqi using explosives, authorities in Xinjiang declared a "people's war" on terrorism.
The Intermediate People's Court of Urumqi ruled that Mr Tohti had "bewitched and coerced young ethnic students" into writing separatist tracts for Uighur Online, a website he founded in 2006, according to Xinhua, an official news service. Xinhua said the court had found that Mr Tohti had "encouraged his fellow Uyghurs to use violence".
Mr Tohti has said he rejects violence and that he merely wants better treatment for Uyghurs and more autonomy for Xinjiang (which is officially named as a "Uighur autonomous region"). The Chinese government has invested heavily in Xinjiang, including in infrastructure and oil and gas extraction. But critics note that many of the best jobs for these projects have gone to ethnic Han Chinese. Meanwhile the government has intensified its controls on religious activity in Xinjiang. In July the region experienced more violence at the end of the holy month of Ramadan.
The imprisonment of Mr Tohti, and the confiscation of all his assets, have come amid a broader crackdown on activists, intellectuals and lawyers since Xi Jinping became China's leader in late 2012. Though few outside China had heard of Mr Tohti, and even fewer would have viewed Mr Tohti as much of a threat to Communist Party rule, his sentencing will almost certainly make him an enduring international symbol for human rights activists. Another intellectual sentenced to a lengthy prison term, Liu Xiaobo, was awarded the Nobel Peace Prize in 2010. Wang Lixiong, a dissident writer, tweeted after Mr Tohti's sentencing (here, in Chinese) that the authorities had made him a "Uighur Mandela".
Mr Tohti himself had long expected this day to come. In the video interview below, conducted in November 2009, he talks of being prepared for a long term in prison, or even a death sentence. "That just might be the price our people have to pay," he says. "Though I may have to go, perhaps that will draw more attention to the plight of our people. People will think more about it and perhaps more people will know about me."
Source: http://www.economist.com/blogs/analects/2014/09/uighur-scholar-ilham-tohti-sentenced
URL: https://www.newageislam.com/islam-and-human-rights/ge/uighur-scholar-ilham-tohti--a-moderate-silenced/d/99238