By Ambassador Muhamed Sacirbey
June 18, 2014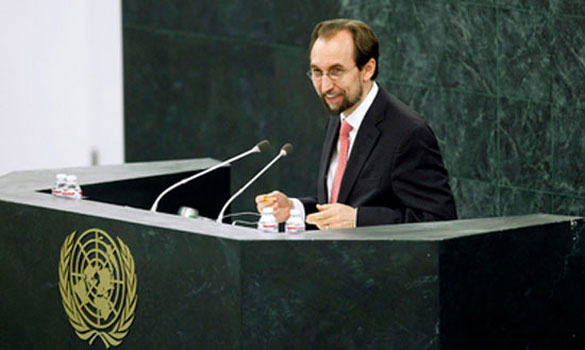 "Islamists" as a presumably monolithic term are frequently cited for terror, but Muslims are also the most numerous victims of human rights abuses by other Muslims and non-Muslims. The challenge for both Muslims and the international community is to counter the hijacking of the Muslim identity by extremists and also to respond to the victimization of all, including Muslims who are targeted by bigotry as well co-coreligionists. The emergence of Prince Zeid Ra'ad Zeid Al-Hussein of Jordan as the new United Nations High Commissioner for Human Rights may help address both the abuses by and of Muslims, or at least deliver remedies beyond the stereotypes. The impact in substance as well as symbolism though may go well beyond the current expectations, based upon my collaborations and friendship with one of the more capable, experienced, courageous and humble diplomats who have served over the last 20+ years.
Srebrenica Inquiry: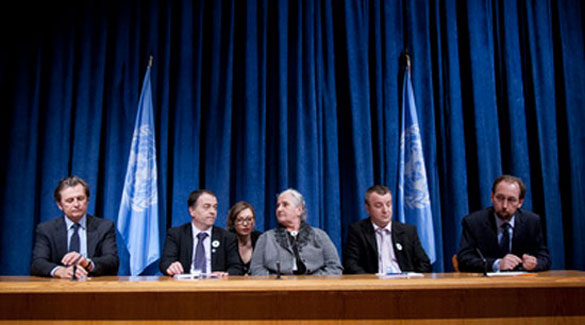 Prince Zeid served with the UN force in the former Yugoslavia (UNPROFOR). He was there when Srebrenica was betrayed with the genocide inflicted upon the local population and the lasting blow to the UN's image and fortitude (now still felt from Syria and Myanmar to Sudan and the Central African Republic.) In the late 1990's as the youthful Ambassador of Jordan to the UN, he joined human rights advocate Bianca Jagger, Ambassador Danilo Turk (subsequent President of Slovenia) and me in compelling a UN inquest and report on the causes for the failures in Srebrenica. Despite opposition from UN Security Council (UNSC) powers, we managed to gain a vote from the UN General Assembly demanding such a report.
Establishing the International Criminal Court:
Prince Zeid and I were among the original signatories to the Rome Statute, having spent several months establishing the institutional and legal foundation for the International Criminal Court, (ICC). We worked together to insure that sexual violence in conflict and gender based crimes were addressed fully within the Rome Statute and by the future court. Prince Zeid continued to assume significant responsibilities within the Assembly of State Parties of the ICC and led the discussions/committee to define the Crime of Aggression as an ICC offense, something that the veto wielding powers of the UNSC were not eager to yield. (Prince Zeid has also led the Consultative Committee for UNIFEM, the UN's primary Female empowerment institution,)
"Blue Helmet" as Halo?
Wearing a "blue helmet" of UN mandated peacekeeper is not equivalent to a halo. Failures in action may also be aggravated by misdeeds of those presumably serving to further peace. Prince Zeid, tasked with investigating and delivering a report that looked inward, documented substantial sexual abuses by those serving under the UN flag, particularly violations inflicted upon children.
"Too Muslim or Too Western"!
Prince Zeid was also put forward as a candidate for UN Secretary General almost a decade earlier when the current UNSG Ban Ki-moon was elected for his first term. In rationale that defines today's unfortunate conventional thinking, Prince Zeid was deemed to be too Muslim for the West, and too "Western" for many Muslims. (Prince Zeid's family and educational background reflects European, American, and Arab roots and experience -- his wife is American-born Sarah Butler who also served within the UN family during her early career.)
Elected to the UNSC to replace a withdrawing Saudi Arabia for this term, Prince Zeid has also been one of the Council's more ardent critics calling for a more representative as well as effective body in meeting its obligations to maintain international peace and security and the rule of law, even amongst its members. Prince Zeid has sought to have Syria referred to the ICC, addressing the trend toward impunity, both in the Assad Regime and some of the Opposition. He spoke with precision as well as principle on the violation of international law with Moscow's interference and troops in Ukraine. (Not certain how he got past the Kremlin's veto to gain nomination before he was overwhelmingly elected by the UN General Assembly for the highest post at the UN addressing human rights.)
Altering the Symbolism & Beyond Shallowness + Dangers of Identity Politics:
Global politics has too long been fashioned by the shallowness and confrontations of identity politics. (Prince Zeid's family carries its roots to the royal family of Iraq and Syria as well as Jordan at time when extremism and divisiveness threatens the whole region and beyond.) Prince Zeid's identity as a Muslim is more relevant symbolically at a time when religion consumes as well as inspires. The whole globe needs new role models who can at first impression reflect inclusiveness and act beyond the veneer. His commitment to the Rule of Law and experience with the ICC will give greater substance to words that need action to defend human rights. It is not only about religious persecution/conflict. The age of inclusiveness needs to be translated across ethnic, racial, cultural, age demographics, gender and gender/sexual orientation delineations.
Policy needs to be at least in part defined by human rights standards. Strategy is not about options of military tactics but also a vision beyond. We are interconnected by flows of information, resources, economic well being, and environment/bio-diversity and shared values. While most states give rhetoric and have signed the relevant treaties and/or conventions, the national laws, from China or the US or states purportedly applying Sharia need to reflect adherence in practice. While certain in the responsibility to defend and enhance human rights regardless of threat, perpetrator or victim, we all must be open-minded how to achieve and even extend protections. And, all of this would be most effective with steadfastness not reflected in arrogance but the unprecedented stature of a practitioner, diplomatic skill, and striking humility of someone I always called "His Highness" even as he insisted that his friends and acquaintances call him Zeid.
UN PHOTO/Paulo Filgueiras: General Assembly Approves Appointment of Prince Zeid as New Human Rights Commissioner, 16 June, 2014
UN Photo/JC Mcllwaine: Press Conference for Mothers of Srebrenica
Prince Zeid (far right), Munira Subasic (centre, at podium), President of Mothers of Srebrenica, flanked by Murat Tahirovic (left) & Nikola Findrik of Association of Witnesses & Survivors of Genocide. Briefing sponsored by Prince Zeid & Christian Wenaweser (left), Permanent Representative of the Principality of Liechtenstein to UN.
Source: http://www.huffingtonpost.com/ambassador-muhamed-sacirbey/can-muslim-un-human-right_b_5507782.html?utm_hp_ref=world&ir=WorldPost
URL: https://www.newageislam.com/islam-and-human-rights/ambassador-muhamed-sacirbey/can-muslim-un-human-rights-chief-save-humanity-from-itself?/d/97658