By Shamik Bag
June 14 2014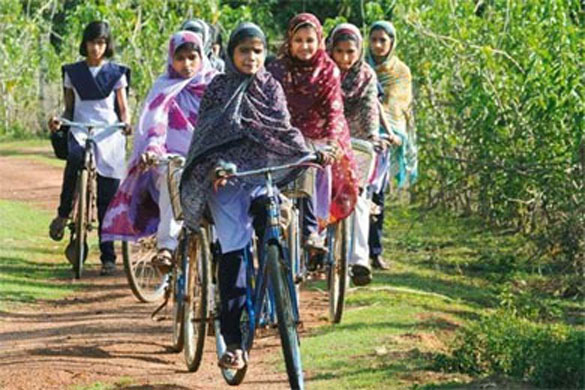 Girls cycle to the Bogdahara Sidikiya High Madrasah in Bankura district, West Bengal. Photographs by Indranil Bhowmik
------------
"None of the Hindu children should feel insecure, that's a strict message we give out to any new class," says Abu Layes Siddique, teacher of Arabic at the Bogdahara Sidikiya High Madrasah in West Bengal's Bankura district. It's a complete contrast to the long-prevailing discourse on Muslim insecurity in the country.
"If our Hindu students suffer from the anxiety of being a minority here, we wouldn't be able to produce students like Mou Haldar," contends the bearded Siddique, who wears a white skull cap.
Fifteen-year-old Haldar, a Hindu girl from the remote, forest-surrounded Jiabandi village in Bankura, stood sixth in the class X results of the West Bengal Board of Madrasah Education (WBBME) last month. She was the topper in her madrasa and is one of 74 Hindu students among the 1,681 students at the Bogdahara Sidikiya High Madrasah—the rest are Muslims.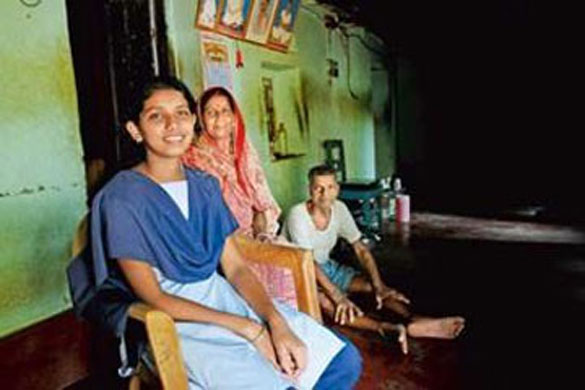 Mou Haldar with her family at their home in Jiabandi village, Bankura
-----------
This high madrasa isn't an aberration—nearly 10% of Bengal's 500,000-strong high madrasa student community is Hindu and there are at least five madrasas where Hindus outnumber Muslim students, according to the WBBME. Nor is Haldar's stellar performance an exception: Usually every year, at least one Hindu student features among the top 20 in the class X madrasa examination, which includes general subjects like mathematics, history, geography, English, Bengali, physical and life sciences, as well as Arabic and Islam Parichay.
"Learning Arabic is enjoyable," says Haldar. "It's like learning any other language in school. Globally, Arabic is widely spoken too," she says. Haldar scored 75% and 90% in Arabic and Islam Parichay, respectively—the two subjects that distinguish the madrasa syllabus from the general secondary education syllabus in West Bengal.
We are at her maternal grandparents' home in Jiabandi, where she stays. Her uncles too studied at the same madrasa for a few years; there is still no other secondary school. Her parents live in a village 30km away where Haldar's father, Debendranath, is a small-time farmer whose earnings rarely cross Rs.4,000 a month—hardly enough, says elder uncle Lalu Kar, to support a family that includes two other children. Her father studied till class X; Haldar wants to be a doctor.
Kar is a small-time electrical contractor while the younger maternal uncle, Sudarshan, was an agent with two chit fund companies, both of which collapsed following last year's Saradha scam in West Bengal.
Haldar, who won a national scholarship earlier for being a meritorious student, scored 719 out of 800, marks that are good enough to assure her a science education at the higher secondary level. "My madrasa teachers want me to continue studying in the science stream there. But I'm wondering if I should apply to a college elsewhere," she says.
When the West Bengal Board of Madrasa Education Act, 1994, came into force, giving statutory powers to the Board of Madrasa Education, the state became the "first in India to formalize the secularization of madrasa education", with the syllabus mirroring that of the West Bengal Board of Secondary Education. With high madrasa education being treated on a par with general education, non-Muslim students began joining in greater numbers. According to WBBME secretary Syed Nurus Salam, almost 10% of West Bengal's 512 high madrasas have Hindu headmasters; about 18% of all teachers are Hindu, while Hindu students like Haldar and her schoolmate Ruby Sarkar have been front-rankers over the years.
"Given that even our textbooks are common with general secondary education, sometimes we are criticized for having given up the traditional madrasa identity," says the secretary. "But we are lucky because people here aren't particularly dogmatic and there is a legacy of modern education. Besides, those wanting to pursue Muslim theological studies can enrol in the senior madrasas and appear for Aalim and Fazil examinations, at class X and class XII, respectively." High madrasas offer a more general education, while senior madrasas focus more on religion and theology.
Modernizing Madrasas
Three months ago, the response to a right to information (RTI) application filed by a Moradabad-based RTI activist revealed that certificates issued to madrasa students by five states—Madhya Pradesh, Bihar, Chhattisgarh, Uttar Pradesh and West Bengal—are considered equivalent to those issued by the Central Board of Secondary Education (CBSE). "I was informed that the process started in November 2013," says Saleem Baig, the RTI activist, on phone. Baig is sceptical: He thinks the recognition to madrasa students is merely "a pre-election lollypop given to states with high Muslim population", and plans to file a second RTI application soon to find out more.
Nevertheless, it's worth noting that at least some states have formalized madrasa education boards which have merited recognition. These boards are funded by the state government, which has a say in their syllabus, teacher selection and pay.
Countless smaller madrasas, however, continue to operate independently. Like most states, West Bengal too has seen the growth of thousands of Kharijee madrasas—unrecognized, unaffiliated and informal centres of Muslim religious education funded through charitable donations (Zakat).
And West Bengal too has come in for criticism for its inability to ensure the all-round development of the community.
The point was made in the 2006 report of the Sachar Committee, which was set up to assess the socio-economic and educational status of the Muslim community. Last month, another report revealed that only 0.4% of the surveyed Muslim community in Bengal "has access to socially preferred professions like medical, legal or engineering". This was based on a survey conducted jointly by several social organizations, including Nobel laureate Amartya Sen.'s Pratichi Trust, which works on creating greater equity and efficiency in the education and health sectors.
On 9 June, President Pranab Mukherjee's address to Parliament mentioned that the government would initiate a National Madrasa Modernization Programme.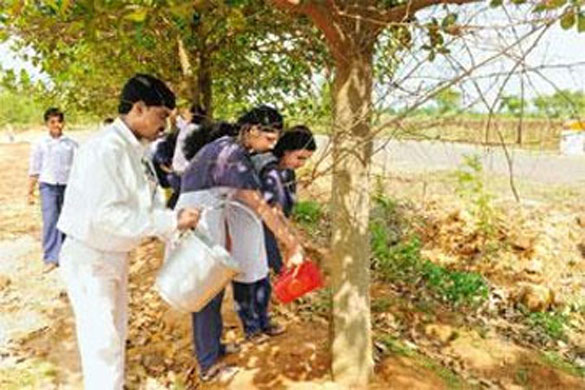 Students watering plants on the school premises
------------
India has a long way to go before it "modernizes" madrasa education, says Ajaz Ahmad of the Uttar Pradesh-based Islamic Madrasa Modernization Teachers Association. The UPA government's 2009 idea of developing a Central Madrasa Board to, among other things, introduce uniformity in standards for the non-theological aspects of madrasa education remained a non-starter.
Ahmad led deputations to former Prime Minister Manmohan Singh and UPA chairperson Sonia Gandhi seeking better implementation of Union government proposals like the Scheme for Providing Quality Education in Madrasas (SPQEM). This envisages teaching subjects like science, mathematics, language and social studies, among others, with teachers getting an honorarium, and science and computer labs being provided at the secondary and higher secondary stage in madrasas, according to the Union ministry of human resource development website.
"While such schemes are good on paper, they become ineffective if teachers don't get paid properly. Madrasas don't have enough to fund both religious and modern education. We are for modern general and technical education in madrasas but systems should be in place," complains Ahmad. He is critical of Bengal's "partial modernization" of madrasas but praises Kerala which, even without a formal board, has seen individual madrasas forging associations with colleges and universities and stressing on technical education.
In Mumbai, the bustling cosmopolitan capital of Maharashtra, Rama Shyam, a former assistant professor at the Tata Institute of Social Sciences, is "struggling" to introduce non-religious studies at a madrasa in Jogeshwari. As the co-founder of Saher (Society for Awareness, Harmony and Equal Rights), a cross-community, peace-building organization that came up after riots in Mumbai in 1997, she knows she is up against the odds.
"Though the minority community's sense of insecurity is not unfounded, we try impressing the clergy on the need for livelihood skills and a child's right to knowledge outside of solely religious education. We also understand that revamping the curriculum by introducing general subjects might not work with the clergy for whom madrasas are seats of power," says Shyam.
The Maharashtra government's "half-hearted attempt" to include general subjects in the madrasa curriculum a few years back has been stonewalled, she says. "Unlike in Bengal, which has pioneered model madrasas where non-religious studies also take place, it is difficult to replicate the same in states like Maharashtra where there is a history of religious polarization. Madrasas have seen complete segregation and you will rarely find Hindu students enrolling other than in Bengal," Shyam says.
Seeking knowledge
Visitors to the Bogdahara Sidikiya High Madrasah in Bengal's Bankura district are greeted by panels of quotations painted on the campus' outer boundary walls.
One highlights the Prophet Muhammad's saying ("Seek knowledge even if you have to go to distant China"); the other quotes Hindu ascetic Swami Vivekananda ("Education is the manifestation of perfection already in Man"). Another quote, of Napoleon Bonaparte, leads one to the austere office of the headmaster, Mirajul Islam, where the only visible Islamic iconography is on a calendar half-covered by a polythene bag hanging there. Another calendar features mug shots of Bengal's greatest: Sri Aurobindo, Kazi Nazr ul Islam, Rabindranath Tagore, Raja Rammohun Roy, Ramakrishna Paramahamsa and Swami Vivekananda.
A sheet on the headmaster's table lists the holidays in 2014— an 18-day break during Ramzan, eight days off for Durga Puja and three for Kali Puja, among other festivals.
A midday meal at the Bogdhara Sidikiya High Madrasah, Bankura
------------
As classes break noisily for the midday meal, the headmaster talks of how the madrasa does not discriminate, the availability of Hindu texts like the Bhagavad Gita and Mahabharata in the school library, and the original tenet and definition of madrasas as centres of learning that welcomed all.
In her book, Reading With Allah: Madrasas In West Bengal (Routledge, 2010), Nilanjana Gupta, author and professor of English at Jadavpur University, dwells on the evolution of the madrasa in India. Beginning from the pre-modern and early modern periods, madrasas, like Hindu Pathshalas, imparted education to suit religious structures or feed administrative and judicial systems in traditional Indian society. "However, these religious boundaries were not rigid. Hindu students would also join the madrasas, especially if they were keen on becoming administrators or judicial officers. The notion of madrasas as centres of religion-centred education had not yet evolved," she writes.
After the British introduced the Western form of education that supported the then upcoming administrative structures of the expanding regime, the madrasas began to be sidelined. While Hindus took to Western-style schools, for "political and religious reasons", most Muslims stayed away, leading to their marginalization from government jobs. In 1886-87, Muslims in Bengal held only 8.5% of the executive and judicial positions though they formed 31.2% of the population, Gupta's book says.
However, the British did leave a legacy behind in Bengal's madrasa system. When the first British governor general, Warren Hastings, established the Madrasah-i-Aliah or Calcutta Madrasa in 1780, it was the first such formal educational institution in South Asia, predating the Calcutta, Bombay and Madras Universities by 77 years. It was the first time, in fact, that general subjects were being taught at a madrasa. "The madrasa board and secular education in India came together. Even back then, the Calcutta Madrasa had a course in medicine," says Salam.
The central Kolkata area of Rafi Ahmed Kidwai Road and Haji Mohd Mohsin Square, where the WBBME has its office, is home to the city's Muslim intellectual past and present. It has the West Bengal Urdu Academy, Maulana Azad College and Muslim Institute situated in close proximity to the 234-year-old, Doric- and Ionic-columned magnificent heritage structure of the Hastings-founded Calcutta Madrasa. The Madrasa would go on to become the Calcutta Madrasa College and in 2007, by an Act passed in the West Bengal legislative assembly, Aliah University.
The shift to modern university education wasn't without controversy. "Some saw the move as an attack on specifically Muslim culture, though the authorities insist it is an attempt to build upon Islamic traditions of scholarship in preparing young Muslim men and women to cope with the evolution of technology and knowledge-systems," noted authors Jeremy Seabrook and Imran Ahmed Siddiqui in People Without History: India's Muslim Ghettos (Navayana, 2011).
Today, Aliah University, with colleges spread across the city, is a much sought after academic destination for madrasa students, offering utilitarian master's degree courses in mathematics and computing, physics, chemistry, English, computer science, journalism and mass communication, and business administration, other than Arabic and Islamic theology.
Yet, as a measure of the many contradictions facing Muslim society in West Bengal, Muslim squatter families line the boundary railings of the university's head office at Haji Mohd Mohsin Square.
A Cross-Stitch Of Cultures
Back at the Bogdahara Siddiquiya High Madrasa, we discuss the Bengali syllabus with the subject's teacher and assistant headmaster, Jinnat Ali Khan. Earlier, at the teachers' room fragrant with the light waft of attar, history teacher Asaf Ali Mallick had suggested the syllabus be tweaked to include the Maurya and Gupta periods.
Littérateurs have no caste or religion, says Khan during our discussion. The works of Bengali writers like Mahashweta Devi, Manik Bandopadhyay or the Bangladeshi author Abul Fazal have been chosen as texts to advocate secular values and counter dogma. While talking about Fazal's essay, Manabtantra, and the symbolism of the tulsi (holy basil) plant left behind by a Hindu family fleeing from East Bengal following Partition, Khan brings up a personal anecdote.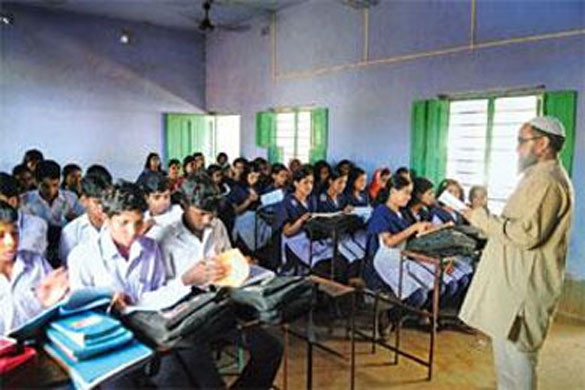 A class in progress
----------
At his maternal home near Bogdahara in Birbhum, a carved Hindu idol was discovered while a pond was being dug. "We were Hindus forced to convert to Islam for a variety of reasons, especially the discrimination faced from upper-caste Hindus. My interpretation of the Bengali syllabus would be as a cross-stitch of cultures and interlinked faith."
Having returned from the madrasa, Haldar offers prayers in front of an image of Thakur Anukulchandra, the late 19th century Hindu guru. The Kars are disciples. They are strict vegetarians; Haldar renounces the occasional egg offered as part of the Madrasa's midday meal.
She then leaves for mathematics tuition. Sudarshan will ferry her on his bike across the elephant-visiting forest tracts to the tuition centre and wait till the class ends.
Outside the Kar home, Haldar's Hindu classmate at the madrasa, Piu Rani Saha, is waiting to guide us to her grandfather, Aditya Saha. His was the only Hindu name I noticed earlier on the Bogdahara Madrasa's roster of high officials—he has been both secretary and president.
Now the 76-year-old runs a rice mill. Saha, who was a Communist Party of India—Marxist, or CPM, worker, arranged for the land and looked after the logistics when the madrasa came up in the Muslim-majority village of Bogdahara in 1978.
Two years back, Saha was instrumental in establishing a junior high school in his Jiabandi village. The school accepts general students till class VIII; the madrasa has lost some students to it. "I have managed to get teachers from Kolkata for the new school," says the septuagenarian, his voice frail but firm in tone. "It's about the education of children."
Source: http://www.livemint.com/Leisure/3IBDqNkSr4Py8O3uJW2VuI/Education--Class-act.html?utm_source=copy
URL: https://www.newageislam.com/interfaith-dialogue/shamik-bag/class-act--can-west-bengal-be-a-model-for-reform-in-madrasa-education/d/100415