By Shaik Kadir
12 April 2013
It is saddening to read about clashes between Christians and Muslims in other parts of the world, with the latest being in Egypt.
There was also violence between the Buddhists and the minority Muslims in Myanmar, with Muslims being killed and chased out of their homes and businesses.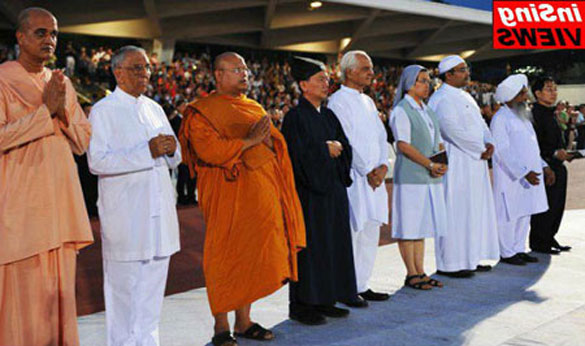 Faith leaders from the Inter-Religious Organisation in Singapore lead a silent prayer during a ceremony to celebrate the 46th anniversary of Buddhist charity Tzu Chi Foundation in May 2012 (Photo: Inter-Religious Organisation Singapore Facebook group / Benjamin Plk)
-------
News like these serve to remind us how important it is to maintain peace and tolerance in a multi-religion society like Singapore.
Last weekend, the Islamic Religious Council of Singapore (Muis) launched a series of interfaith seminars, titled 'Building Bridges', at the Singapore Islamic Hub located on Braddell Road.
Talks To Go Deeper Into Teachings
The talks that will be rolled out are meant to promote a deeper understanding of religions, where faith leaders from different religions gather regularly to discuss the teachings of their faith and to produce papers at the end of the initiative.
MUIS president Alami Musa said in a report by The Straits Times that he wants to take interfaith harmony to a higher level.
The Government supported the seminar, and there are also ideas to reach out through schools to promote a greater understanding of other faiths.
Recently, at the 'Conference on Interfaith Realities and Possibilities' held at the Nanyang Girls' High School, Senior Minister of State for Law and Education Indranee Rajah said that interfaith dialogues would help Singaporeans co-exist harmoniously and overcome misconceptions and tensions.
She said in a Channel News Asia report that youth today are a sympathetic people, but they have also grown up in a country that has known peace for half a century, meaning that "the very real, visceral dangers of having racial, religious conflict are not really in the forefront of their consciousness".
"Sometimes, you can see this with comments you get on the internet which can either be a little bit harsh or extreme because people are just venting or saying things that they feel or think – not always realising the impact it has on others," she added.
At the conference, there was a call for interfaith programmes to be rolled out in schools.
Importance of Education
It would certainly be good for the Education Ministry to consider a structured activity-type programme in schools to foster better inter-religious understanding.
They could learn about each other's religion in positive and practical ways, such as visiting charities run by different faiths, the different places of worship, and learning the do's and don'ts of each other's religious traditions and practices.
Through such exposure, values such as good neighbourliness and helping each other in times of need could be nurtured.
Explanation of religious practices and traditions need to be received with respect and understanding, not viewed as superiority of one practice over the other.
Interest in World Affairs
The other idea to consider would be to interest students not just in current affairs happening in Singapore, but also major religious events happening here and around the world.
One such recent event was the naming of Argentinian cardinal Jorge Bergoglio as the new leader of the Catholic Christian faith, taking the title of Pope Francis.
It is certainly heartening to hear the new pope stressing Christians' positive relations with Muslims.
When he was archbishop in his homeland, he had warm relations with the Muslim leaders in Argentina. Now that he is pope, and no stranger to Muslims and Islamic traditions, Pope Francis looks to be extending his hand to Muslims for a closer relationship.
Top-level Muslims too have to reciprocate in the spirit of the salaam (act of extending peace and brotherhood).
Jews, Christians and Muslims are from the same Abrahamic roots and they are referred to as "People of the Book" in the Quran, meaning people who believe in the same line of divine revelations.
Common Links
Christians and Muslims ought to have a very cordial relationship for a number of religious reasons, such as:
Mary, the mother of Jesus Christ, is described in high honour in the Quran as a person "above the women of all nations" (3:42);
A chapter, Chapter 19, in the Quran is named 'Mary', in which she, her ancestors and Jesus Christ are given prominence; and
Jesus Christ's virgin birth and his miracles too are mentioned in the Quran.
This makes Islam the only religion, apart from Christianity itself, to recognise Jesus Christ. No Muslim can be a Muslim if he does not regard Jesus Christ as one of his own prophets. This position ought to make Christians, both Catholics and Protestants, close to Muslims and vice-versa.
It is unfortunate that certain groups of Muslims have portrayed themselves negatively and these are usually highlighted in the media. They serve to give a bad image of Islam and Muslims, especially in incidents related to terrorism.
They could be people who have fallen prey, through physical or online contacts, to manipulation by unscrupulous so-called religious leaders with extreme leanings or misinterpretations of the Quran, resulting in revenge, hate and jealousy.
However, the vast majority of Muslims do not support terrorism at all.
The Quran condemns terrorism using all-encompassing words, such as "...but do no evil nor mischief on earth..." (2:60), and "Whoever recommends and helps an evil cause shares in its burden" (4:85).
The Quran also forcefully informs people: "Whoever kills a person – unless it be for murder or for spreading mischief (which will be taken cared by the law of the country) – it is as if he had killed all mankind. And whoever saves a life, it is as though he had saved all mankind." (5:32)
Global Effort
It is education, an open mindset, and building good relationships among people of different faiths that is most needed today to institute peace and harmony.
Acts that provoke people and incite unrest, such as Quran-burning, publishing caricatures of Prophet Muhammad, suicide bombings, destruction of places of worship, attacking people of different sects, persecution of Muslims or Christians, and ethnic cleansing – all these atrocities have to stop.
There are followers of Christianity and Islam living in almost every part of the world. And in Asia particularly, they co-exist with followers of other major religions.
It is important, therefore, for a global effort to form an interfaith network, with activities such as talks, quizzes and visits to places of worship organised across borders to bring Christians and Muslims as well as people of other faiths together – for interaction and to learn from each other's traditions and teachings without overtones of evangelising or proselytising.
We need to sow the seeds of peace and harmony now for future generations.
Source: http://news.insing.com/tabloid/more-work-needed-promote-interfaith-ties/id-58723f00
URL: https://newageislam.com/interfaith-dialogue/more-work-needed-promote-interfaith/d/11193