By Sartaj Ahmad Sofi
February 12, 2019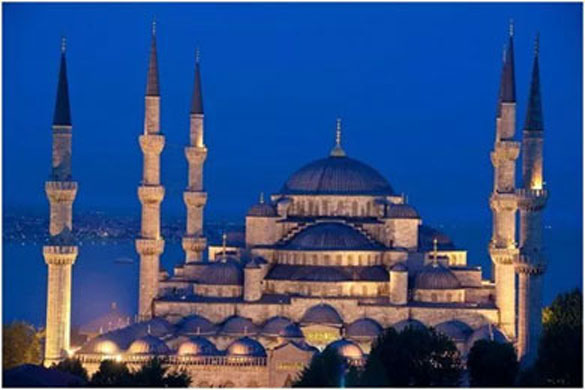 Throughout the historical consciousness of the Muslim world, the religious rituals and the places associated with their performances are extremely confined. One of significant sacred place in this regard is Mosque. The mosque in Arabic called Masjid implies any house or open area of prayer in Islam. The Arabic word Masjid means "a place of prostration" to God; the same word is used in Persian, Urdu, and Turkish. Two main types of mosques can be distinguished: the Masjid Jāmiʿ, or "collective mosque," a large mosque that is the centre of community worship and the site of Friday prayer services and smaller mosques operated privately by various groups within society (Britannica.com).
During the time of Prophet Muhammad (PBUH), the mosques acted as the highest institutions used for many public functions—military, political, social, and educational. Schools and libraries were often attached to medieval mosques (e.g., al-Azhar mosque in Cairo). The mosque also functioned as a court of justice until the introduction of secular law into many Islamic countries in modern times. Whereas many of the social, educational, and political functions of the mosque have been taken over by other institutions in modern times, it remains a centre of considerable influence. In some cases, a Maktab (elementary school) is attached to a mosque, mainly for the teaching of the Quran, and informal classes in law and doctrine are given for people of the surrounding neighbourhood.
In modern times, mosques have mostly remained confined for prayers. Though, mosques have tremendously increased in number, the prayer goers have astonishingly decreased; the mosques contours much decorated dazzling edifices but the prayer holders have become weak and wicked at heart. Both prayer leaders, preachers and the followers are almost of the same degree in ignorance and indecency. Taking the current spirit of mosques into account, someone has portrayed the physical mansions of mosque and slaughter-house as equal; in slaughter-house, butcher slaughters animals, and in the mosques, religious preachers slaughter the faith. Indeed, the spirit of the mosque has almost lost. But still for Muslims throughout the world Mosque is so sacred that without having ablution, Muslims are not allowed to enter in.
Throughout the globe, the image of Muslims in the non-Muslim areas and mostly in the western world has become very vicious. After 9/11, a sense of crude Islamophobic discourse got create in the western world. In this state of affairs, the most exasperating thing in the minds of non-Muslims is what is left inside the mosques. The question emerged because Muslims have closed mosques for non-Muslims. The tragedy of our times is that we hardly allow any Muslim too to enter in our mosque who belongs to other jurisprudential schools of thought. In order to counter with this notion and to dispel misconception among non-Muslims about Islam, the campaign "visit my mosque" has been launched very recently. This is an initiative to open the mosques for the people belonging to all faiths to visit mosques.
For, Muslim Council of Britain (MCB) is ahead in encouraging 200 mosques across the UK to hold open days to welcome in their neighbours from diverse faiths for building bridges across communities. They have celebrated 7th of February in commemoration of "visit of my mosque" as per the media reports (Britain Agency). The President of Muslim Association of Britain (MAB), Anas Altikriti, believes that Visit My Mosque is gradually becoming a national day in the British calendar where "communities not only get to know their local mosques but actually celebrate their crucial contribution to British life." He continued: "The myth that mosques are breeding grounds for division, suspicion, and extremism is slowly but surely being banished, and Visit My Mosque goes a long way towards dispelling those myths.
Touching on another related topic, he stated: "It is heart-warming to see mosques which used to be reluctant to open their doors to the public for various reasons, open up and welcome everyone into their spaces. It's about time every single mosque in the UK became accessible to the general public and not only for a day but around the year." The campaign also works in Canada and America where hundreds of thousands of non-Muslims have visited mosques.
According to TOI (Times of India), Vikas Gavali—a resident of Pune always wondered 'Chalta Kya Hai Masjid Ke Andar?' (What is happening inside the mosques?) But, he never asked anyone even to his closest Muslim friends, due to the fear that they might feel offended. He got a response and experienced himself what is inside the mosque. All became possible only when, in a programme held by the Pune Islamic Information Centre (PIIC), in December last year, initiated 'Visit my mosque' campaign. Due to this campaign, Gavali along with other 350 people visited the mosque. He, for the first time in his life, entered into the mosque and also posed questions about Islam and wandered through the white corridor and long halls covered in blue carpets. This initiative gained momentum in many parts of India. Besides Pune mosque, Al-Furqan in Mumbai and Masjid-e-Umar bin Khattab in Ahmedabad and three mosques in Hyderabad also opened their doors for anyone interested in paying a visit.
The campaign "visit my mosque" is not only a mechanism to dispel the wrong notions about Islam. It is also a new method of propagating Islam at an extensive level. The campaign demonstrates huge potential if operated with full zest and zeal. Hence, it is about time, we need to introspect and proceed to connect with the campaign "visit my mosque".
Sartaj Ahmad Sofi is a Doctoral Candidate working on the theme of Islamic tourism at S.H. Institute of Islamic Studies, University of Kashmir, Srinagar-19000.
Source: kashmirreader.com/2019/02/12/introducing-the-visit-my-mosque-campaign/
URL: https://www.newageislam.com/interfaith-dialogue/in-order-counter-dispel-misconception/d/117733