By Saif Shahin, New Age Islam
22 June 2014
At the stroke of half-time, Karim Benzema shot from the penalty spot into the corner of the Honduran net as a nation of 66 million erupted in euphoria. Three minutes into the second half, the Frenchman's volley deflected from the far post into the hands of the Honduran goalkeeper Vallardes before leaking past the line. Benzema kicked in once again 24 minutes later to exorcise the demons of South Africa 2010 and single-footedly lead France to its first victory in a World Cup match in eight years. As the players hugged each other, Benzema softly muttered a prayer of gratitude—in Arabic.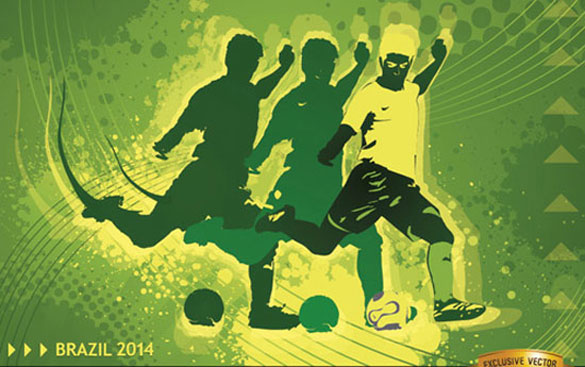 Welcome to Brazil 2014, where Algerian-origin Benzema is among a clutch of Muslim footballers featuring in the starting line ups of mostly white and Christian European teams and having an impact—perhaps not just on the pitch. Benzema's teammates include Moussa Sissoko, a Muslim of Malian descent, and Mamadou Sakho, whose family hails from Senegal. Better known than all of them is Mesut Ozil, a Turkish-origin Muslim who plays for Germany. Also in the German team is Sami Khedira, a Muslim of Tunisian descent. And the Swiss national team at the World Cup has as many as seven Muslim players: Albanian-origin Xheran Shaqiri, Macedonian-born Admir Mehmedi, Bosnian Muslim Haris Seferovic, Turkish-origin Gokhan Inler, Kosovo-born Valon Behrami, Yugoslav-born Blerim Dzemaili, and Philippe Senderos, who converted to Islam two years ago.
Ironically, these are also the countries that harbour some of the highest levels of Islamophobia and anti-immigration sentiments in Europe. The same France that rejoiced in Benzema's goals often witnesses riots against Muslims of Algerian and Tunisian-descent, such as Benzema. The governments of both France and Switzerland have banned Muslims from wearing the face-veil in public. Switzerland has even prohibited mosques from constructing minarets. Meanwhile, Chancellor Angela Merkel has rued how Germany's efforts to create a multicultural society, especially one that is warmer towards its 3.5 million Turks, have "failed, utterly failed".
Multicultural Muslims
Benzema's family hails from the Algerian village of Tighzert, where one of his uncles is reportedly still an imam. They moved to the French city of Lyon in the 1950s and that is where Benzema played in his early years. Since making his professional debut in 2004-05, he has represented France in more than 65 internationals and has been named the French Player of the Year twice in succession—2011 and 2012. His impact on France's opening match of the ongoing World Cup was, therefore, hardly a surprise.
Ozil made his mark as a playmaker at the last World Cup itself, creating golden scoring opportunities that helped Germany win a third place and earned him a nomination for the best player of the tournament. He is a third-generation Turk who began his career playing for minor German clubs before his World Cup breakthrough earned him a transfer to the Spanish giant Real Madrid in 2010. English Premier League club Arsenal bought him last year in its steepest purchase ever, a move that also made Ozil the costliest German footballer of all time.
Both Benzema and Ozil are practising Muslims. Benzema prays regularly and fasts scrupulously during Ramzan—even if he is playing. Ozil reportedly fasts only when he isn't playing, but he prays and recites the Quran before every match. "I always do that before I go out [on the pitch]. I pray and my teammates know that they cannot talk to me during this brief period," he told the Berlin daily 'Der Tagesspiegel' during the last World Cup.
The ascendance of Muslim players to the top echelons of international football, while rare, is not unheard of. Algerian-born Abdelkader Ben Bouali represented France as early as the 1938 World Cup. Perhaps the best-known Muslim footballer is Zinedine Zidane, who led France to its only World Cup victory in 1998 and the European Championships two years later. Algerian-origin Zidane also won a plethora of titles with his clubs Juventus and Real Madrid, was voted the best European footballer of the past 50 years in 2013 and is widely recognized among the greatest footballers of all time. In an interview with 'The Guardian', he called himself a "non-practising Muslim" who was very close to his roots. "Every day I think about where I come from and I am still proud to be who I am: first, a Kabyle [the region of Algeria from which his parents emigrated] from La Castellane, then an Algerian from Marseille, and then a Frenchman," he said.
While Zidane, Benzema and Ozil illustrate the victory of individual brilliance, the Muslims in the Swiss national team exemplify how "team spirit" can forge success. Switzerland used to be a fringe competitor in European and international tournaments. But the emergence of this young generation, dominated by mostly Muslim immigrants, has catapulted the team to the sixth place in world rankings. It won 2-1 in its World Cup opener against Ecuador—with both goals coming off Muslim boots, including Seferovic's dramatic winner moments before the final whistle.
Inclusive Identities
Can the success of these Muslim players and the cult status they are gaining kindle a warmer acceptance of Muslim immigrants—and of Islam as a religion—in the heart of Europe? On current evidence, it seems rather unlikely. Just this year, Switzerland passed a referendum to impose strict limits on immigration. Contesting on anti-immigration and often blatantly Islamophobic platforms, several far right parties won substantial victories in the recently held European parliamentary elections.
For obvious reasons, these Muslim players are typically reticent on such issues. But occasionally they do speak out. Ozil, after winning an award for 'successful integration into German society', said: "This is a great honour for me and I'm very happy. Integration creates something new and makes for a more colourful Germany." And referring to France's National Front, Zidane once warned, "Think—and I stress my words—about the consequences of voting for a party that does not at all correspond to the values of France."
But perhaps these players can have a larger impact on Muslims themselves—those who are living in multicultural societies like theirs or elsewhere. Benzema, Ozil and the rest don't just represent a "positive" face of Islam to Europe: they make the same representation to Muslims as well. They show that it is possible to be an Algerian and a French, a Turk and a German, an Albanian and a Swiss, an Arab and a European. It is possible to be a devout Muslim and live in harmony with non-Muslims, sweat on the same pitch, drink from the same bottle and share in each other's joys and sorrows. It is possible to pray and fast and simultaneously play football—not simply in a physical but also in a cultural sense. None of these practices and identities are, or need be, exclusive to each other.
Saif Shahin is a regular columnist for New Age Islam and a doctoral research scholar in political communication at the University of Texas at Austin, United States
URL: https://newageislam.com/interfaith-dialogue/the-melting-cup-muslim-footballers/d/97665