Sahafat, Lucknow
Translated from Urdu by New Age Islam Edit Desk,
November 4, 2014
During the month of Muharram, the Shias of Sindh in Pakistan, like their counterparts in the world, hold mourning ceremonies in the memory of martyrdom of Hadhrat Hussain and other Ahl-e-Bayt. In a small town in Thar Desert of Sindh, Pakistan, the local Shias have assembled to attend a mourning ceremony (Majlis-e-Uza) in which Imam Hussain's journey from Madina along with his family members and companions and finally their martyrdom is narrated by a Zakir (narrator) in an atmosphere heavy with sorrow and tears. But this ceremony is different in the sense that the Zakir in this Imambargah is not a Shia Muslim but a Hindu named Ravi Shankar. He reveres Imam Hussain and Ahl-e-Bayt and participates in the Mehfil-e-Uza as a Zakir every year in this Imambargah. He has been taking part in Majlis-e-Uza since 1970 when he was quite young. Now he has retired from a government job and with the money he got after retirement which was around Rs seven Lakh, he built this Imambargah and has devoted his life to Imam Hussain and Ahl-e-Bayt.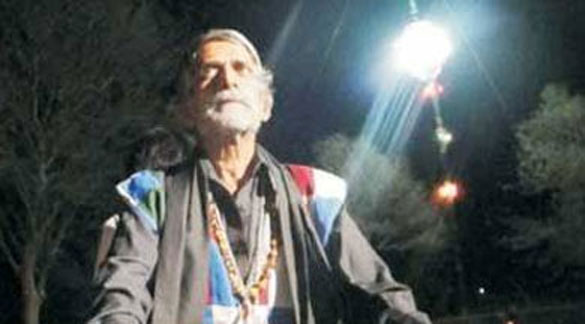 Ravi Shankar of Sindh
-------
He starts narrating the story of the martyrdom of Imam Hussain in poetry which he has learnt by heart and the audience also appreciates his narration. Unlike other parts of Pakistan, Shias in Thar attend such Majlis without any fear of persecution from Taliban and other Sunni extremist groups. This sectarian and communal harmony is rare in Pakistan. Ravi Shankar knows about Islam and the incident of Karbala more than ordinary Muslims do. He says, 'I have read a lot of books on Islamic history, particularly on the tragedy of Karbala. I have also read the Marsias of Anees and Dabir and other poets. But I am especially impressed by Hindu poets like Devi Rup Kumari.'. On how he developed reverence for Imam Hussain and Islam, he says, "I was suffering from Asthma. I visited a Mazar in Chachru and offered Mannat. Later, my condition improved and I was attracted towards Islam." Ravi Shankar got a job in municipality and was transferred to Mirpur Khas. From the 90s, he started to perform as a Zakir in the mourning ceremonies in Imambargahs during the month of Muharram. However, for this he did not attend any madrasas but acquired the knowledge through study of books. Apart from performing as a Zakir in Sindh, he has also attended ceremonies in Khyber Pakhtunkhwa, Jhang, Okara, Arifwala, Rawalpindi and Lahore as a Zakir.
About the threat from Taliban, Ravi Shankar says, "People say that there are Taliban in Dera Ismail Khan, Peshawar and Kohat. They will kill you. I reply, I will greet death because martyrdom is better than ordinary death, that too, if I get it in the path of Ahl-e-Bayt, I will get salvation? In some areas in Punjab, some people objected to a Hindu being a Zakir but he referred them to the scholar of Jhang, Nasim Abbas Razvi giving them his phone number. Ravi Shankar considered him his teacher. According to Ravi Shankar, after talking to Nasim Abbas Razvi, people would fall silent. But now Maulana Nasim Abbas is dead. The organizers generally pay the Zakirs an honorarium but Ravi Shankar does not accept any honorarium saying he is not a professional Zakir. He does it in love and reverence of Ahl-e-Bayt.
Ravi Shankar does not deliver controversial lectures. According to him, he does not abandon his own beliefs and does not criticise the belief of others.
Recently, Ravi Shankar retired from service. He built an Imambargah with the money he got after retirement. He is now the Mutawalli (caretaker) of the Imambargah. According to Ravi Shankar, some caretakers of Imambargahs of Chachru are unhappy with him and raise the same objections against him the opponents would raise. Ravi Shankar is last wish is that his funeral prayer should be offered according to Fiqh-e-Jafriya (Jafriya jurisprudence) and he should be buried in the same Imambargah he has built.' Those with whom I have been offering the Friday prayers for the last so many years should attend my funeral prayer. If they don't do so, my children will call some other people and hold the prayer', Ravi Shankar says.
Ravi Shankar wants to see Pakistan as it was two decades back when there were no differences on the basis of faith. He wishes people to live in harmony like brothers and restore Pakistan's dignity among the global community.
Source: Sahafat, Lucknow, November 4, 2014
URL: https://www.newageislam.com/interfaith-dialogue/sahafat,-lucknow/ravi-shankar-of-sindh--a-life-devoted-to-imam-hussain-and-ahl-e-bayt/d/99866