By Sabeeha Rehman
December 13, 2018
"What gifts does your faith tradition bring to the table, and what gifts in other faiths do you admire and would like to adopt?" Bishop Gene Robinson at Chautauqua Institution asked me this question. My husband and I, both Muslims, were on an interfaith panel discussion on Islam.
The first part of the question is easy for anyone committed to his or her faith. In observing the commandment of five daily prayers, every day, five times a day, I push the pause button in my life, stop what I am doing, and put God above everything else.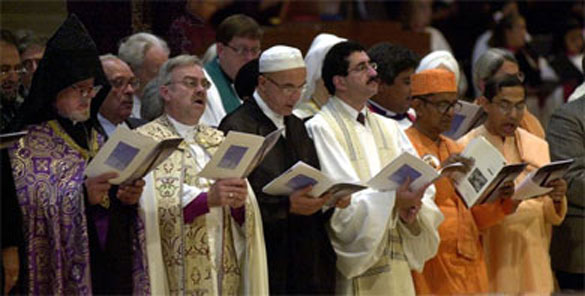 Clergy from many faiths sing during an interfaith prayer service celebrating the art and architecture of the new Our Lady of the Angels Cathedral Sept. 4, 2002, in downtown Los Angeles. (REED SAXON / ASSOCIATED PRESS)
-----
I stand in His presence and thank Him for His blessings. It grounds me and recalibrates my priorities.
Five times a day, I am touch with the cosmos at daybreak, noon, afternoon, sunset and nightfall. Every year, I must give 2.5% of my savings to charity, to share God's blessings with those less fortunate.
When it comes time to plan your wedding, there is nothing less romantic than discussing the future financial strategy you and your spouse will share. After all,...
The ability to let go of money is priceless. Once a year, I fast during the month of Ramadan — from daybreak to sunset, no eating, no drinking (not even water), and no sex. Fasting is an annual refresher course in cultivating restraint, and makes me realize what it is like to go without food. And it makes me God-conscious.
Plus, I get an added bonus. I lose weight.
Whenever I begin a task, as in eating a meal or starting the car, I say "Bismillah.' It means, I begin in the name of God. It reminds that we are in God's hands and are asking for His blessings. When I make the intention to do something, as in "see you tomorrow," I add InshāAllāh, meaning God willing. See you tomorrow, InshāAllāh.
It's a reminder that man proposes — in this case, woman — and God disposes. If I fail to show up, I can shift the blame to God. It was God's will. (Just kidding!)
What Gifts Do I Admire In Other Faiths?
In the Christian faith, I have always loved the practice of saying Grace at the dinner table, holding hands around the table, and thanking God for the blessing of food. We Muslims should make this a regular practice in our daily lives. And of course, I love the spirit of Christmas, Santa Claus ringing the bell, the sparkling Christmas tree, the city as decked as a Pakistani bride, and all the joy it brings into homes.
In the Jewish faith, I believe it is such a sensible idea that one day a week you just rest. Rest, reflect, reset and recharge. I tried it once. I had come back from a Sabbath service, and was so motivated that I decided to observe the Sabbath. It was hard! I kept reaching for my cell phone.
But eventually, I settled into a groove, and spending the day reading a book, my feet resting on the ottoman, watching the sailboats glide by on the East River, was heavenly.
I also believe that the practice of completing the reading of a portion of Torah every week over the course of a year keeps the faith alive. Muslims do that during Ramadan, and then we put away the Quran for the rest of the year, for the most part. Why not make it a weekly thing like the Jews do?
In the Hindu faith, I love the music of the temples. For centuries, Muslims have fended off music, considering it a distraction at minimum, and lewd at worse. I see no rationale in denying one the joy of the sound of music. Let it in and let it stir your soul, and feel your heart thump with a happy beat. Then of course, there is yoga, which is on my bucket list.
In Buddhism, I treasure the gift of meditation, the cure for all stresses, anxieties, tensions and fears, an alternative to anti-depressants and tranquilizers. Imagine starting your day with clearing your head, and ending the day by instilling quiet. We could all use that.
While the faithful in each faith may adhere to the belief that their faith alone gives them all that they need — the truth, that is — as an American who has been fortunate to have been exposed to many faith traditions, I have come to value the gifts that these faiths bring to the table.
We all embrace the same values, and we have each found our own way of expressing them. The next time I invite you all to my home, let's start with a song, say Grace at the table, end with a five-minute meditation, and part with a promise to meet again soon, InshāAllāh.
Sabeeha Rehman is the author of the memoir, "Threading My Prayer Rug. One Woman's Journey From Pakistani Muslim to American Muslim."
Source: nydailynews.com/opinion/ny-oped-borrow-the-best-from-every-faith-20181212-story.html
URL: https://www.newageislam.com/interfaith-dialogue/christianity-judaism-hinduism-buddhism-all/d/117222