By S Gopalakrishnan
April 3, 2018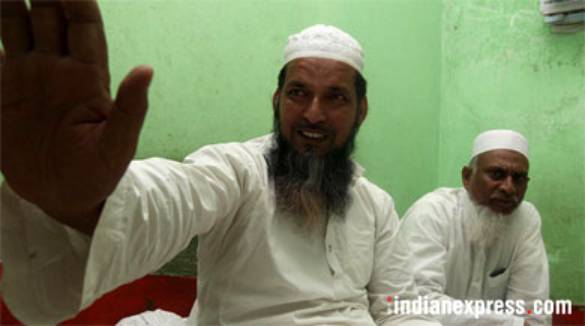 A bereaved father in Asansol personifies Gandhi's Naokhali message 70 years ago. (Express Photo by Subham Dutta)
--------------
Asansol, West Bengal's second largest city, is 562 km away from Naokhali in Bangladesh. Drawing parallels between two historic moments may not be right all the time but imagining a trajectory might help to read a recent event in Asansol. The city has become a modern moment in a curve at whose other end lies a moment seven decades ago in Naokhali. At the modern moment in the flight path is Maulana Imadul Rashidi, while at the other end of this trajectory is Mohandas Karamchand Gandhi.
Nirmal Kumar Bose, anthropologist and Gandhian, was with Gandhi when he made his last major social intervention, in Naokhali, a place where people were killing each other in the name of religion. It was the last quarter of 1946. While his political heirs where actively engaging with the British in Delhi for the exchange of power, Gandhi was touring Naokhali barefooted where more than 40 villages were ablaze, many killed, raped and injured. Before starting for Naokhali, Gandhi wrote an aesthetically beautiful line on his perspective on the art of dying: "As it is, all die, but one has to learn by practice how to die a beautiful death. The matter will not be settled even if everybody went to Naokhali and got killed". Bose has written on Gandhi's days in Naokhali.
Maulana Imadul Rashidi, imam of the mosque in Asansol, lost his 16-year-old son following the violence triggered by the Ram Navami processions in the last week of March. When thousands of angry people gathered in front of the imam, saddened by the demise of his son, he interpreted his son's act of dying in a way similar to what Gandhi wrote in 1946: "My son is gone, I do accept that. But if anyone moves a little finger to take revenge on his killing, I will leave this mosque and city forever."
Gandhi knew that the British army or the interim Indian government would not be able to bring peace to Naokhali. Gandhi knew that the only way to handle the volatile situation was to talk to people about the readiness to die beautifully. On January 4, 1948, he said: "He had not come to talk to the people of politics, nor to weaken the influence of the Muslim League and increase that of the Congress, but in order to talk to them of the little things in their daily life."
When politics plays with fire in Asansol one can recollect what Sucheta Kriplani, who had accompanied Gandhi in Naokhali, told Madhu Dandavate: "Gandhi… asked the Hindus and Muslims to come out of their hutments for a common prayer and a common pledge for peace… He waited for half-an-hour, not even one Hindu or Muslim turned up. Gandhi was very ingenious. He had carried a ball with him… Addressing children from the village he said: 'Small kids from this village, your parents are frightened of each other but what fright you can have? Elderly Hindus and Muslims might be frightened of one another. But children are innocent. You are children of God. I am inviting you to play the game of ball.'
The Hindu and Muslim children started moving towards the dais… Gandhi threw the ball at them. Boys and girls threw it back. He played for half an hour and then he told the villagers: 'You have no courage but if you want that courage, induct it from your children. A child belonging to the Muslim community is not afraid of the child belonging to the Hindu community and so also, a Hindu child is not frightened of a Muslim child. They have come together; they were playing with me for half-an-hour… If you have no inner courage, try to emulate it from your children.' And one after another elders — both Hindus and Muslims — started coming. A big gathering assembled. He made them take a pledge that they will not kill each other".
In 2018, Sibtulla Rashidi, a boy who just appeared for his Class 10 board examination was killed in Asansol. His father, the imam of a Masjid in the city, in all likelihood, did not know what Gandhi had done in a similar situation in the past. But he interpreted his son's death for the cause of peace.
Gopalakrishnan, a writer in Malayalam, is currently head, content, Radio Mango, UAE.
Source; indianexpress.com/article/opinion/columns/bengal-riots-asansol-violence-communal-maulana-imadul-rashidi-noakhali-partition-a-mahatma-in-an-imam-5121090/
URL: https://newageislam.com/interfaith-dialogue/a-mahatma-imam/d/114805