By New Age Islam Special Correspondent
November 01, 2014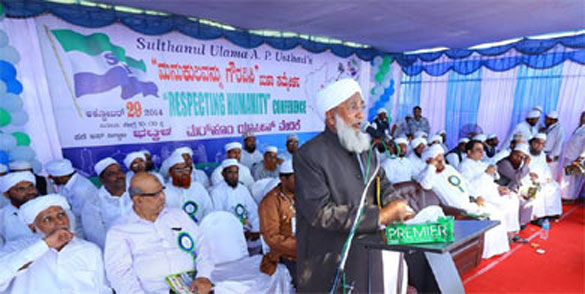 The leading Sunni-Sufi cleric of South India, who happened to be the first Indian cleric to issue fatwa against ISIS, Sheikh Abu Bakr Ahmed Musliar, popularly known as Kanthapuram AP Ustad, led Karnataka Yatra' (Journey of Karnataka) on the theme of "Ehteram-e-Insaniyat" (respect for mankind) with an aim to restore the respect for mankind instilling essential humanitarian values in the minds of people, particularly Muslim masses. Stressing the need and significance of respect for mankind, Shaikh Abu Bakr Ahmad Musliyar quoted a Prophetic saying: "Those who are merciful will be shown mercy by the Merciful. Be merciful to those on the earth and the One above the heavens will have mercy upon you. The womb is derived from the Merciful, so whoever keeps relations with his family then Allah will keep relations with him, and whoever abandons his family then Allah will abandon him." (Sunan At-Tirmidhi 1924).
Organised by Karnataka State Sunni Students Federation in collaboration with other Sunni Sufi-oriented organisations as a part of its silver jubilee celebration, the Karnataka Yatra incepted on October 25, 2014 from Gulbarga of Karnataka and it will last for nine days with a grand public conference at Mangalapuram at the end. Chief Minister Siddaramaiah will inaugurate the grand concluding conference of Karnataka Yatra, which will be held at Mangaluru on 2nd November, 2014.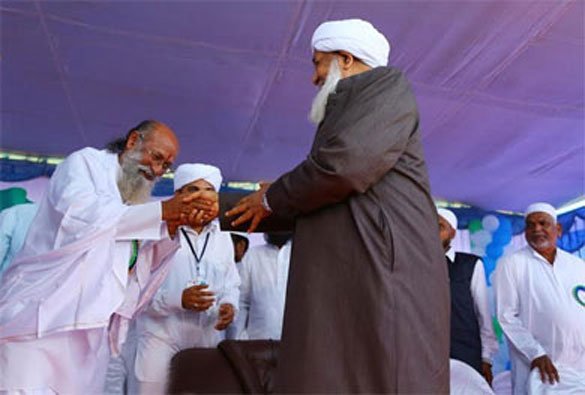 The prime objective of this journey is to spread the message of humanitarian concern to every nook and corner of the country. It is also aimed at mobilizing people, particularly Muslim community, for the good of humanity. "Respect for nation" is the mission of this grand historical and non-political journey, says Shaikh Abu Bakr Ahmad Kanthapuram AP Ustad. He averred that "the Yatra would arouse people out of their spiritual inertia and intellectual lethargy by channelizing their creative energy for the good of humanity and the nation". The first and foremost message of Karnataka Yatra that the Shaikh stressed was: "People from all walks of life come together to create a completely alcoholic-free nation." It is worth mentioning that previously in 1999, Shaikh Abu Bakr set out for a similar journey "Kerala Yatra" with the motto of "integrating humankind" that had great impact on the South Indian youths.
In his recently launched fatwa against ISIS, Shaikh Abu Bakr Ahmad categorically condemned and refuted the terrorist ideologies saying that any open or tacit support to extremist activities through any means is forbidden according to the basic principles of Islam and that their anti-Western interpretation of Islam is only aimed at serving their political agendas in the wider Muslim world. Again in this mammoth gathering, Shaikh appealed to the Muslims across the globe to unite against terrorism and devise new strategies to tackle, eradicate and refute terrorism and its ideologies. He said: "It's time for us to sit, think and reflect on the so- called modern interpretations of political Islam and the damages it has done to Muslims across the world since its inception in the early 20th century."
He continued: "It's clearly evident from the stories we hear from various parts of the world that extremists' activities are only making Muslims' life more chaotic and miserable. We can see that the political interpretations of Islamic belief are acting as root cause for the origin and spread of various militant movements in the Islamic world. It's also shocking to see how easily these political Islamists join hands with the imperial interests and political priorities of the powerful nations in the world. So, it's not difficult to see why these militant organisations are in a hurry to vandalise historical monuments and Sufi shrines which represent Muslims' peaceful coexistence with other communities and cultures, from the very moment they get hold on a region."
The general secretary of All India Sunni Jamiat-ul-Ulema, Sheikh Abu Bakr Ahmed Musliar also urged for political reservation for the Muslim community in the state. He said that the challenges that the Muslims in Karnataka have been facing are due to lack of political influence and empowerment. "The Muslim community should be politically empowered so that they may get reservation in political sector as per the Indian constitution, which itself offers privileges and reservations to the backward communities in the country. Representatives of all peoples in the state assembly should take this urgent need into account seriously"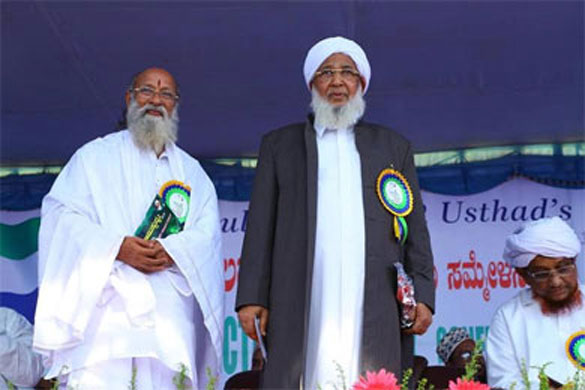 He also raised Muslims' demand from the State government to come forward to establish Tipu Sultan University in Karnataka. A few years ago, the government took a few possible steps towards establishing the university in the state. Shaikh said that "since Tipu Sultan is the architect of modern Karnataka and the first leader who brought many innovative developments in the country such as air force and silk trade, it is the need of hour that we explore his life and services to the nation with an aim to create inspiration for the new generation. "Tipu Sultan was in the forefront of freedom struggle and led a model life for the independence of India. Therefore, both state and central government should collectively establish Tipu Sultan University where all subjects may be taught with a special focus on Tipu Sultan Studies.
Shaikh Abu Bakr Ahmad Musliyar continued: We also proclaim 1000 crore educational projects for central Karnataka where people from all faiths suffer for basic needs and infrastructure, especially educational institutions. Benefitting thousands of common people, this educational project will change the educational life of the people in central Karnataka within five years. This project is proclaimed as a part of Karnataka Yatra by Sheikh Abu Bakr Ahmad Musliyar.
The most notable figures who participated in this program were Shri C. M. Ibrahim, Former Union Minister, Shri U. T. Khader, Health Minister, GOK and Shri S. S. A. Khader, President, Sunni Management Association.
URL: https://www.newageislam.com/interfaith-dialogue/new-age-islam-special-correspondent/political-interpretation-of-islamic-doctrines-is-root-cause-of-chaos-in-the-islamic-world-today,-says-sufi-scholar-sheikh-abu-bakr-ahmed-musliar/d/99823