Despite rising xenophobia and social crisis, Indians still keep secularism and cultural diversity close to their hearts
1. Indians still have a strong belief in secularism and religious tolerance.
2. Rabindranath Tagore had echoed the Quran when he said that India's religious and cultural diversity was planned by God.
3. Many Muslims celebrate Hindu festivals and many Hindus fast during the Ramadhan.
4. Western thinkers have expressed surprise over India's unity in diversity.
------------
New Age Islam Edit Desk
6 February 2022
At a time when religious hatred and xenophobia have caused the social crisis not only in India but around the world, and various communal organisations spread religious and communal hatred, a Twitter handle spreading the idea of Syncretic India and receiving over one hundred thousand visits and retweets surprises many. This hints that though we have been made to believe that secular values are fast receding in the country, the reality is not so much disappointing or grim. People in the country still cherish the moments of solidarity and communal harmony and feel that India can never lose its communal harmony and secular fabric no matter how much the communal forces strive to secure their nefarious goal.
This week a Twitter handle #Syncretic India trended with over one thousand tweets stressing and strengthening the idea of Syncretic India and showing through various quotes, happenings, heart touching images and representation of cultural and religious diversity and religious tolerance for a couple of days. That was really refreshing and heart touching.
People mentioned incidents where the members of a particular community performed the last rites of the deceased of another religious community. This aspect of syncretic India came into prominence during the height of the pandemic and lockdown when the relatives of several Hindu deceased could not reach the dead due to lockdown restrictions and their Muslim neighbours took up the responsibility of cremations with correct Hindu religious rituals in a number of cases.
Another aspect of syncretic India was shown in the fact that in India copies of the Hindu epic Ramayana written in Urdu are still preserved and adored by Hindus. Many Hindu women and men fast during the holy month of Ramzan while many Muslim men and women wear a bindi, take an active part in Hindu festivals like Ganesh Chaturthi. In Kumartuli of Kolkata, many Muslim artisans make images of Durga, Saraswati, Kali and other deities.
Secularism is so deeply etched in the psyche of Indians through the aeons that irrespective of political ideology, political leaders like Atal Behari Vajpayee, Narendra Modi along with Pranab Mukherjee and Mahatma Gandhi accept the fact that India cannot exist without secularism. News of Muslim boys dying while saving a Hindu girl or a Hindu boy providing shade to a Muslim boy offering namaz by spreading his saffron robe or Muslim youth providing fruits and refreshes to Hindu pilgrims during a Hindu festival strengthens our resolve to keep India's secularism alive amid crisis. The great poet and philosopher of India, Rabindranath Tagore goes on to say that India's secularism was according to the plan of God because if he had willed he would have made India a country of one religion and one culture.
Some of the tweets, quotes, images and representations are being reproduced here for our readers.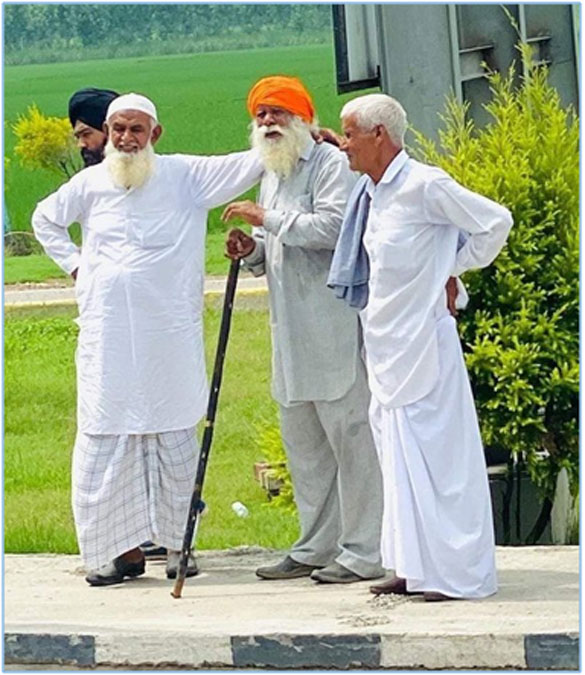 1. Ramayan in Persian! Our Secular heritage. Let's not lose our secularism #SyncreticIndia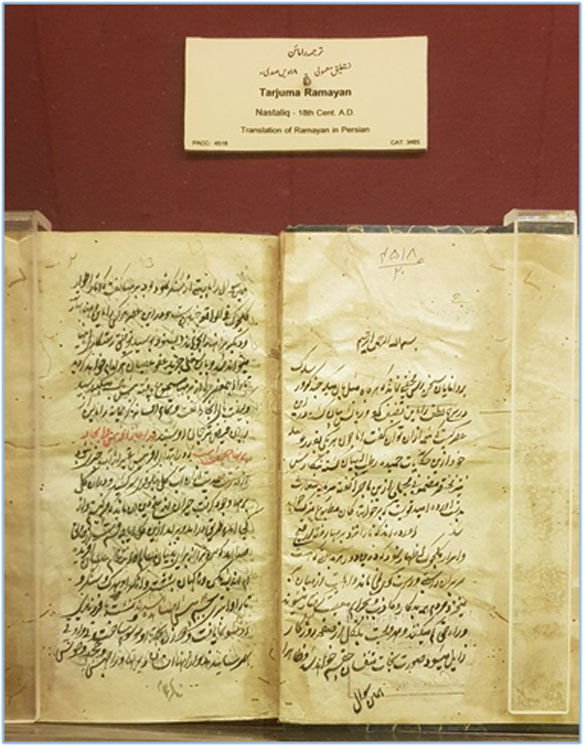 2. Secularism in in the blood of Indians. We support equality.
#SyncreticIndia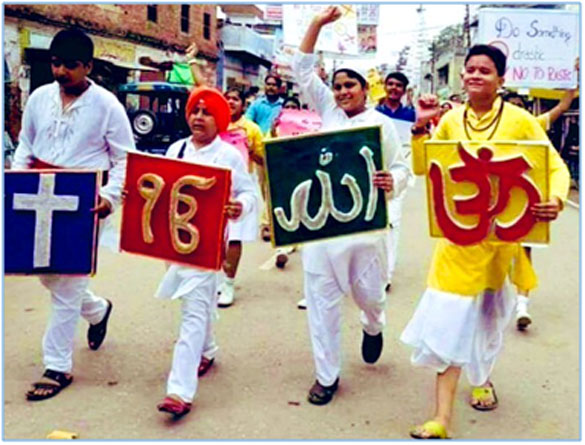 3. Our country is divided into religion, cast, creed, colour, language but we together with a thought that we are one, firstly we are citizen of our country. #SyncreticIndia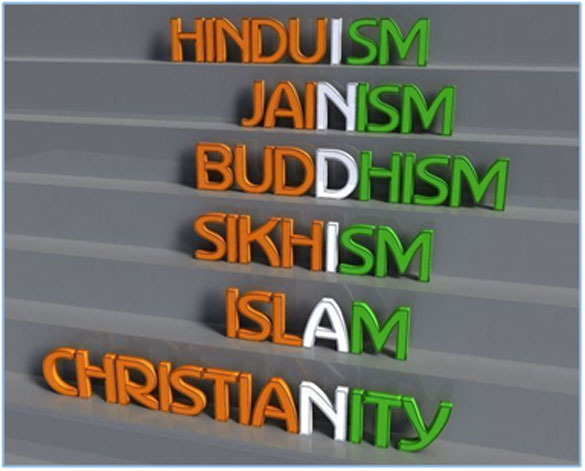 4. Secularism is not just a word; it is a matter of faith for us Indians!
#SyncreticIndia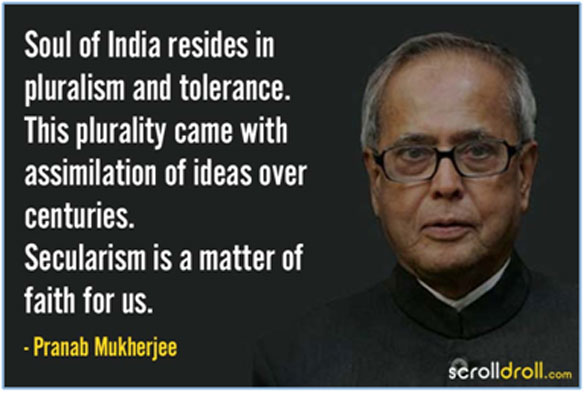 5. Western dictionaries define secularism as absence of religion but Indian secularism does not mean religiousness. It means profusion of religions.
#SyncreticIndia
6. If #India is not a secular nation then India is not India at all.
#SyncreticIndia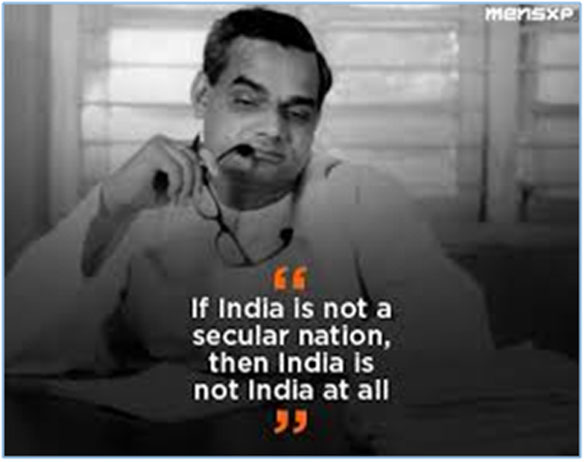 7. #India is a vibrant nation whose strength lies in its commitment to equal rights & speech, religious freedoms that enrich lives of all citizens. India is not only the world's largest democracy; it is also a secular, pluralistic society. ~ Henry Paulson (Author)
#SyncreticIndia
8. Buddha is the crown jewel of India which accepts all ways of worship of all religions. This quality of Hinduism in India was a product of many great spiritual masters chief among them was Buddha. And this is what sustains secular character of India. ~ PM #Modi
#SyncreticIndia
9. In Western lands there is a distinct division between the religious and the secular life. This distinction has never found its place in the life of the people of India. There, all of life is included in the word 'religion.' ~ Virchand Gandhi
#SyncreticIndia
10. Almost every Indian has a loving Muslim/Christian/Sikh/Buddhist friend/neighbour who has stood by them during troubled hours. Secularism is in our blood.
#SyncreticIndia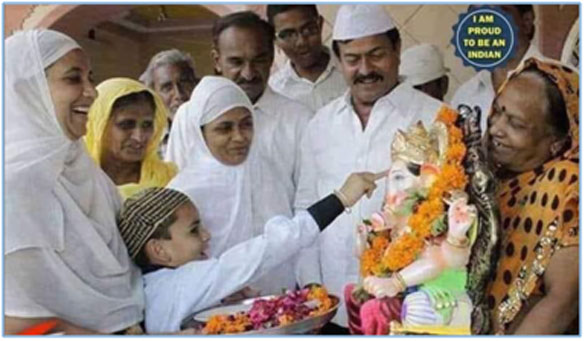 11. As per the findings of Pew Research Centre, Indians feel they have religious freedom, see respecting all religions as a core value. This is India. #SyncreticIndia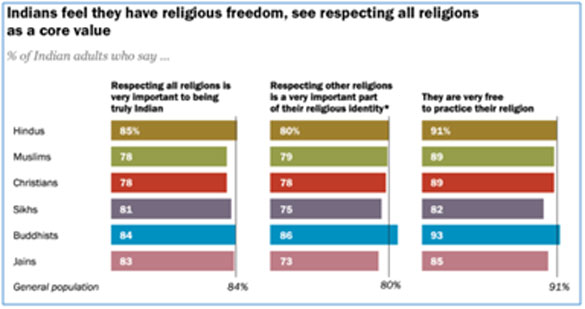 12. Many Sikh (29%), Christian (22%) & Muslim (18%) women in India say they wear a bindi even though bindi has Hindu origins. (Pew Research Centre data)
This proves that #India is truly secular and Indian secularism is the fusion of religions rather than separation.
#SyncreticIndia
13. In India, 77% Muslims, 77% Hindu and 54% Christians in India believe in karma. (Pew Research Centre data)
This proves that #Indians are truly secular and Indian secularism is the fusion of religions rather than separation.
#SyncreticIndia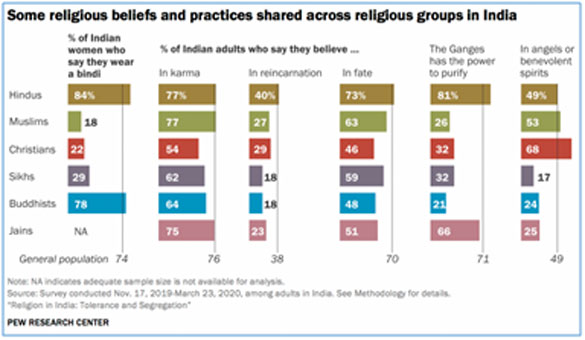 14. India is truly a secular nation and believers of all religions and atheists have a place in this country. #SyncreticIndia
15. India is a country in which every great religion finds a home. ~Annie Besant
#SyncreticIndia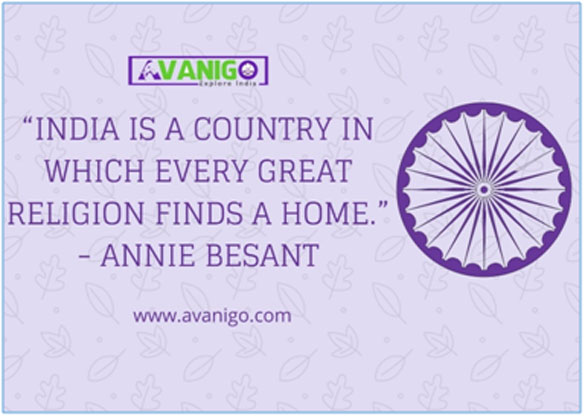 16. In the West, #secularism implies pinpricking religious fraud and arrogance, but in India secularists are the most eloquent defenders of myth and theocracy.
#SyncreticIndia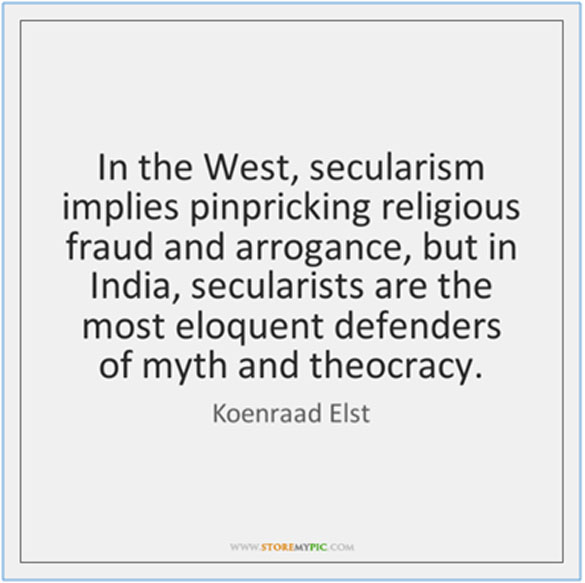 17. Indian secularism is the fusion of different religious beliefs, not their separation.
#SyncreticIndia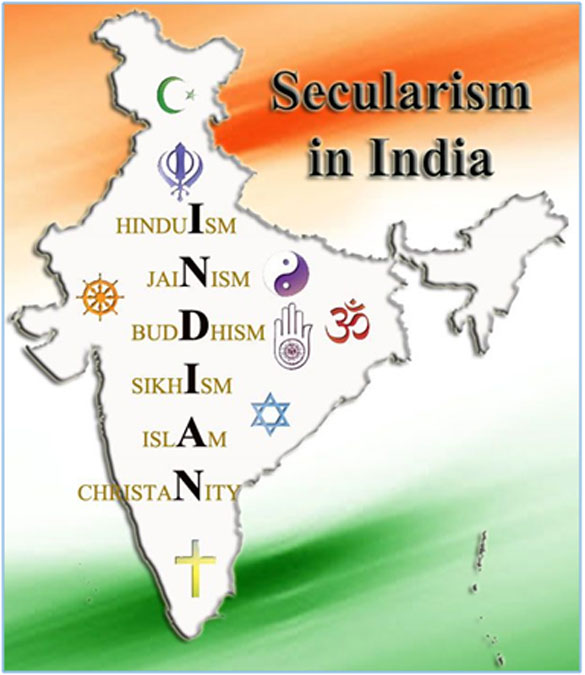 18. A beautiful quote by former Prime Minister of India Atal Bihari Vajpayee ji on Indian secularism
#SyncreticIndia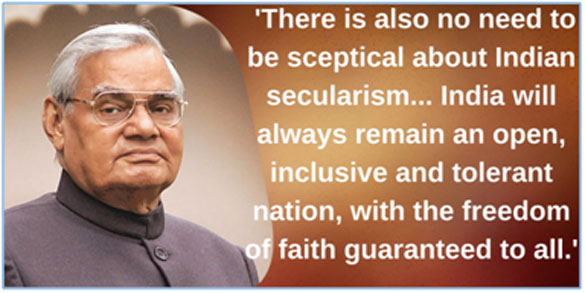 19. Gandhi Ji beautifully explains nuances of secularism, which Indian constitution represents. #SyncreticIndia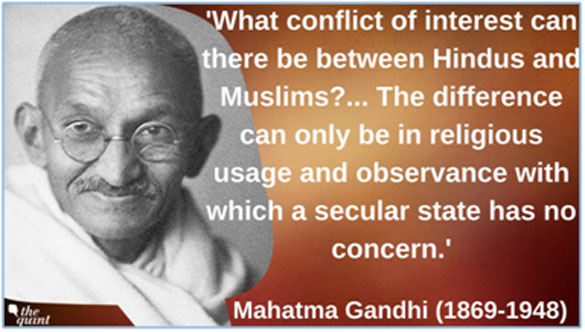 20. We are one #SyncreticIndia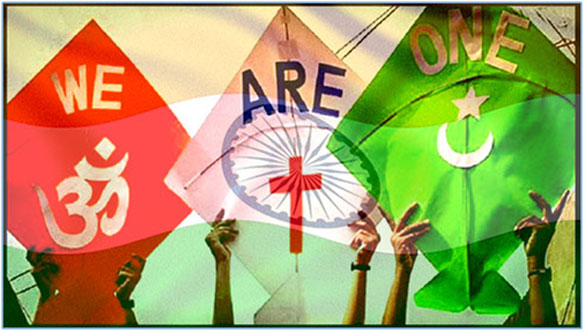 21. Unity in Diversity is India's strength. There is simplicity in every Indian. There is unity in every corner of India, This is our strength. #SyncreticIndia
22. Unity in Diversity. #SyncreticIndia
23. "Our ability to reach unity in diversity will be the beauty and the test of our civilization." #SyncreticIndia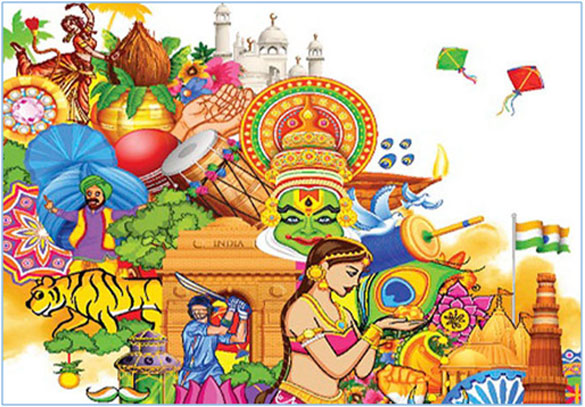 24. #SyncreticIndia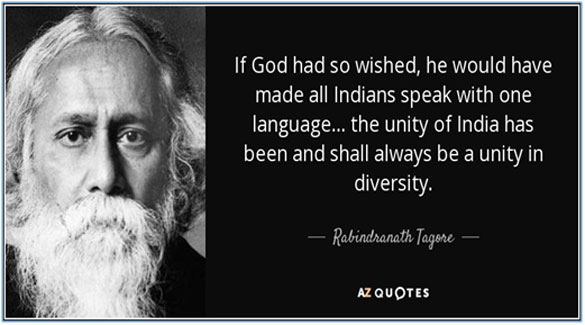 25. "In diversity there is beauty and there is strength." #SyncreticIndia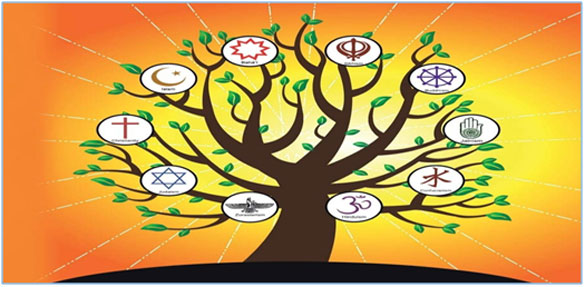 26. "Our cultural strength has always been derived from our diversity of understanding and experience." #SyncreticIndia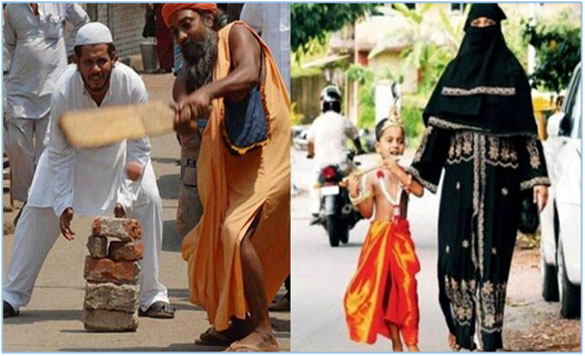 27. "Difference is of the essence of humanity. Difference is an accident of birth and it should therefore never be the source of hatred or conflict. The answer to difference is to respect it. "#SyncreticIndia
28. #SySyncreticIndia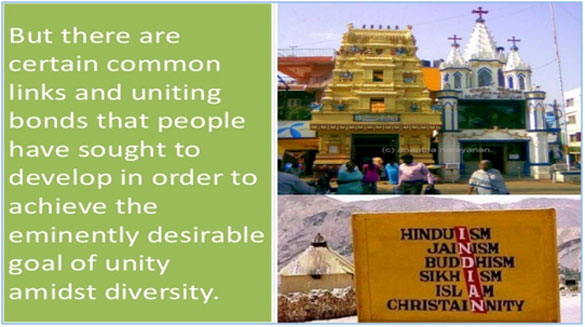 29. A grand synthesis of cultures, religions and languages of the people belonging to different castes and communities has upheld its unity and cohesiveness despite multiple foreign invasions. #SyncreticIndia
30. "We must embrace our differences, even celebrate our diversity. We must glory in the fact that God created each of us as unique human beings. God created us different, but God did not create us for separation."
#SyncreticIndia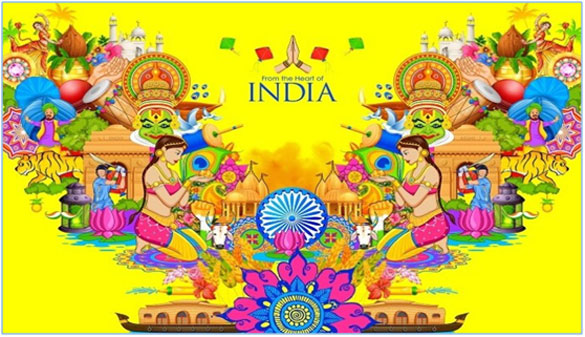 33. I bow my head in front of shrines because I love my religion & it doesn't allow insulting any other religion. Religion only tells that if you join your palms it is called worship and if you open it is called Dua. #SyncreticIndia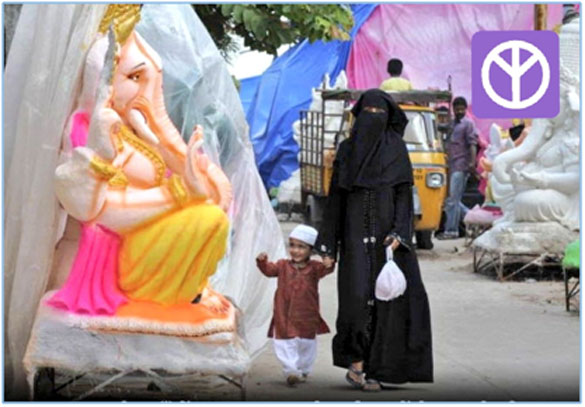 34. My tribute towards #SyncreticIndia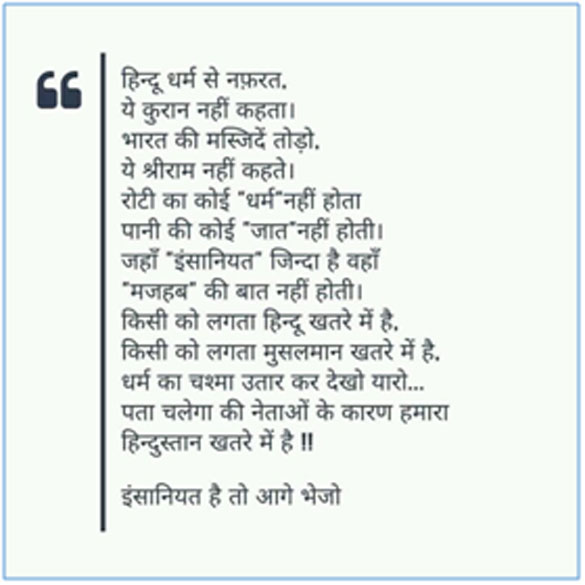 35. This is really India! And not everything else you hear! #SyncreticIndia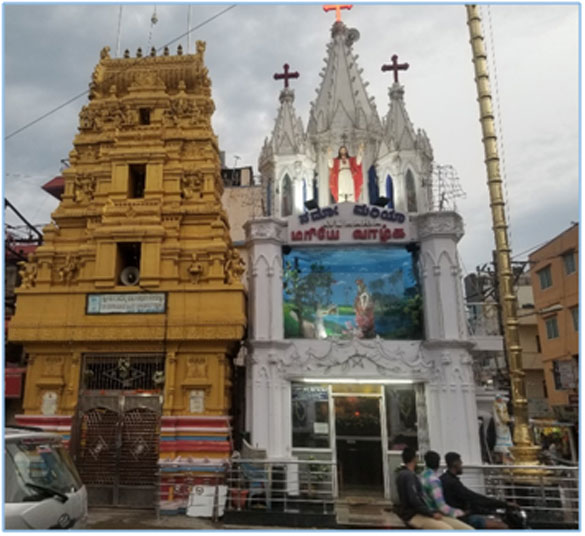 36. Meet Razia who brings in Home Ganpati bappa since she was a child. #SyncreticIndia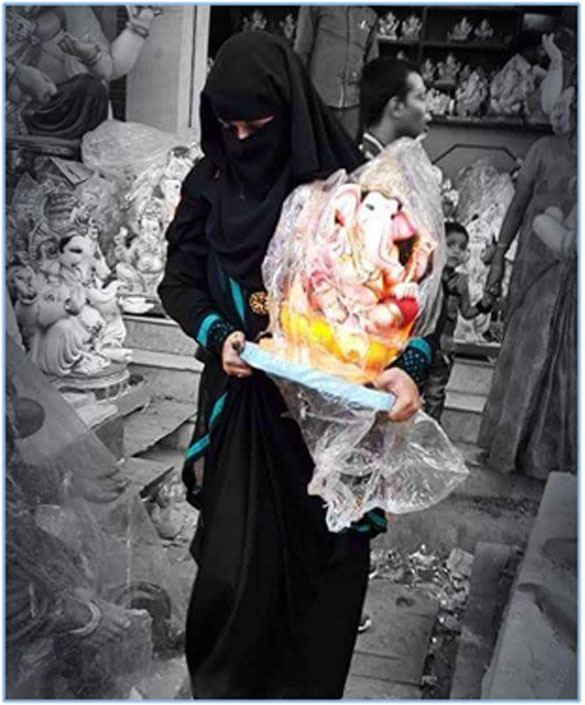 37. Still Somewhere Humanity is there!! #SyncreticIndia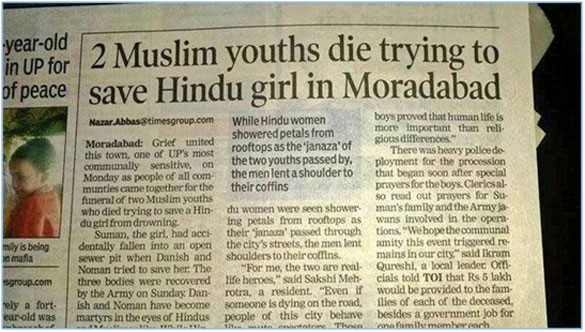 38. Somewhere in India, a Temple shares wall with a Mosque! #SyncreticIndia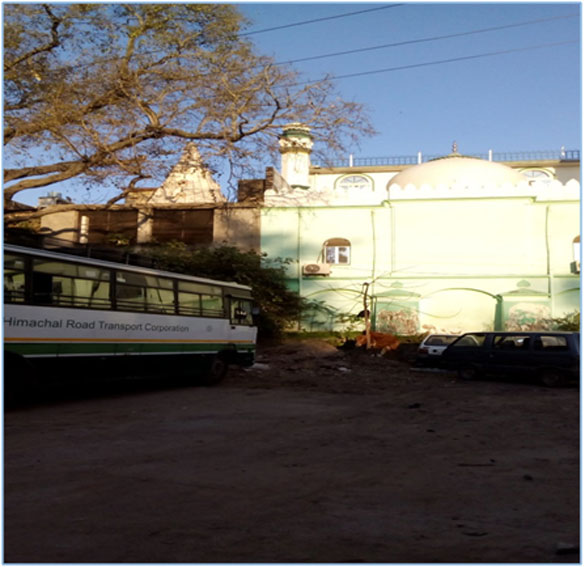 39. This is the beauty of our #SyncreticIndia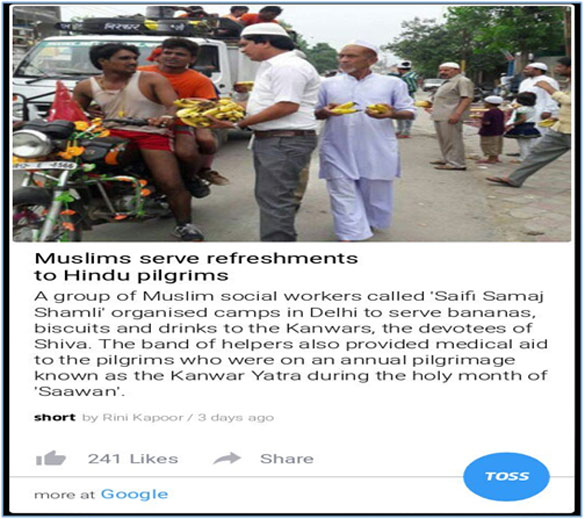 40. A Hindu Sanyasi speaking high about Sikhs & a Sikh Guru speaking high about Hindus. This is the beauty of India. Sikh Namadari community welcomed Mata Peetadipati Sri Sri Shankara Bharati Mahaswamiji to their spiritual headquarters Shri Bahini Sahib in Ludhiana #syncreticIndia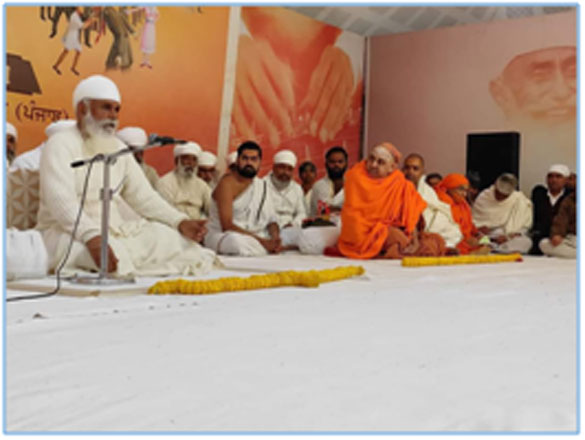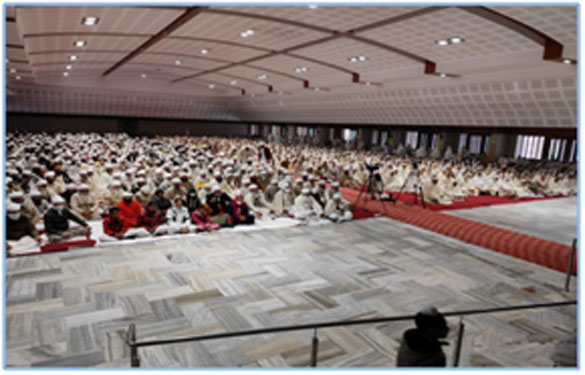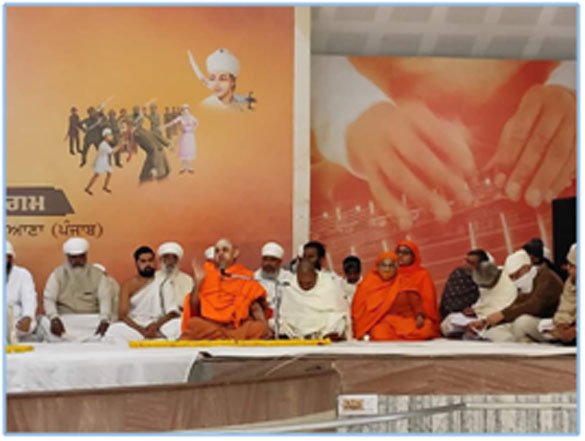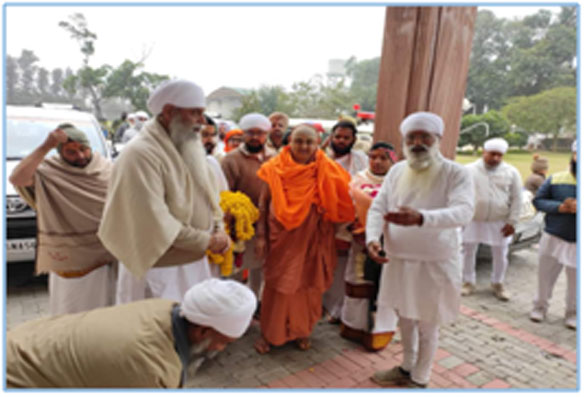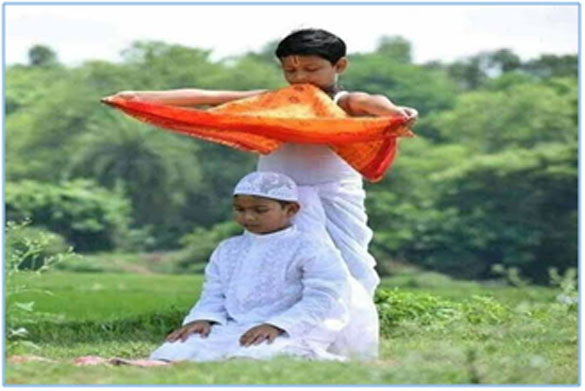 41. isIt is the beauty of #India. External forces are trying desperately to divide us, to break us. But let's show the world what India is made of. #SyncreticIndia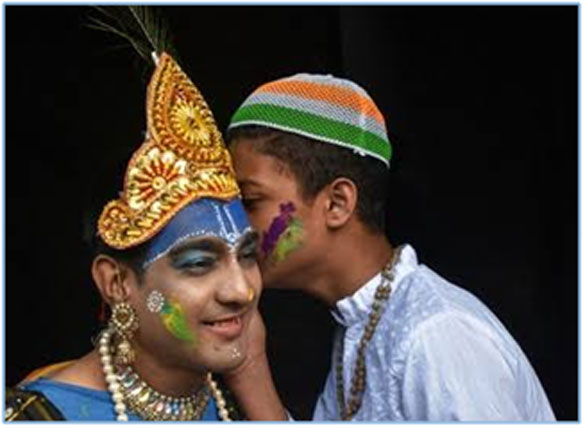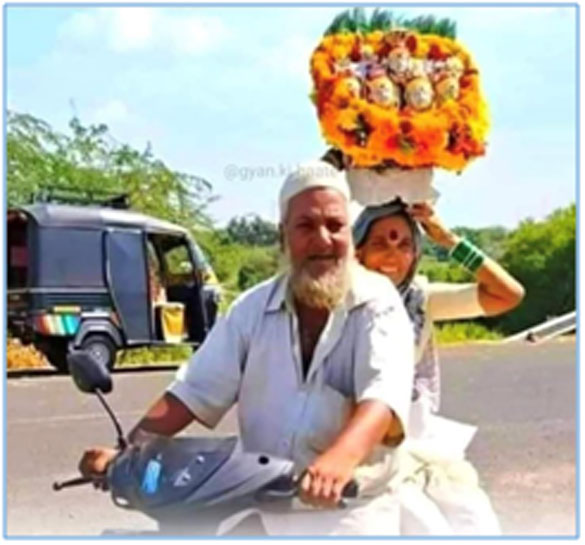 42. बुराई किसी धर्म पर नहीं होती बुराई तो कुछ इंसान में होती है #SyncreticIndia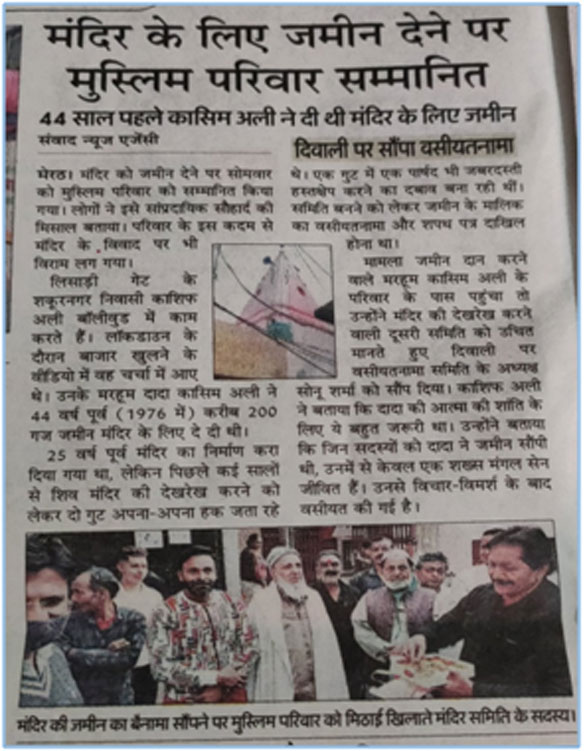 43. आज मुझे फिर इस बात का गुमान हो, मस्जिद में भजन मंदिरों में अज़ान हो,
खून का रंग फिर एक जैसा हो, तुम मनाओ दिवाली मेरे घर रमजान हो। #SyncreticIndia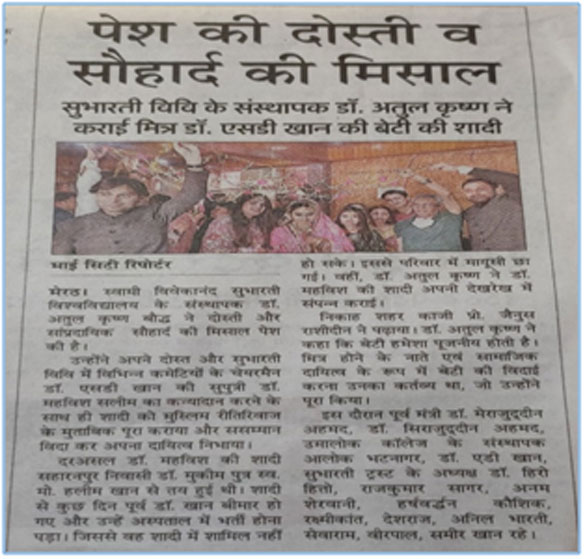 44. अब ना मैं हूं ना बाकी है जमाने मेरे l फिर भी मशहूर है शहरों में फसाने मेरे l जिंदगी है तो नए जख्म भी लग जाएंगे l अब भी बाकी है कई दोस्त पुराने मेरे l #SyncreticIndia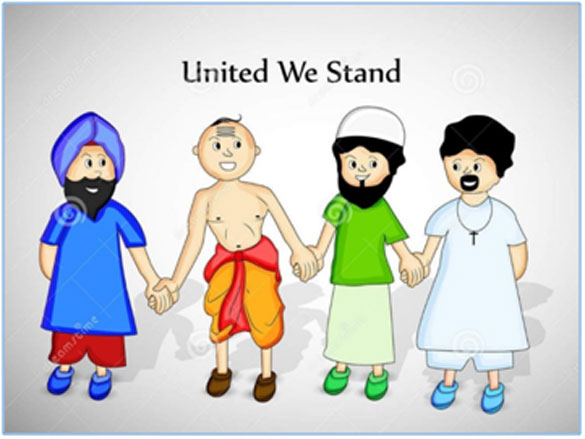 45. We are Indians, first and last. Spread your wings and embrace the love of your nation. Happy Republic Day! #SyncreticIndia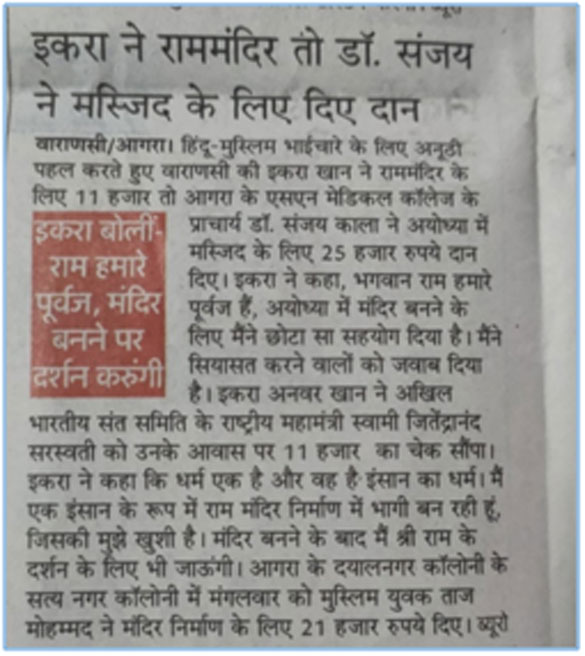 46. यही है हमारी संस्कृति, आपसी भाईचारे की आइए सब मिल कर अब मंदिर और मस्जिद के झगड़ो को खत्म करें और साथ मिलकर आपसी सहयोग से अपना और देश का भविष्य बनाएं। मेरा तो बस एक ही है अरमान तिरंगे के नीचे हो सारा हिंदुस्तान #SyncreticIndia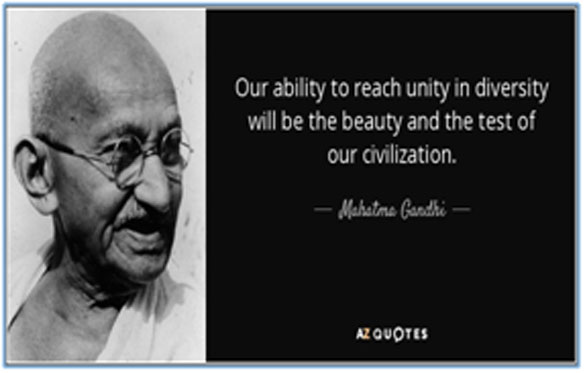 47. Our ability to reach unity in diversity will be the beauty and the test of our civilization. #SyncreticIndia
48. Muslim artisans create Durga puja tableaux is a symbol of love, respect for each other's culture and traditions. #SyncreticIndia
49. Muslim bands perform for Hindu Kumbh mela represent one belief in that almighty whom we address by different names. #SyncreticIndia
50. India is known for unity in its diversity and Shiva temple in Assam cared for by Muslim represent the same. #SyncreticIndia
51. Hindu Muslim Unity: Why my Hindu grandfather fasted for Ramadan #SyncreticIndia
52. Pune: Masjid and Mandir side by side signify Hindu muslim unity. #SyncreticIndia
53. Muslim girls chant Sanskrit hymns #SyncreticIndia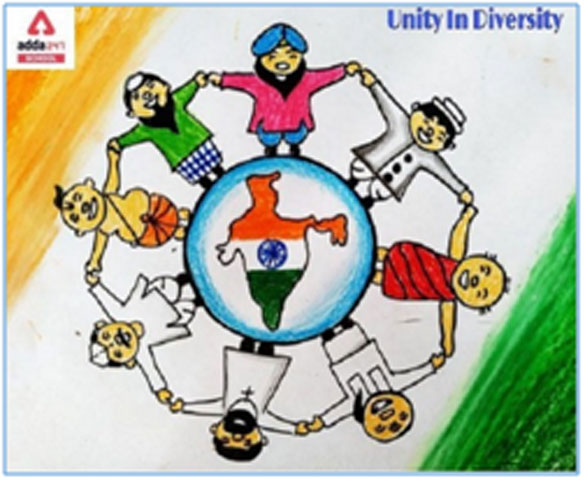 54. "If we live in our oneness-heart, we will feel the essence of all religions which is the love of God. Forgiveness, compassion, tolerance, brotherhood and the feeling of oneness are the signs of a true religion." #SyncreticIndia
55. "As different streams, having their sources in different places, all mingle their water in the sea, so, O Lord, the different paths which men take through different tendencies, various though they appear, crooked or straight, all lead to Thee." #SyncreticIndia
56. Before becoming a Hindu, a Muslim, a Christian or a Sikh let's become a human first. #SyncreticIndia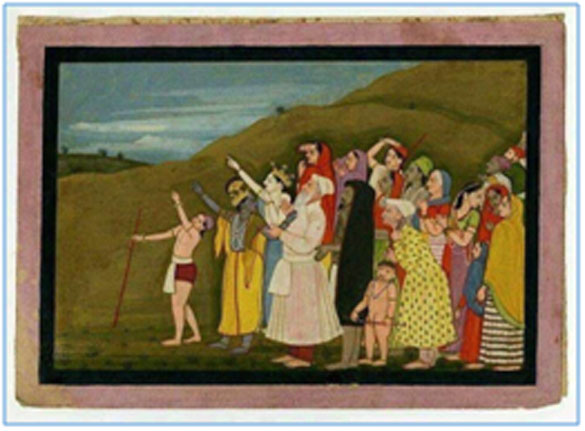 57. An 18th century painting depicting Lord Krishna sighting the Eid moon and pointing it to MUSLIM women and men #SyncreticIndia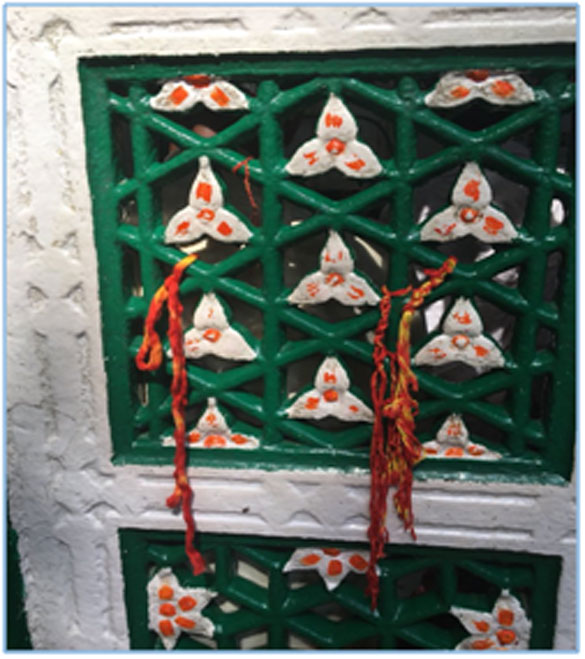 58. Architecturally medieval Jali / Latticed screen painted with green & embedded with Saffron & Red thread knots of faith sighted somewhere at Dargah of #Pirankalyar #SyncreticIndia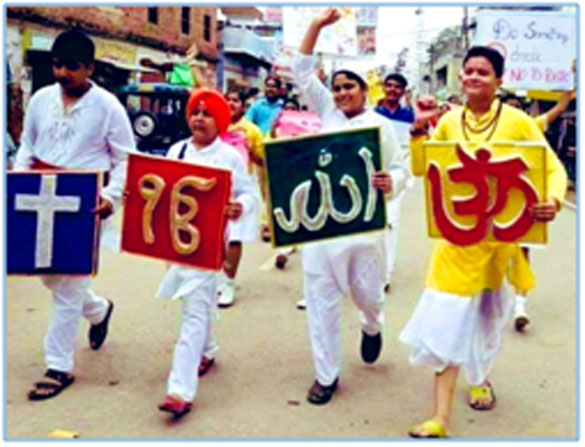 59. This is the true face of India. Here, every Indian has a caring friend from other religions #SyncreticIndia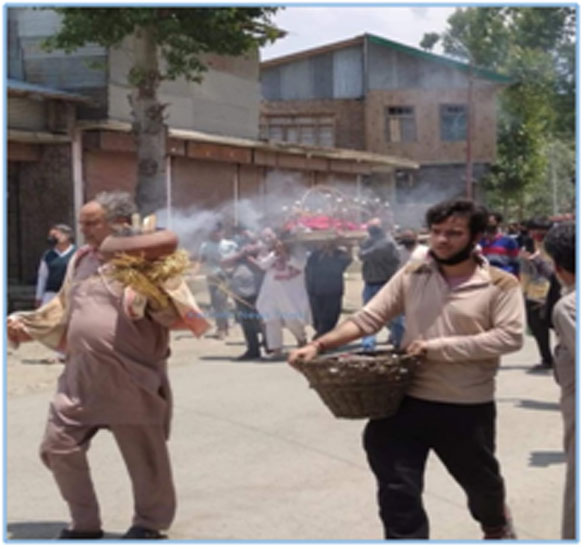 60. The Muslim neighbourhood in North Kashmir's Bandipora helped perform the last rites of an elderly Kashmiri Pandit woman #SyncreticIndia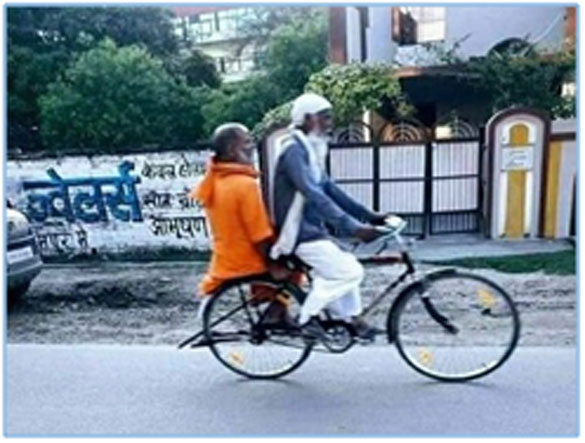 61. These things can be witnessed only in India #SyncreticIndia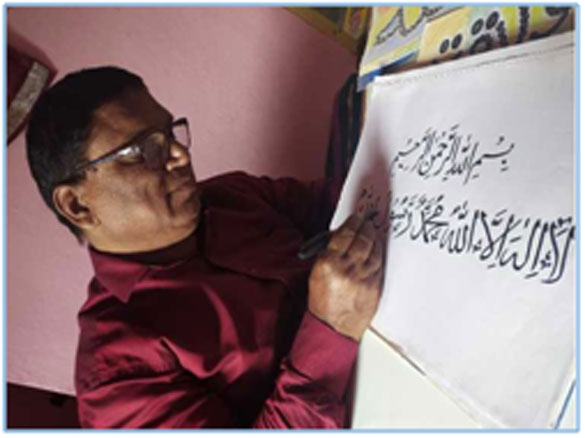 62. Meet Mr. Anil Kumar Chauhan, an artist who had transcended boundaries by painting verses in 100 Hyderabad mosques. #SyncreticIndia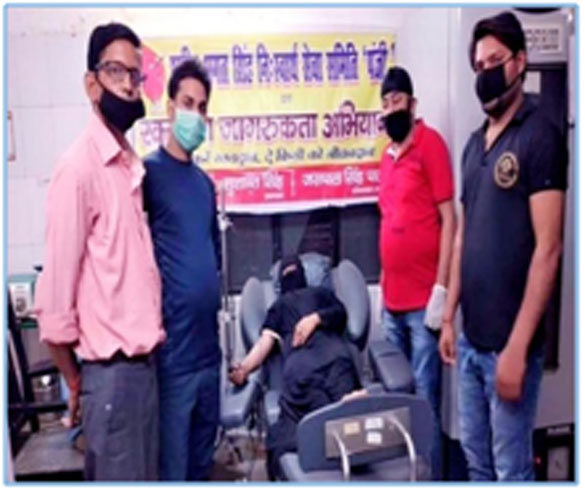 63. In Uttar Pradesh Muslim woman breaks her fast to donate blood to Hindu patient. Humanity is the identity of our country. #SyncreticIndia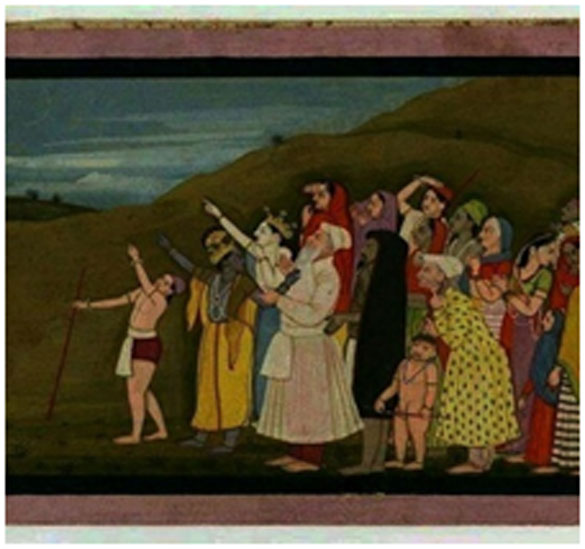 64. Lord Krishna is showing Eid moon to Muslims. A Rajasthan artwork. It clearly depicts how deeply rooted Secularism we have in India. #SyncreticIndia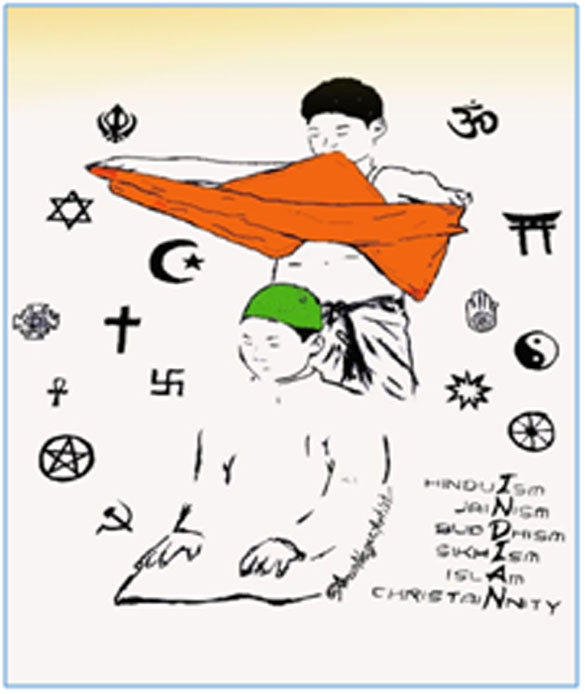 65. Image speaks a thousand words. #SyncreticIndia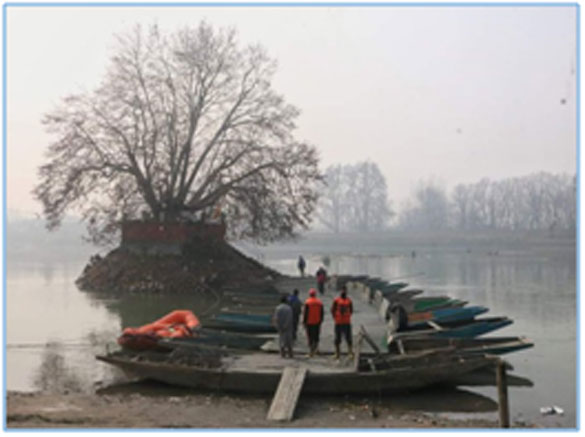 66. A goodwill gesture by muslim boatmen by making floating pathway by means of boats for hindu devotees towards popular hindu temple at Jhelum sind river junction #SyncreticIndia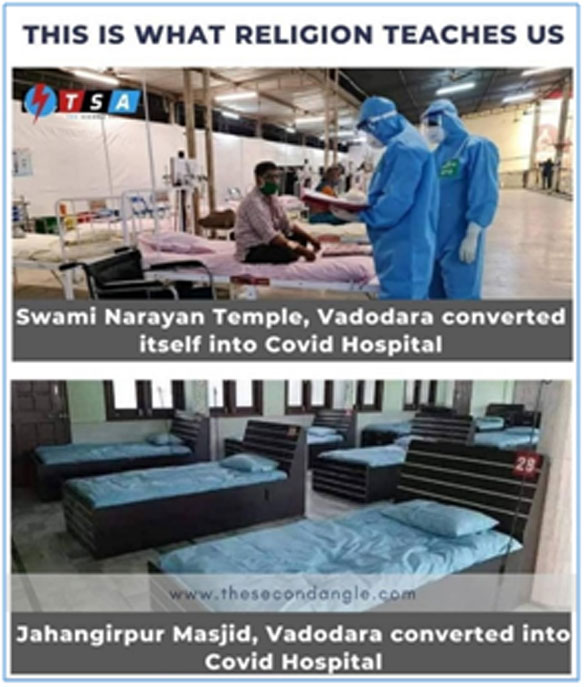 67. These kinds of news makes us feel proud to be Indian! Indians proved their unity in diversity #SyncreticIndia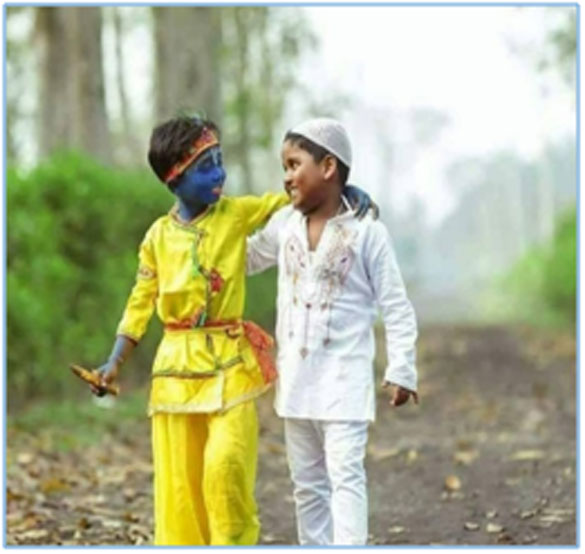 68. இந்திய மதச்சார்பின்மை என்பது வெவ்வேறு மத நம்பிக்கைகளின் இணைப்பே தவிர, அவற்றின் பிரிவினை அல்ல #SyncreticIndia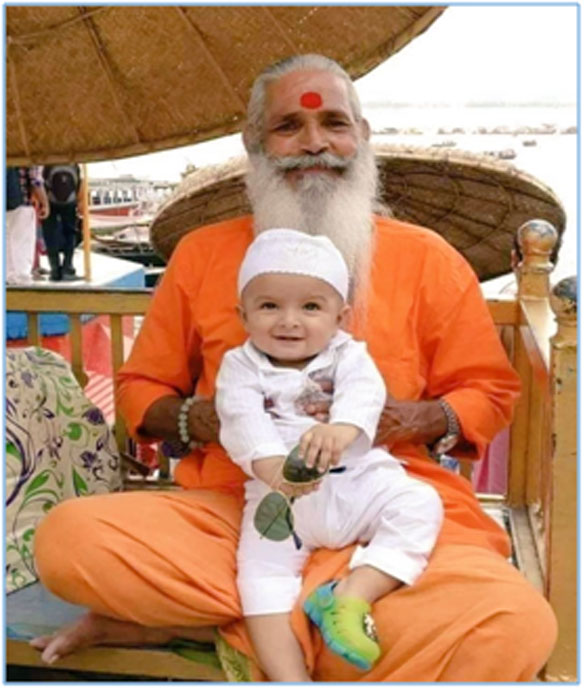 69. மத சார்பின்மை என்றால் என்ன என்று நீங்கள் இந்தியாவை பார்த்துதான் கற்று கொள்ள வேண்டும். சகோதரத்துவம் என்பது இந்தியர்களின் இரத்தத்தில் உள்ளது #SyncreticIndia
70. Dr APJ Abdul Kalam was the best example of #SyncreticIndia. https://www.hindustantimes.com/columns/farewell-citizen-kalam-he-symbolised-a-syncretic-india/story-OmXJtrbNWiHfZ6BXiaJTfP.html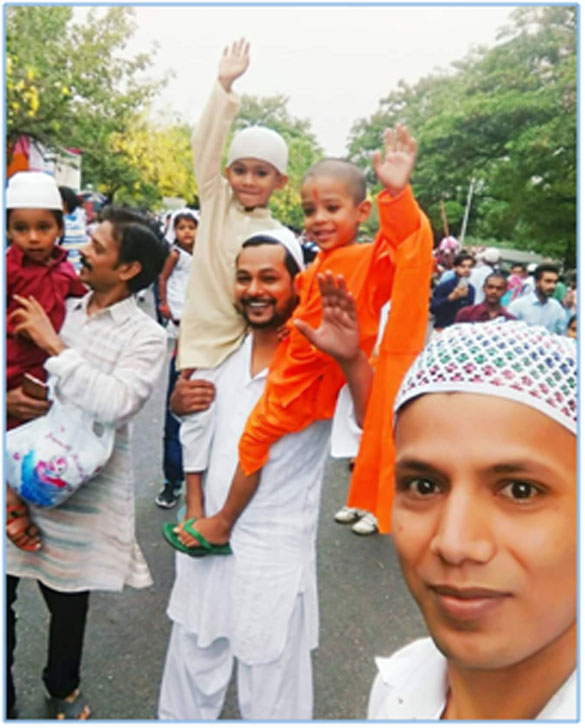 71. This happens only in India. #SyncreticIndia.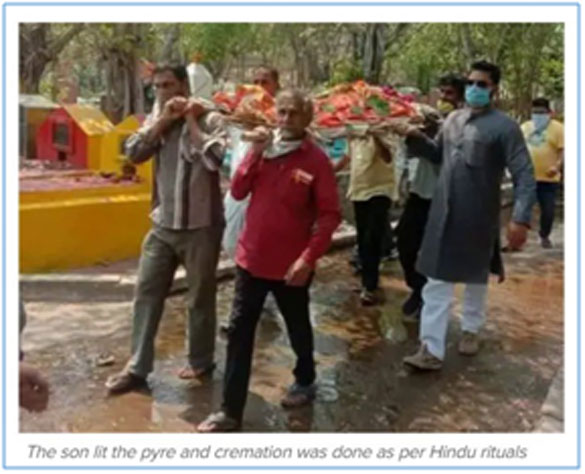 72. This is India which our heroes dreamt of. The living example of Unity in Diversity. #SyncreticIndia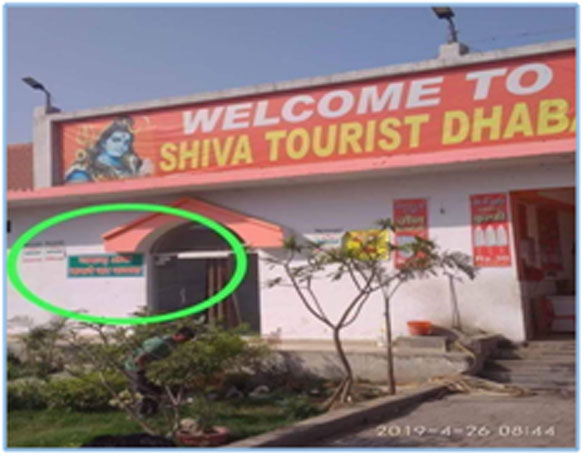 73. Hindus and Muslims greeting each other on the eve of Ganesh Chaturthi and Moharram. #SyncreticIndia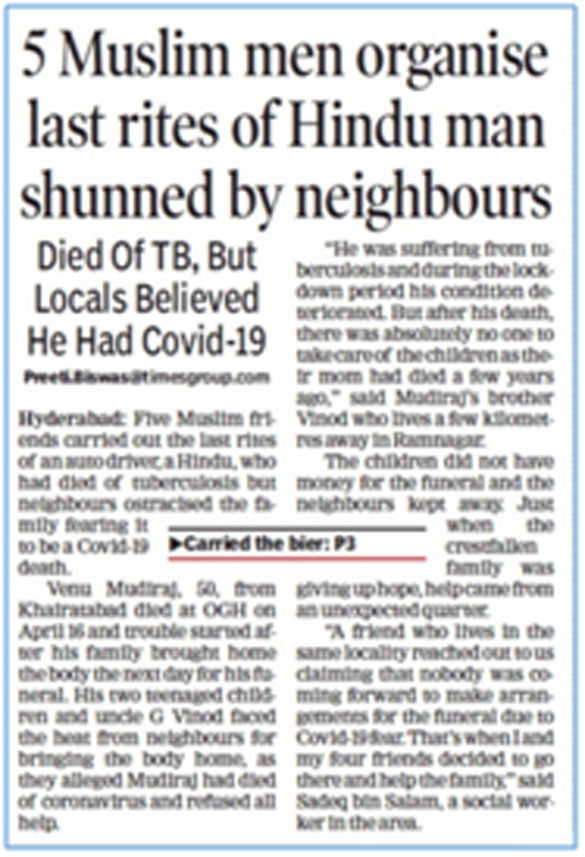 74. Ancient Buddhist temple at Bakariya Kund - an example of syncretic culture in Varanasi. #SyncreticIndia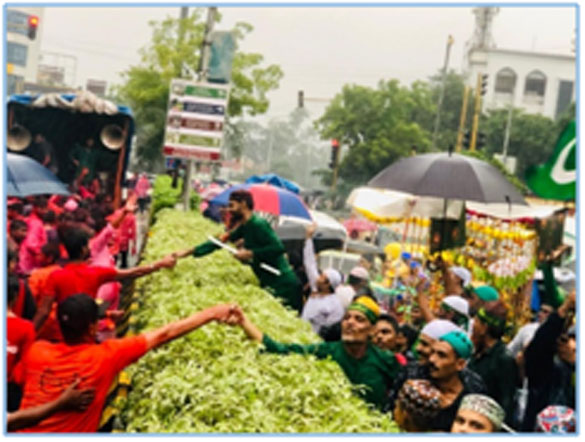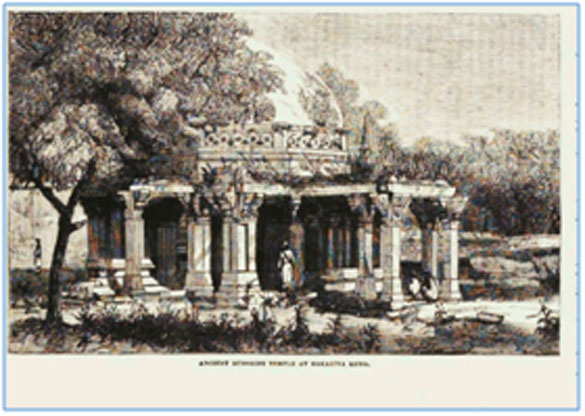 75. "Adopting a secular approach, treating all spiritual traditions with respect, has been an exemplary Indian tradition," His Holiness the 14th Dalai Lama of Tibet. #SyncreticIndia
These are only some of the images and pictures of the Syncretic India we have built and protected for centuries. It is home to thousands of religious and cultural groups. We hope that this syncretism and cultural and religious diversity will prosper and become richer with time and will remain an example of peaceful coexistence for the entire world.
==
URL: https://www.newageislam.com/interfaith-dialogue/syncretic-india-twitter-handle-diversity-india/d/126310
New Age Islam, Islam Online, Islamic Website, African Muslim News, Arab World News, South Asia News, Indian Muslim News, World Muslim News, Women in Islam, Islamic Feminism, Arab Women, Women In Arab, Islamophobia in America, Muslim Women in West, Islam Women and Feminism