By Mustafa Field and Natan Levy
August 12, 2018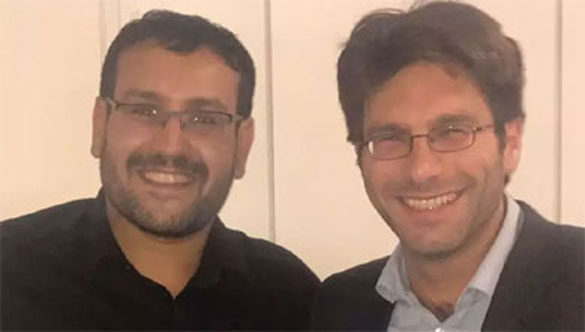 'This climate leaves us more hopeful than ever that communities across the nation can play their role in cutting through the hate and insults' ( Mustafa Field and Natan Levy )
--------
In today's environment some may ask what we – a Jew and a Muslim – could possibly have in common. The truth is, we've been friends for years and we share a great deal, including a common understanding of what it means to be on the receiving end of prejudice.
Prejudice, unfortunately, can be found in all corners of society, and spreads like a virus. It is often caused by a lack of knowledge and false interpretations, despite what Britain ultimately stands for, which is mutual respect, liberty and tolerance. But our lived reality shows that while there is hate and discrimination that certainly needs to be tackled, there is also huge compassion, cross-community understanding and shared values in our brilliant Britain.
As the directors of a grassroots organisation which aims to bring communities together, this climate leaves us more hopeful than ever that communities across the nation can play their role in cutting through the hate and insults thrown about in the media and on social platforms, and to set a positive example. This includes work colleagues sharing a lunch, parents getting to know each other at the school gates and inter-faith learning, like the recent Ramadan iftars that have just taken place, where Jews opened their doors to Muslims breaking the fast, and the upcoming Jewish festival of Sukkot, where mosques will be hosting the Jewish community. This gives communities the chance to create relationships and celebrate all that is positive about being different.
So much hate is driven by fear of the unknown. But what we have learned is that the will of good people to create relationships between communities living side by side can overcome and break the dangerous cycle of fear and hate. If you see prejudice, it's time to call it out.
Mustafa Field
It's always worth emphasising that "Muslims" and "Jews" are not homogenous communities. People have different experiences and identities based on factors like their heritage, ways of practising their faith, beliefs and culture. These debates have certainly brought out these different views within our communities. One size does not fit all.
Nonetheless, for the Muslim community, there are some common experiences. For example, we have found that it is often women who can feel especially vulnerable as they are more "visibly Muslim", either wearing a niqab, hijab or burqa. I have heard from brave women who have had their headscarves torn from them on public transport and who felt afraid to be who they are in public. However, this is thankfully not a norm and we must be clear that this is a country where such despicable acts are not tolerated. Many Muslim women tell me how they feel confident of their faith and proud to be who they are on the streets, shopping centres, workplaces and public transport. This includes being defended by non-Muslims on the rare occasions they have faced intimidation. Women want and deserve to know that if they are targeted, other people will come to their aid.
We cannot be foolish and pretend that incidences of hate crime are in no way linked to false misinterpretations of Islam. That is why during last year's terrorist attacks, Muslims like myself felt it was important to take a stand and make clear that Islamist extremism in no way represents our faith or attitudes. We were just as disgusted as everyone else. While some in the community felt we should not have to "defend" ourselves for actions we were in no way responsible for, the majority were proud that we took a stand against this hatred as well as the hatred of the far right. It shows that our experiences are different but there is a common desire to address fear and hate.
Rabbi Natan Levy
The Jewish community is a small one, and so it sometimes surprises me to see how often our faith is in the news. Many of those I have spoken to have been hurt to see some of the headlines but reassured to know that these issues will not be swept under the carpet.
I spoke to a young Jewish woman who had taken to social media to explain why anti-Semitism was wrong and instead was met with vile online abuse, often very personal and misguided.
On the other hand, some members of the community epitomise young British resilience and wish the debate would just go away and everyone would "get over it"!
As Jews, we are proud of our faith. When we organise cross-faith activities and members of the Jewish people see that hate is confined to a tiny minority of our country, it is in fact enormously reassuring. Hate crime is on the agenda but that does not make it a normal and accepted part of everyday life. For those of all faiths and none, whatever your race or background, we are all fighting the same battle: to drown out extreme views.
After all, it us who are decent and normal. Not them.
Source: .independent.co.uk/voices/jewish-muslim-communities-antisemitism-islamophobia-racism-uk-a8487421.html
URL: https://www.newageislam.com/interfaith-dialogue/in-todays-environment-some-ask/d/116110