Looking at the news headlines these days, it might be hard to believe that a group of Jews, Christians and Muslims could agree on the time of day, let alone a theologically touchy topic like good vs. evil.

But a gathering last week at a church in Bon Air showed that there is widespread agreement among members of the three faith-traditions about the nature of evil and the best ways for religious believers to respond to it.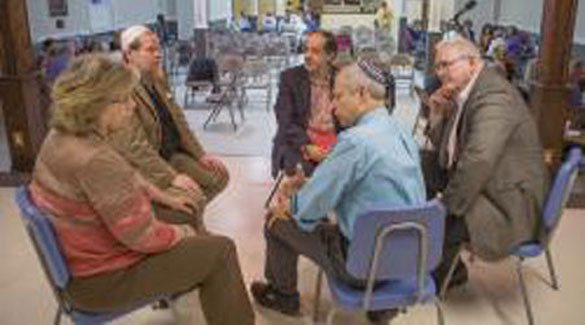 The Rev. Dr. Janet Winslow (clockwise from left), Imam Ammar Amonette, Dr. Imad Damaj, the Rev. Bill Davis and Rabbi Ben Romer meet for a discussion during the annual Interfaith Trialogue at Bon Air United Methodist Church.
-------
About 50 people were on hand at Bon Air United Methodist Church for the first session of the fifth annual Interfaith Trialogue, a series of discussions aimed at helping Jews, Christians and Muslims better understand one another's faiths. The series is co-sponsored by Bon Air UMC, Bon Air Presbyterian Church, Congregation Or Ami, the Virginia Muslim Coalition for Public Affairs, St. Edward Catholic Church and the Islamic Centre of Virginia.
Imad Damaj, founder and president of the Virginia Muslim Coalition for Public Affairs, explained why these groups decided to start the Interfaith Trialogues.
"We're becoming so diverse, and that's not going away," Damaj said. "We need to have a sense of community. We're one community. But how can you have that sense of community if you don't get to know each other?"
The Rev. Bill Davis, lead pastor at Bon Air UMC, led off the evening's discussion by remarking that he had been asked to give a presentation on such a "light topic" as "Good and Evil in Human Nature."
The question of good and evil "is as old as humankind," Davis said. "It's been a subject for philosophers and theologians for a long, long time."
Davis presented some highlights of Christian thinking on the subject, including the influential teachings of Augustine of Hippo, who argued that God's creation is good but human beings fall short of fulfilling their purpose in it. Humans have a choice, and for us evil is "deciding not to live according to God's purpose," Davis said.
Methodists, Davis noted, "believe in human depravity, that humans have fallen somehow from the grace of God … Our nature is warped somehow. But in our journey with God, our nature can be changed to what God intends, can be reclaimed, renewed. We can partake of the goodness of God."
Rabbi Ben Romer of Congregation Or Ami said Jews also believe in the goodness of the created world. Where evil enters in is through human choice or free will, he said.
"Sin – that is, missing the mark – crouches at the door," Romer said. "You have the responsibility to let it in or not."
The Jewish mystical doctrines of kabbalah teach that human nature is dual, comprising an urge to do good unselfishly and an urge toward selfishness and disorder. To be fully human and creative, we must embrace both sides of our nature, Romer said, but it's only when the unselfish side "controls, embraces, works with the selfishness that we become one."
Iman Ammar Ammonette of the Islamic Centre of Virginia said Muslims "agree human nature is dual … but there is only one plan in the universe."
God's creation is beyond full comprehension by humans, but we nevertheless arrogantly believe in our own supremacy. "We don't acknowledge the limits of our knowledge," Ammonette said.
The Rev. Dr. Janet Winslow, senior pastor of Bon Air Presbyterian Church, echoed the others' comments about human nature. "Our nature is inherently good" but we are fallen because of "a certain self-interest," she said.
"The way that we can work together is to see God's image in each other, to ask, 'Where's the good, where can I see God's image in the other?'"
Following the remarks by the clergy members, the audience broke up into four smaller groups for discussions. One member of each group then gave a summary of whatever consensus they had reached.
Asad Goraya, a Muslim, said his group had agreed that "We're very blessed to be living in the United States. How many other countries can you have a Muslim, a Jew, a Christian sitting together and talking about things? And not just religion, talking about anything"
Michael Stone, a Roman Catholic, said members of his group had tried to understand evil through analogies, such as comparing it with an infection, and use them to look for solutions. For example, "the way we act toward one another can fight off the infection" or help it proliferate, he said.
Zolfi Khan, a Muslim, said his group saw the discussion itself as important. "It makes a huge difference in the end that we all came together," he said. "Why does bad happen around us? We need to ask as a society. All religions, all believe in that, looking at it as a human being first, then as a Christian, Jew or Muslim."
Karen Romer, a Jew and the wife of Rabbi Ben Romer, said her group had "pretty much agreed that we have free will." More importantly, she said, "We're tired of labelling everything evil. We really want to focus on what's good and on finding good."
Wrapping up the evening, Davis told the audience, "I hope you'll keep thinking these good, deep thoughts and keep looking for the good."
Two more sessions of this year's Interfaith Trialogue are scheduled. On May 9, "Modern Culture and Religion: Clash or Cave?" will be the topic of discussion at Congregation or Ami, 9400 W. Huguenot Road. "Universal Values: Religion vs. Culture" will be topic for the final session on May 16 at the Islamic Centre of Virginia, 1241 Buford Road.
Source: http://www.chesterfieldobserver.com/news/2013-05-08/News/Participants_at_interfaith_dialogue_seek_common_gr.html
URL: https://newageislam.com/interfaith-dialogue/michael-buettner/participants-at-interfaith-dialogue-seek-common-ground/d/11562