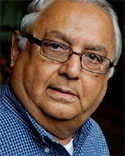 By Mansoor Ladha
April 24, 2017
It's very sad and depressing to learn that there has been an increase in incidents of racism, anti-Semitism and Islamophobia in Alberta.
A number of high-profile incidents have been reported recently, which included anti-Muslim and anti-Holocaust posters, racist graffiti in LRT stations, a threatening message sent to a Red Deer mosque and alleged threats again Muslim women in Edmonton.
Isn't it shameful that six innocent people had to die before we could get an outpouring of support and solidarity for Muslims across the country? Do we have to have incidents like the Quebec City mosque massacre to understand the value and contributions of minorities?
The pro-Muslim protests are welcome and the tremendous show of support that followed are comforting and reassuring, but the fact still remains as to why things have to go that far, leading to the loss of six innocent lives?
Quebec has been a province where Muslims have always been targeted by online intimidation and Islamophobic vandalism. The former PQ government is guilty of spreading anti-Muslim feelings by proposing that public-sector workers should be prohibited from wearing "conspicuous" religious symbols such as turbans, kippah, hijabs and clamping down on burkas and niqabs. Quebec's comparatively small minority of 250,000 people out of a population of approximately eight million has been in an unflattering spotlight. There have been incidents of racism and harassment in other parts of Canada, from Calgary to Peterborough. This is a wake-up call that shouldn't be ignored.
Every citizen, every media outlet, every school board, principal, teacher and every elected representative has a role to play and responsibility in initiating policies against racism and anti-Muslim sentiments. As a start, ordinary citizens should begin to know one's Muslim neighbour, office workers or colleagues with an aim toward building bridges. Even coffee-level sessions to acquaint oneselves with the other "religion" and way of life should be encouraged.
Muslims may look distinct, may pray differently and may not eat the same food as the majority community, but underneath they are the same as anyone else. As doctors and taxi drivers, computer specialists, lawyers and cleaners, they contribute like anyone else and are trying hard to adjust. They should be accepted and welcome as Canadians. And it's this diversity which is Canada's greatest strength.
Local school boards should launch curriculums in schools that teach different religions, their philosophies and culture in keeping with the country's policy of multiculturalism and pluralism. Our prime minister and other leaders can preach benefits of pluralism and diversity but what good is it if our young generation has been not been imbued with the basic knowledge and principles of various cultures. We should capitalize on the prevalent goodwill in the country to prevent the emergence of another Alexandre Bissonnnette in our lifetime.
Muslim leaders themselves should be the greatest contributors of this bridge-building exercise. The onus is on the imams and other religious leaders to show the lead in having interfaith meetings, public debates about the issues facing the community and to encourage their congregations to hold interracial events.
Muslim leaders should also take the initiative to hold periodic open houses in their mosques so as to encourage non-Muslims to attend their services and to explain to them their rituals and philosophy of their religion.
I applaud some Muslim communities of Calgary and elsewhere who have been holding Canada Day breakfasts for years. Such events give people of different religions and races the chance to mingle informally and to learn their culture.
The media's role in cementing ties and building bridges among communities should not be underemphasized. Their mandate is to hold governments and institutions accountable, and recommend ways to minimize problems in society. The challenge before media is to ensure that politics, especially policies pertaining to race relations and minorities, should strive to unify, not divide society. Whenever there is a terrorist attack, the media is quick to identify it with Muslims and Islam. They have to impose self-discipline and not succumb to fear-mongering. Referring to incidents of terrorism as Islamic terrorism is wrong; the incidents of terrorism are not sponsored or supported by Islam or Muslims. They are conducted by a bunch of terrorists who happen to belong to the religion and have no legitimacy to conduct such incidents on behalf of Islam.
Muslims repeatedly have deplored terrorism, extremism and radicalism propounded and practised by a small group of terrorists. Why are Muslims being penalized for things over which they have no control? We don't see Catholics blamed for offensive launched by the Irish Republican Army (IRA), for using guerrilla tactics and carrying out bombing campaigns? >
The federal government should appoint a task force to study the problem and make recommendations to improve race relations in the country while the police have a duty to report and deal with hate crime incidents. The ugly head of racism should be entombed and dealt with from all fronts.
We are blessed to be living in a country which thrives on multiculturalism and pluralism. We accept those fleeing from poverty, autocratic governments, diseases, famine, etc. A few isolated incidents such as the Quebec killings should not tarnish our international reputation and discourage us from going forward.
Let's hope for the time when hijab-wearing Muslim women will be able to travel on a bus or subway without harassment and name-calling. Let's wish for the day when kids in school would stop name-calling coloured kids and accept them as fellow students. The integration process concerns all members of society and therefore it is important that everyone should adopt it as their responsibility and get involved. While the U.S. is busy planning to build walls, Canada is well known and specializes in building bridges among people of different nationalities and countries.
----
Mansoor Ladha is a Calgary-based journalist, travel writer and author of "A Portrait in Pluralism: Aga Khan's Shia Ismaili Muslims." His new book, "Memoirs of a Muhindi," has been published by University of Regina Press.
Source: lethbridgeherald.com/commentary/opinions/2017/04/24/bridge-building-is-needed-between-cultures-in-canada/
URL: http://www.newageislam.com/interfaith-dialogue/mansoor-ladha/bridge-building-is-needed-between-cultures-in-canada/d/110896