By Joy, New Age Islam
21 January 2019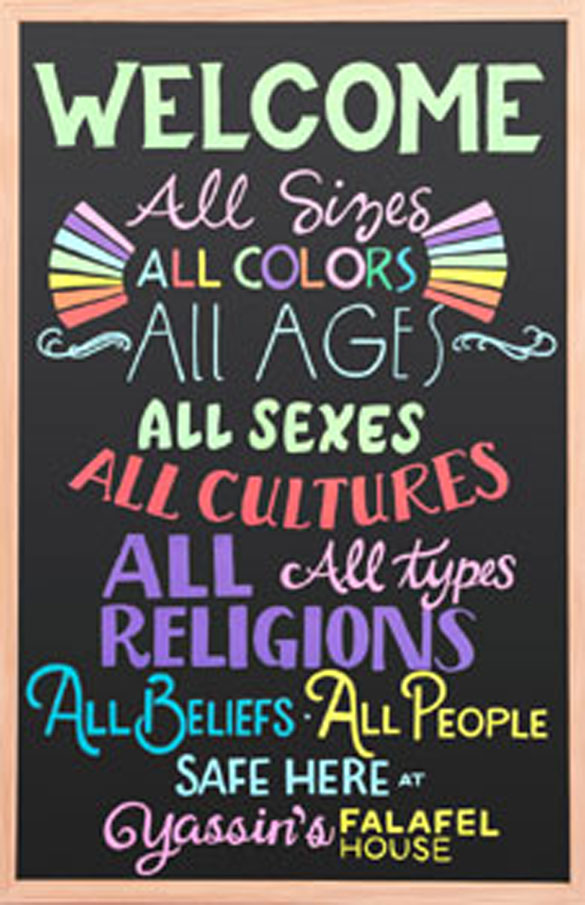 Sign outside both the locations of 'Yassin's Falafel House'
-----
Did you know that the immensely popular international magazine 'Reader's Digest' chose an eatery run by Yassin Terou, a Muslim refugee from war-torn Syria, as 'The Nicest Place in America' for the year 2018? 'Yassin's Falafel House', based in two locations in Knoxville, Tennessee, was chosen for this honour from among 450 nominations that were received from across the USA! It wasn't just for its food that Yassin's restaurants won this accolade. Yassin's inspiring personality, expressed through his many acts of love and kindness, have won him wide appreciation across religious and ethnic boundaries, making him just the right person for the award!
Yassin is an inspiring example of how one person can make a major difference in promoting goodwill between people from different faith and ethnic backgrounds. In the context of widespread prejudice in the name of religion and ethnicity in large parts of the world, Yassin's life provides valuable lessons for how such prejudice can be overcome—through 'little', everyday acts of love and service.
Yassin was born in Syria in 1983 and grew up in the country's capital, Damascus. In 2010, the Syrian secret police held Yassin for a month—he had been a critic of the government. He applied for asylum in America, hoping to return to Syria when he was no longer in danger. But things only got worse, with a war in which hundreds of thousands have been killed.
Yassin came to Knoxville in 2011, knowing little English. Life for him in his new home wasn't easy. After filing the papers to legally obtain employment, he couldn't find work. The small Muslim community in town offered to help him with free food and clothing. But Yassin wanted a job. He asked if he could sell sandwiches outside the mosque on Friday after prayers. Then, in 2014 he launched his eatery, which was followed by a second unit, in 2017.
In an article titled 'How Did a Falafel House in Tennessee Become the Nicest Place in America?' published in the 'Reader's Digest' (https://www.rd.com/true-stories/inspiring/yassin-falafel-house-nicest-place-in-america/), Jeremy Greenfield shows how this first-generation Muslim refugee-immigrant in America has won the hearts of many people in the town where he now lives. Yassin, the article says, has " become a beloved local celebrity". His eateries, it relates, "are safe places for everyone, powerful engines of charity, and symbols of the best of America"—which is why 'Yassin's Falafel House' was voted by 'Reader's Digest' as 2018's 'Nicest Place in America'.
One thing that probably draws many people to 'Yassin's Falafel House' is that Yassin makes them feel warmly welcomed. Drocella Mugorewera, executive director of Bridge Refugee Services, a non-profit organisation in Knoxville that helps refugees rebuild their lives in Eastern Tennessee, repeats the word that's often mentioned when talking about Yassin: "He wants everybody to feel welcomed."
Yassin explains that he isn't there just to make money. He's more than just a businessman. He is deeply engaged in social causes that benefit the local society as a whole, and not just his co-religionists. "Yassin's Falafel House" has held fundraisers for community causes, donating a percentage of the profits of each falafel sold. Yassin has been an employer of many of the residents of the Young Women's Christian Association (YWCA). He has also hired people struggling with drug addiction and women fleeing dangerous situations. When, in November 2016, fire ripped through a nearby town, killing 14 and damaging or destroying 2,500 homes and businesses, he rented a huge van and helped arrange for essentials for the affected.
Yassin has been actively engaged in promoting interfaith and inter-ethnic harmony, including simply by providing a cheerful atmosphere in his restaurants where everyone is made to feel welcome.
When Yassin won a local Rotary Club Peace Award last year for his charitable work, he donated the $1,000 prize to the Seeds of Abraham, a local nonprofit organisation that brings together youth from different faiths to build connections that lead to understanding and peace.
In 2017, Yassin was invited by a Baptist Christian pastor to talk to a group of children at an "in-home retreat". He cooked the group a meal and then told them about his life. It transformed the way the children thought about their neighbours and refugees and what they should do as Americans and as Christians to welcome all who need a place of refuge. "Prior to that weekend, some of our students and families thought of refugees as these folks who were in some way dangerous. I don't think that can stick if you meet Yassin or meet other refugees like him, because you come to know the people they are", says Ben Winder, the youth pastor at First Baptist at the time.
Of course it hasn't been all smooth sailing for Yassin in the face of anti-immigrant and anti-Muslim sentiments among some people in the country where he now lives. He's probably faced considerable prejudice on these counts himself. But his way of handling these challenges has perhaps won numerous hearts over. Consider, for instance, his response when participating in a rally just before Christmas in 2017 to "welcome the stranger," a Christian call to treat friends, neighbours, strangers and even enemies, with love and compassion, when a man draped in the American flag hollered against immigrants, who he claimed were preventing him from getting a job. When it was Yassin's turn to speak at the rally, he invited the man up on stage so they could hold the flag high together. When the man refused, Terou went into the crowd to find him so he could introduce himself and offer to buy him dinner so they could talk. He also offered the man a job!
"I always do that," Terou told Reader's Digest, "I always invite anyone who hates us to the store. I want them to know us more. When you break bread, you break hate."
Similarly, when one day Yassin learnt that the "Safe Place" sign outside of one of his locations had been vandalized with a white supremacist sticker, he didn't call the police. He didn't even think about pressing charges. Instead, he countered the action with love. He gathered customers, many now friends, outside his restaurant and talked about how he wanted to sit down for a meal with the white supremacists who did it, so they could learn to get along.
For those who hope for a world where people from different backgrounds can live together in peace and harmony and where prejudice in the name of religion and ethnicity are things of the past Yassin's life provides some valuable lessons. It teaches us that:
· If we want others to appreciate, accept and respect us, we need to be pro-active and appreciate, accept and respect others first. This applies in the case of both individuals and communities.
· If we make others feel valued and welcomed, they will value and welcome us in turn. Again, this is true for both individuals as well as for entire communities.
· Acts of loving service can help build bridges of harmony between people from different faith and ethnic backgrounds.
· The best way to overcome prejudice, including in the name of religion and ethnicity, is by serving others through deeds of kindness, going beyond concern with just one's own social group.
· Deeply-rooted prejudices, such as in the name of religion and ethnicity, can be overcome. And the only way this can happen is by living out love and compassion and being useful to others.
· Love alone can overcome hate, transform hearts and build bridges, including between people from different religious and ethnic communities. As is rightly said, "Hatred does not cease by hatred, but only by love; this is the eternal rule."
URL: https://www.newageislam.com/interfaith-dialogue/restaurant-run-muslim-refugee-chosen/d/117519
New Age Islam, Islam Online, Islamic Website, African Muslim News, Arab World News, South Asia News, Indian Muslim News, World Muslim News, Women in Islam, Islamic Feminism, Arab Women, Women In Arab, Islamophobia in America, Muslim Women in West, Islam Women and Feminism