By Joshua Miller
October 28, 2013
Nine days before Boston voters choose the city's next mayor, John R. Connolly and Martin J. Walsh visited churches and an Islamic cultural center — and Walsh stopped by a synagogue — in a day of campaigning that pivoted on speaking to faith groups.
Both candidates hoping to succeed Mayor Thomas M. Menino attended Boston church services Sunday morning and gathered in the evening for an interfaith organization's event at the Islamic Society of Boston Cultural Center in Roxbury.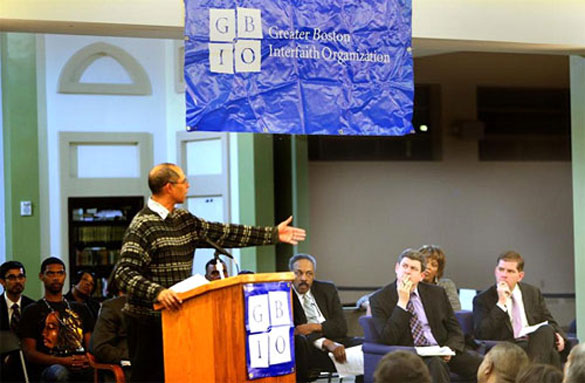 Bruce Thatcher of the Dearborn Community Alliance spoke at the Islamic Society of Boston Cultural Center's forum.
----
At the Roxbury forum organized by the Greater Boston Interfaith Organization and the Massachusetts Minority Contractors' Association, the candidates, appearing separately, were peppered with questions and asked to make pledges about what they would do if elected mayor.
Among the actions they agreed to support, Connolly and Walsh committed to pushing to limit handgun sales to one per person per month, to increasing city support for women- and minority-owned businesses, and to turning Roxbury's Dearborn School into a science, technology, engineering, and mathematics academy.
In front of a diverse audience of more than 200 people, each candidate said yes to each of the organizations' "asks," receiving hearty applause.
Walsh, who spoke second, was prepared with a joke when he got the final question: Would he meet with leaders of the two sponsoring organizations within 90 days of his inauguration? "Fuhgeddaboudit!" Walsh said, drawing laughter, before agreeing that he would indeed meet with the groups.
The Rev. Burns Stanfield, president of the interfaith organization, said he was pleased that both candidates agreed to support everything they were asked to.
"I feel good about both of them as candidates," he said.
Leaving the forum, Connolly lauded the effort of the event's sponsors. "I think it's great when we see the intersection of faith and civic action and the desire to bring people together across different faiths to work for making Boston a better place," Connolly said as he was leaving the event. "There's an energy to it that's always great."
Walsh said the heavy focus on religious congregations Sunday was part of the wide variety of groups he saw as he campaigned. "Running for mayor, you have to hit a lot of different constituencies and part of that is hitting the different faith-based organizations."
"It shows the diversity of the city," he said.
Walsh started the day at the Charles Street AME Church in Dorchester, while Connolly made appearances at Mt. Olive Kingdom Builders' Church in Dorchester, Metropolitan Baptist Church in Dorchester, and Gate of Heaven Parish in South Boston.
Later, Walsh met with members of Congregation Kadimah-Toras Moshe, a Modern Orthodox synagogue in Brighton.
Just before 9 p.m., standing a few feet from a spread of bagels and hummus, Walsh spoke to about 30 people and explained what he would do if he is elected mayor.
Beyond his standard stump speech, which ranged from discussion of economic development issues to education, he tailored his remarks to the audience, speaking about traffic in Brighton and a trip he took to Israel in 1999.
Walsh tied his own religious education into his stance on improving Boston schools. "I am a product of a parochial school, because rather than sending me to the public school down the street, my parents sent me to St. Margaret's, largely because of busing," Walsh said.
Now, Walsh said he wants to boost Boston schools by introducing a public preschool program for 4-year-olds, as well as taking advantage of state funds to renovate city school buildings.
At the Roxbury cultural center, both candidates were engaged with their questioners, drew laughs, and received hearty applause from the audience. But the signs of the toll of a long and grueling campaign were also clear.
Connolly could not remember the name of one of the people who had spoken earlier. "I don't sleep anymore, so I don't remember anything anymore," Connolly said to laughter.
Globe correspondent Jaclyn Reiss contributed to this report.
http://www.bostonglobe.com/metro/2013/10/27/candidates-address-faith-groups-boston-mayoral-election-nears/morvOV81YUNqbRYbtuIAFJ/story.html
URL: https://newageislam.com/interfaith-dialogue/walsh,-connolly-visit-faith-groups/d/14210