By Jalabala Vaidya
July 22, 2016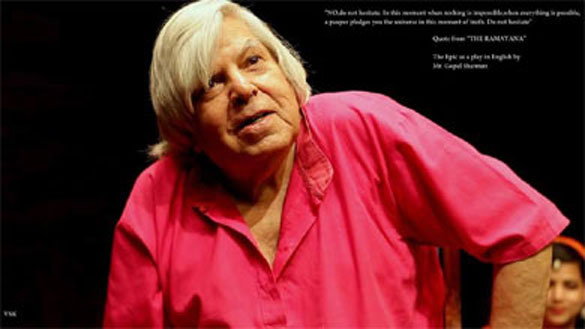 Renowned playwright and poet Gopal Sharman
---------
In 1968, my husband Gopal Sharman was contracted by the Royal Shakespeare Company's World Theatre Season to bring a play from India for their 1971 World Theatre Season. It was the most prestigious international theatre event at the time. Ingmar Bergman with the Royal Swedish Theatre, and the Comedie Francaise were coming. Why the Ramayana? In the Preface he wrote to the play, he explained his choice: "Here I am trying to understand the Indian mind." Lying on the stone floor of our bedroom for coolth as 1969's summer burnt on, Gopal dictated his Ramayana to me. As he typed it later in the evening, we would discuss what really must have happened those 5,000-plus years ago, taking it that Rama, Sita, as well as Valmiki; their contemporary had been real people, human rather than divine, and only Hanuman as a supernatural being from another dimension of reality.
Gopal had questions in his mind: Why did Rama send Sita away after their victorious return to Ayodhya? Why the fire ordeal? Why did he shoot Bali in the back? For Gopal these were troubling thoughts. He decided to use the opportunity offered by the World Theatre Season to clarify his own mind on the epic. The Ramayana written by Gopal Sharman has been hailed as the Ramayana for our times. This has sprung from noted Tamil author, Ka Naa Subramaniam's comment in a review: "The Ramayana awaited only a poet who could see in Rama the qualities, characteristics and hankerings of the human personality today. Sharman has turned out to be that poet."
There are 52 acknowledged rewritings of the Ramayana after Valmiki's great Sanskrit epic. Tulsidas, writing in Akbar's time, did not adapt or translate Valmiki, he wrote his own Ramayana, so did Kamban, in Tamil. Gopal's theatrical magnum opus developed several interwoven strands that find contemporary resonance: governance and justice, love, war and union with divinity. Indeed, the play opens with a Contemporary Person asking why the Ramayana has relevance for us now. That question is answered by Hanuman who describes a cosmic reality, part science, part poetry, in exquisite language — beautiful writing being a prerequisite of all the great Ramayanas, in Gopal's case, English. In the opening scene with Kaikeyi, Dasharatha examines the qualities of good governance and justice, using both Ayodhya and Lanka as opposite examples. It is a hard hitting evaluation of typical governmental policy, of concern to us today. "Lacking passion, kings and their governments pretend to duty. But I tell you such duty does honour to a lie.
Nor is passion simply the pursuit of triumph, or the crushing despair of defeat, ….it is a miraculous ability to do what must be done from day to day…yet somehow to make all that seem no more than incidental to some larger scheme of things, where passion is, like space as it were, enveloping all…. only in Rama, of all my sons, or anyone I know, I see this miracle happen." And Rama, expressing his own views during his exile:"How should I look forward to Ayodhya….the reins of governance…whose only hope is that it might coexist with Lanka…and what has happened in these 13 years to change this bitter fact….That in our times, no philosophy that restrains at any stage a man's material wants can be the basis of successful government?" Lakshmana questions his brother: "Yet where something hurts how one can perversely wish to coexist with that? From some cowardice, justify its existence, justify coexistence?" Governance, justice, Ram Rajya, the people's rights, mirror our own preoccupations — Kashmir and Afghanistan (from where Kaikeyi came),Panchayati Raj, people's participation at the grass root level. Gopal's Ramayana is also an intense examination of the quality of human love, so overwhelming in Rama and Sita. On the other hand, Ravana's obsessive desire for Sita, accompanied by Mandodari's sad counterpoint, fills the epic play with emotion, and made the Ramayana intensely moving to me, as I took it down, sometimes in tears. Into all this intrudes the horrors of war. As Rama says on the ninth night of the war:"I must retract myself from the fevers of this war, the din and noise, sword, blood, fire and death, its misery and gruesomeness which wrench my heart and make me weep in the night…." Yes, the war is there, as it is climactically, in all the retellings of the great epic.
Yet, never told before with this deep aversion to the fact of the suffering and irrevocable consequences of war. A consequence that compels Sita, already pregnant, to leave Rama a year after their victorious return to Ayodhya, because she feels edged out by his total involvement in Ram Rajya — compelling her to seek her own Moksha from Guru Valmiki. And finally, Gopal's Ramayana 'for our times' ends with the couple together achieving divine union, their human egos irrevocably left behind. Though leaving us behind too, as distant supplicants of that Divinity they have now become."So that we be both cause and effect, both beginning and the end, both form and formlessness, locality, totality, and suffer no duality."
Source: speakingtree.in/article/the-ramayana-for-our-time
URL: https://www.newageislam.com/interfaith-dialogue/jalabala-vaidya/gopal-sharman-s-theatrical-magnum-opus--the-ramayana-for-our-time/d/108416