By Ismat Ara
04/NOV/2020
My mother was teaching me to recite "Bismillah" – meaning "In the name of Allah," a basic prayer Muslims say at the beginning of almost everything – when the invitation came. It was not a phone call or a written invite, Seema didi, our next-door neighbour, came herself to take me. It was an off day for my father, and he was working on his laptop, sitting next to us in our one-room apartment.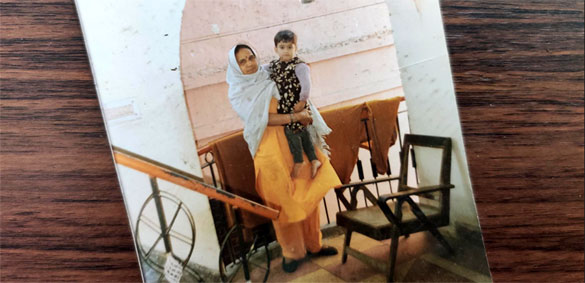 Seema's mother holding the author in her arms. Photo: Ismat Ara
-----
My parents knew they could not say no to Seema Didi, a young woman of about 20, lively and persistent. My mother closed the Amma Para, a children's guide to the Arabic alphabet and Quran, and got up to welcome Seema didi. Without wasting any time, a decked-up Seema didi announced, "Lakshmi puja hai aaj, Ismat ko bhej dijiye (Lakshmi puja is about to begin, please send Ismat to our house)."
I was four years old, and hand been summoned to a Lakshmi puja, a Hindu prayer being held in Kapashera, a Hindu-majority area near Gurgaon (now Gurugram), Haryana.
My mother picked out my best frock, dressed me up, put a red Bindi on my forehead and dropped me next door, where the puja was being conducted. "When you went and sat for the puja, you said Bismillah before starting with the Bhajan – you used to always mix up these things," she tells me now.
I sat for some time in the puja, singing chants. Finally, after the puja was over, I was given a thali, a plate, and asked to roam around the neighbourhood, seeking coins of Re 1 and Rs 2 from neighbouring houses as "Dakshina" – a big amount for me that time, because it would buy me many Kismi toffees from the nearby shops. I was, like other young girls, treated like an avatar of Goddess Lakshmi, in whose honour the puja was conducted. Over the years that we lived in that neighbourhood, it became customary for me to sit for pujas, especially for Lakshmi puja.
But there was a catch.
Sitting in front of the Hindu goddess Lakshmi, after the puja was over, I would often put my two little hands together and when everybody else closed their eyes to pray with their joined hands, I would make Dua. My palms would be facing me, only half folded. It was an obvious result of mixed teachings. Ritu ki mummy (Ritu's mother) would read me passages from the Gita and other Hindu scriptures, while I picked up the dua gesture from seeing people in my family offer Namaz.
The four-year-old me could hardly tell the difference.
Was it a crime I was committing? Or even worse, was it a sin? After Faisal Khan, an activist from the organisation Khudai Khidmatgar was recently arrested for offering namaz in a temple compound in Mathura, these thoughts became inevitable.
My parents now tell me that for a brief moment after each puja, when I returned from, they would be worried that I will lose out on Islamic practices such as Namaz or fasting during Ramzan. I was more comfortable saying Namaste or "Ram Ram," as was the custom in Kapasehra, than Salam as a child, they tell me. And this did alarm my parents a little. But Ritu ki mummy loved me immensely and said that it was mandatory that I be part of their pujas, because I brought "life" into their house, and that goddesses loved little girls.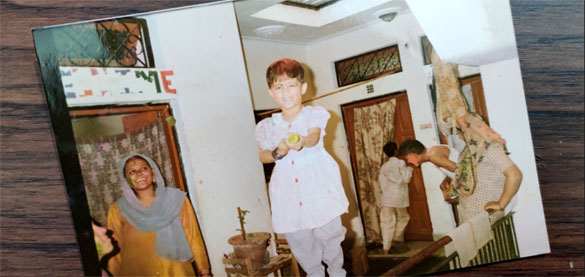 Me playing holi, while Seema didi looks at me, smiling. Photo: Ismat Ara
-------
The community of Jatts and Gujjars dominating the area had an unstated rule that my parents understood very well: no non-vegetarian food. Besides a tailor who lived a few kilometres away, ours was the only Muslim family in the locality. Ritu ki mummy, who shared her shaam ki chai (evening tea) strictly at 4 pm with my mother every day, would often tell her, "Eat chicken if you want to. We will not tell anybody. Just make sure you wash everything properly later and don't leave any traces behind."
Even though my parents did not dare cook non-vegetarian food out of fear of upsetting our Hindu neighbours, it was still a nice gesture on her part, they say. The acceptance of our Muslim-ness and non-vegetarian-ness by our immediate neighbours, Ritu's mother and Seema's mother, and our cautiousness meant that we had no reason to worry, even though it was the same year that communal riots had occurred in Gujarat.
However, there was one incident that my mother recalls that made her question her optimism. A young me had accidentally almost cut off Ritu's mother's finger, which was stuck in the door when I arrived and pushed it – resulting in a lot of blood.
For days, my mother was not informed of my little misadventure. After about a week, Ritu casually mentioned the incident to my mother. My mother, alarmed, later had a conversation with my father. "We are adults, we can mould our behaviour to become non-threatening to the neighbours. What about her? She is a kid; she doesn't know how to act…what if something like this happens again and triggers a fight? It will become about our religion, ultimately."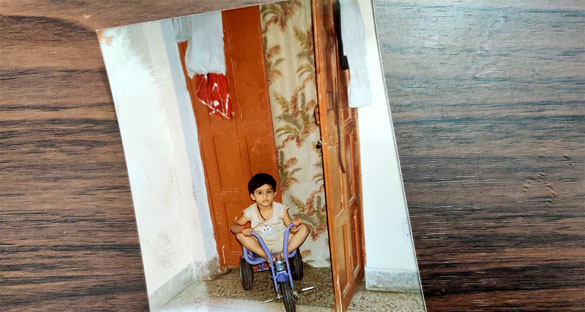 Our room in Gurugram. Photo: Ismat Ara
----
However, these thoughts were never permanent, nor were the fears. They would come and go. With each festival, and there were ample Hindu festivals celebrated, we would dress up in bright colours and I would continue sitting for pujas.
On a regular day, my mother's evening chai would be at Ritu's house, with her mother. They would sit for hours, discussing TV serials, recipes and their daughters' future weddings. On some days, my mother would have two cups of tea because it was also customary to have tea at Seema didi's house.
What amuses me, however, is how these dynamics have changed now. My mother, who had left me in Seema's mother's care for eight straight days because she had to undergo a surgery, now says she is unsure that she would do the same thing today. "She would even wash your potty, you were only three at the time," she recalls.
To sit in a puja and make dua will remain one of my fondest childhood memories and one of the most beautiful symbols of communal harmony for me. Do I deserve to be arrested too?
Original Headline: Making Dua in a Hindu Household, or My Earliest Memories of a Secular India
Source: The Wire
URL: https://newageislam.com/interfaith-dialogue/to-sit-puja-make-dua/d/123379
New Age Islam
,
Islam Online
,
Islamic Website
,
African Muslim News
,
Arab World News
,
South Asia News
,
Indian Muslim News
,
World Muslim News
,
Women in Islam
,
Islamic Feminism
,
Arab Women
,
Women In Arab
,
Islamophobia in America
,
Muslim Women in West
,
Islam Women and Feminism