By Ishmeet Nagpal
30 Mar 2020
On March 25, 2020, while the world was figuring out ways to battle COVID-19, suicide bombers and assailants armed with guns attacked Gurudwara Har Rai Sahib in Kabul, Afghanistan resulting in 26 lives lost and leaving many injured. The terrorists are believed to be affiliates of IS.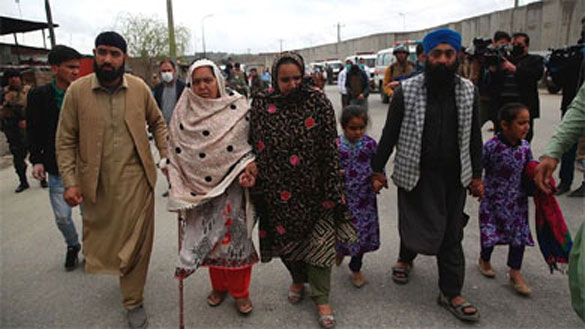 Image: AP
----
Sikhs have stepped up to help the world in various crisis situations time and again. As a child, I learnt the importance of Sewa and universal love from Guru Granth Saheb, and like me, most Sikhs live by these principles no matter the situation. It was therefore, disheartening and devastating when I heard about the terror attack. However, what followed is even more distressing. As the hashtag #AntiCAA_ProCorona started trending on Twitter, no doubt the work of IT cells with the agenda of spreading communal hatred, I saw more and more tweets directing hate towards the Muslim community using the Kabul attack as a weapon.
According to these tweets (which I refuse to share here as I do not want them to have even more visibility), the Muslims from India opposed CAA so that minorities like Sikhs in Afghanistan could not come to India and then they have targeted these Sikhs in a planned manner. The fact that one of the terrorist's identity has been confirmed as a Muslim man hailing from Kerala, is added to these arguments. Further, multiple tweets with this exact same message are being posted, "Even in your distant dreams, don't ever think that Sikhs are different to Hindus. They are a part of greater Hindu identity. We share our Gurus, we share our centuries old customs and traditions, we share the same blood. #AntiCAA_ProCorona".
First, let me clear up the logical fallacies in the above statements and arguments.
Not only Muslims, but members of all communities have opposed CAA and NRC which would adversely affect anyone who does not have documents to prove where their parents were born or may not have their own documents- which includes anyone who does not have these documents due to poverty, illiteracy, home births in rural areas; transgender and queer people who have had to leave their homes; Dalit, Bahujan, and Adivasi people who might not have access to such documentation, and many others.
The basis of opposing CAA is that it is inherently unconstitutional and coupled with NRC, it can harm citizens as we have seen in the case of Assam NRC where hundreds of people are still in detention camps or battling to prove their citizenship with limited resources. Opposition to CAA is NOT to prevent minorities from other countries from seeking asylum in India. Asylum must in fact be extended to all those in need irrespective of religion, without excluding any religion/caste/race.
The conspiracy theory that Indian Muslims have conspired to attack Sikhs in Kabul is baseless. Terrorists are terrorists. Due to the actions of a few, an entire community cannot be branded as terrorists. It is 2020 and I cannot believe we still need to clarify this!
As for the argument that Sikhs are a part of Hinduism- solidarity is appreciated, but erasure of our identity is not. Sikhs are entirely different from Hindus. We are not a part of the Hindu identity. Sikhism rejects caste, customs, and Hindu traditions like fasting, janeu (holy thread worn by Brahmins), and worship of idols. We do not share Gurus. Hindus are our brothers, yes, but our identity is separate and we do not want to be used for Anti-Muslim propaganda.
The concerted efforts to promote communal hate by the propaganda producing machinery needs to be brought to its knees, and if anyone can do it, we can. All over India, Muslims have been sending messages of love to Sikhs and have condemned the terror attack on the Gurudwara in Kabul.
Shaheen Bagh Official
@Shaheenbaghoff1
We, the women of #ShaheenBaghs all over India, strongly condemn the brutal terrorist attack on the Gurudwara in Kabul. We stand in strong solidarity with our #Sikh sisters and brothers who have been a shining beacon of hope in hard times across country, race, caste and creed.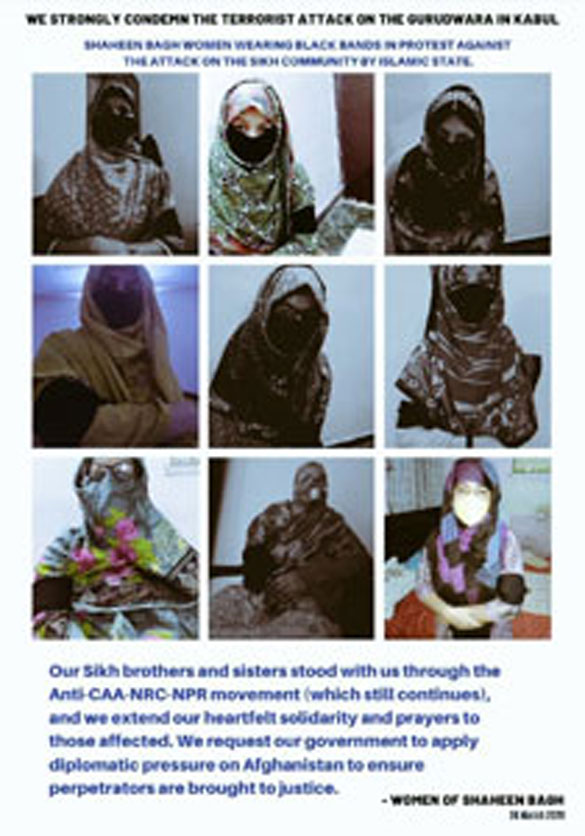 7:12 PM - Mar 27, 2020
I urge Sikhs, Muslims, and Hindus alike, to be the voices of reason that need to be heard at this juncture. The world is teetering on the threshold of permanent change. Once we emerge from the COVID-19 crisis, these battles to preserve love and harmony will become even more important. I refuse to let communal hate poison the new world we are desperately trying to build. Sikhs will oppose and refuse, always, to have anything to do with spreading hate.
We are gearing up to protect ourselves from a country-wide health crisis that is affecting the poor and disenfranchised with disproportionate severity. As we buckle up for the implications of the nationwide lockdown, I call upon my fellow Sikhs to continue their irreplaceable service and spread the message of harmony even as we grieve the attack in Kabul. This is the time for solidarity and service. This is the time for the Sewa sentiment of the Sikhs to be adopted by all. This is no time for spreading hate, and there will never be a time for it in the future either. We will make sure of it.
Original Headline: Kabul Gurudwara Attack being used to stir Anti-Muslim sentiment
Source: The Sabrang India
URL: https://www.newageislam.com/interfaith-dialogue/muslims-been-sending-messages-love/d/121454