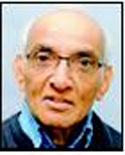 By Hasan Suroor
Aug 7, 2014
#Back channel talks #BJP #Hindu-Muslim relations #India #Muslim leaders #Muslims #Politics #RSS #Secularism #ThisisNext
London: Considering that I only ever get hate mail from Hindutva supporters I was slightly surprised when instead what I found nestling in my inbox last week was a polite message from a high- profile RSS figure whom I had never met before asking to meet me. He was passing through London, he wrote, and wondered if we could have a chat?
So, whisper, whisper, we met at a plush central London hotel where he was staying (the right-wing Urdu press could go to town with "Muslim Journalist in Secret Rendezvous with RSS Leader!") and for nearly an hour --over cappuccinos and Scottish cookies-- we danced around the "Muslim Question ". Not so much as ideological adversaries, though both were acutely conscious of where the other was coming from, but as characters in a scriptless play trying to make sense of the plot we were landed with.
To cut to the chase, it seems that the RSS is trying to engage in a version of "back channel diplomacy" to open up a dialogue with Muslims. The move is propelled by younger elements in the organisation who favour an engagement with liberal Muslims even though they are not clear about the terms of this engagement. In fact, it is more a stab at sussing out the Muslim mood than a concrete strategy to reach out to them.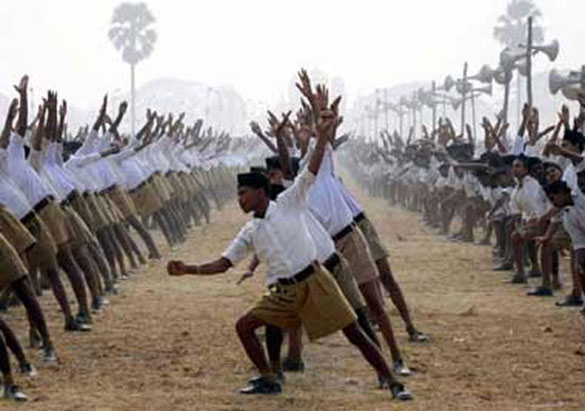 PTI
------
The problem is that, like the modernizers in the Muslim community, the RSS modernizers have their own hardliners from the old school of RSS orthodoxy to contend with. So, they are treading cautiously and the idea at this stage appears to be simply to set the ball rolling by exploring informal channels of communication between the two sides.
As far as I could gather the RSS is not involving itself officially or directly in any such move leaving it to individuals and front organisations to take a punt.
Thus, an ostensibly independent think-tank run by a senior BJP leader with close RSS links plans to bring together Muslim "intellectuals" for a brainstorming as part of a conference on international security etc in Goa later this year. The conference will have the organisational backing of Goa's BJP government.
Leading liberal Muslims are being lined up for the occasion which will allow them to air their views on a range of issues around Hindu-Muslim relations; and to interact with representatives from the "other" side.
Sources acknowledge that it is a small initiative but see it as a much- needed attempt to break the ice. Cynics might dismiss it as a gimmick, but as the old saw goes "jaw jaw" is always better than a state of permanent hostility. Sheer exposure to the opposite viewpoint can work as a catalyst and lead to a better understanding. To use the British store Tesco's slogan: "Every little helps."
The view that this might be a good time to push for better relations with Muslims flows broadly from two factors: (1) a recognition of the changes happening in the Muslim community, especially among the youth, who have become more pragmatic in making political choices and are fighting against old ideological positions; and (2) the deep Muslim disillusionment with Congress-style secular politics which has done them no favours and yet made them look like beneficiaries of "appeasement".
This, according to RSS peaceniks, is the moment to tap into the Muslim anger against secular parties. There is also a belief that the chances of a rapprochement with Muslims are better when the BJP is in power and can afford to be more restrained in its anti "minority-ism" rhetoric than when it is in opposition and it suits it politically to take a more belligerent line. Just as its approach to Pakistan changes depending on whether it is in opposition or in government.
Meanwhile, there is a feeling of vindication on the Hindu Right that finally Muslims have realised what "we" had always told them --that they have been used in the name of secularism to get votes. This, of course, is an oversimplification of a complex issue and an attempt by Hindu nationalists to absolve themselves of their own role in polarising community relations and pushing Muslims into the arms of the Congress. But that's another debate. For now what's important is that there's a recognition of the need to reset relations with Muslims, however tentative the effort maybe.
But any great expectations must be tempered by the unhappy history of previous such attempts by both sides. There was that honeymoon during the Emergency when senior Jamaat-e-Islami and RSS leaders got famously cosy after being forced to spend several months in jail together. But the much-trumpeted "understanding" reached behind bars in the face of a common "enemy" soon evaporated once they came out and were back in their comfort zones. And subsequently their relations were to plummet to a new low following the demolition of Babri Masjid and the 2002 Gujarat riots.
Then ahead of the 2012 UP assembly elections, former RSS chief KS Sudarshan sought to cultivate Muslim clerics but, again, the bonhomie (remember those TV images?) proved short-lived. There were a few other -- half-hearted and less publicised moves -- but nothing came out of them either because of the level at which they were pitched and the quality of interlocutors.
The line of approach this time is different -- indirect, more subtle and crucially not aimed at creating headlines. It is not happening in the glare of TV cameras and, most importantly, it is not a "deal" between the mullahs and RSS leadership. There are no mediators; it is pitched directly at the people; and is not prompted by immediate electoral considerations.
But will it succeed? And how is success to be judged? Answers to these questions are tied up with the willingness of the two sides to transcend their historic mutual prejudices. And here, I will repeat what I wrote in The Hindu in an article, for which I was skewered by both groups, including several well-meaning secular and liberal Hindus.
The problem that Muslims have with the BJP is … that it tends to look down upon them and treat them as outsiders whom it has to tolerate because of political compulsions. This mindset must change. As for what Muslims need to do to bridge the divide, it will require a huge leap of faith for them to embrace a party that, rightly or wrongly, they see as congenitally hostile. But for starters they should shed their blind anti-BJPism.
To some degree that is already happening. Disillusioned with secular parties and driven by sheer pragmatism they now have a more open mind when it comes to voting. No longer do they see the BJP as 'untouchable', a process which would have gained greater traction if Gujarat 2002 had not happened.
But, meanwhile, let's get on with talking and listening to each other. It is better than sniping from the sidelines, even if in the end it yields nothing.
Source: http://www.firstpost.com/politics/tea-with-the-rss-london-meeting-reveals-a-hush-hush-outreach-to-muslims-1652083.html
URL: https://newageislam.com/interfaith-dialogue/tea-with-rss-london-meeting/d/98478