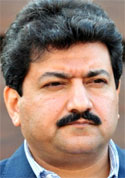 Towards Joint Victory
By Hamid Mir
October 25, 2014
Think about the world in 2034. It will have more people than can be effectively sustained by the planet. It will also be short of affordable energy, food and water. South Asian countries may face big ecological threats in the next 20 years.
The Siachen glacier, where Indian and Pakistani armies are pitched against each other since 1984, will melt down in the near future if our armies don't leave the area. South Asian countries need to sensitise their people about the towering problems coming in the next 20 years. How do we face our common problems of poverty, illiteracy, unemployment, growing population, rapid urbanisation, terrorism and corruption?
First of all, Pakistan and India must join hands to bring peace in Afghanistan. Pakistan has over a 2400km long border with Afghanistan. More than three million Afghan refugees currently reside in Pakistan. These refugees are ideal for recruitment into the Afghan Taliban. They are homeless, aimless and frustrated. They need direction, motivation and more than anything a policy that could help their families even if they aren't around anymore.
What else would a hypnotising militia-recruiter be looking for? Horrific as it sounds, this problem has a very simple solution – the refugees, instead of looming around Pakistan, should go back to their homeland so that they can live in peace in Afghanistan.
The good news for India is that if the Afghan Taliban are ready to talk to the US and they are allowed to establish an office in Qatar, it means some positive vibes could flow. Pakistan should not try to give the impression that there could be no peace in Afghanistan without its active involvement. Both India and Pakistan should not try to increase their military influence in Afghanistan after the withdrawal of Nato troops in 2014. They must try to increase mutual trade in the region via Afghanistan and make their geostrategic agenda more economy-centric than military-centric.
While stressing on the importance of India and Pakistan, one cannot underplay or undermine the roles of Iran and China for the future building of Afghanistan. India is building Iran's first deep water Chabahar port located on the Arabian Sea's Makran coast in Sistan and the Balochistan province. India is connecting this port with Afghanistan through a highway. The Chabahar port will give access to India not only to Afghanistan but also to Central Asian states.
China is building Pakistan's Gwadar Port in Balochistan in the same region only 72 nautical miles southeast of Chabahar. China will link the Gwadar Port not only to Afghanistan but also with its Xinjiang province through the Silk Road. These two ports will become very important in the next 20 years for Pakistan, Afghanistan and India. These ports should not be used for any military activity. They must be used for trade.
Some experts say there will be three big challenges for India in the next 20 years – China, Pakistan and Afghanistan. On the other side, there will be three big challenges for Pakistan in the next 20 years – India, Afghanistan and Iran. My question here is: instead of becoming challenges for each other, why can't these countries become supportive peaceful partners?
Pakistan and Afghanistan can benefit from good relations between China and India. All the regional players need to formulate a strict policy of non-interference in Afghanistan. This policy can convert Afghanistan into the Switzerland of Asia. Pakistan, Afghanistan and India can meet common challenges with a common strategy. Let's include Iran and China in Saarc. Make this forum more vibrant and stronger. Let's move towards establishing a common market. Indian films are popular in Pakistan and Pakistani singers are popular in Afghanistan.
There is another binding force – cricket. This game is becoming very popular in Afghanistan. Pakistan and India play cricket matches in Dubai. I think they can also play cricket in Kabul. Before I see any raised eyebrows, let me clarify that there is a big stadium in Kabul. Afghans are capable of organising an international cricket event in Kabul. They can also organise music shows of popular Indian and Pakistani singers in Kabul.
South Asian countries must open the doors of educational institutions for each other. Many Pakistanis and Afghans would love to study in the Darul Uloom Deoband in Saharanpur India. This religious institute is like Oxford or Harvard for a particular school of thought. We can further explore possibilities for joint education projects.
These three countries can defeat terrorism and extremism with the help of education, cricket and music. Forget about strategic depth and countering each other in Afghanistan. Make a joint policy to control smuggling of arms and narcotics. Let that be the first step and the rest of the path can be smoothed out.
I have extensively travelled in Afghanistan during the last two decades. That country is going through a rapid change. A new unity government in Kabul is a shining symbol of change. I have seen Pakistanis and Indians working together in Afghanistan. The policymakers of India and Pakistan must realise that a proxy war in Afghanistan will destabilise the whole region.
The people of India and Pakistan have started collaborating with each other in Afghanistan. They are defying the policies of those who order firing and shelling on the India-Pakistan border. The new Switzerland of Asia can become a joint victory stand for India and Pakistan. If Malala Yousafzai and Kailash Satyarthi can share a Nobel Peace Prize, then surely India and Pakistan can also share victory against terrorism and extremism in Afghanistan.
URL of Part 1: http://www.newageislam.com/interfaith-dialogue/hamid-mir/towards-joint-victory--sufis-are-a-binding-factor-between-afghanistan,-pakistan-and-india-part---i/d/99694
Hamid Mir is the executive editor of Geo TV.
Source: http://www.thenews.com.pk/Todays-News-9-280359-Towards-joint-victory
URL: https://newageislam.com/interfaith-dialogue/the-new-switzerland-asia-become-part-ii/d/99725