By J.S. Bablu
July 24, 2012
It was just on a whim that Sukhadiya Das started fasting in the month of Ramzan. But the habit stuck with this 46-year-old Hindu, a resident of Veliyil house near the Railway station here, and he has now been observing fast during the month every year for the last 30 years.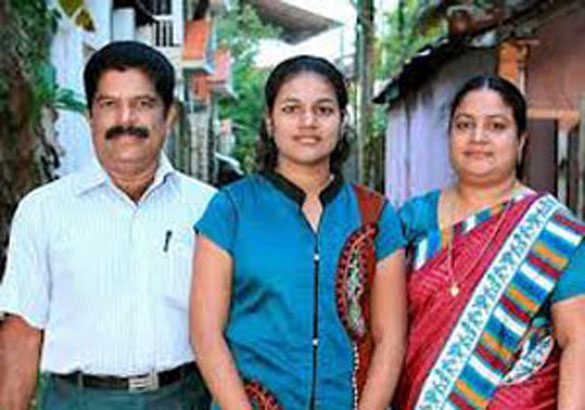 Sukhadiya Das and his family
------
He vividly recalls the first fast he undertook in 1981. "It was the first day of Ramzan. In the evening when it was time to break the fast, I went to the house of a Muslim family where I was offered a bowl full of lemon juice, which I drank to the last drop. I immediately fell down unconscious and the members of the family took me to the hospital," he recalls.
That year, he could not continue. But in later years he practised it to such perfection that it is now all usual for him.
Still in touch with his Muslim friends in the locality, he not only observes the fast, but also reads Islamic books and books on Ramzan fasting.
He used to breakfast at the local mosque in the past, but after marriage, his wife Rejila (34) prepares food for him to end his fast. "There isn't much as I shun non-vegetarian food and consume just 'kanji,'" he said.
Though he did not force his wife to observe the fast, she has been fasting along with him for the last eight years.
From last year onwards, their 12-yar-old daughter Ansu also keeps them company during Ramzan.
Sukhadiya Das extols the virtues of fasting. "There are many benefits. First of all, it requires control of the mind. The person who fasts not only keeps away from food or water but also from other evils including abusing others. For example, during other times, we may use bad words when a person accidentally hits you with his vehicle on the road. But when you are fasting you will not feel like doing so. Hence, my opinion is that everybody, not only Muslims, should observe this fast. It greatly benefits your stomach, purifies your blood and makes you feel that there is a Godly light or energy within you," says Das, who is also a professional photographer.
Sukhadiya Das has been observing the fast strictly during the holy month of Ramzan for 31 years.
Source:http://www.thehindu.com/todays-paper/tp-national/tp-kerala/article3677094.ece
URL: https://newageislam.com/interfaith-dialogue/religion-no-bar-ramzan-fasting/d/8214