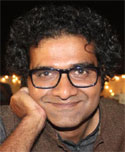 By Arshad Alam, New Age Islam
05 August 2020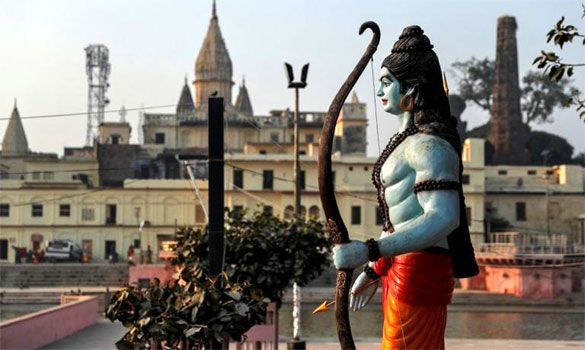 Ayodhya is decked up for the 'bhoomi pujan' on Wednesday that will be attended at the Ram Janmabhoomi by 175 people, who figure in a select guest list of seers and politicians topped by Prime Minister Narendra Modi./ Photo CNBC News 18
-----
It is downright foolish to believe that the 5th of August, marking the beginning of the Ram Mandir construction in Ayodhya, will be marked in the annals of Indian history as the birth of a new republic founded on Hindu majoritarianism. Today is not the day of writing the obituary of nominal Indian secularism. Today is the day to remember that this new republic has been many years in the making. That it is a culmination of a national desire in which all of us have contributed in our own special ways. Today is not just the triumph of nationalist Hindus alone but also those secular forces who secretly wanted this to happen but could not say so openly. Today is the day to remember that you can have hours of analysis on 'progressive' national channels without the word Babri mosque and its demolition being mentioned even once. Today is the day to understand why the likes of Rajdeep Sardesai wilfully forget that the temple movement was built on the lives of hundreds of innocent lives. Today is the time to remember that India was not made Hindu in a day.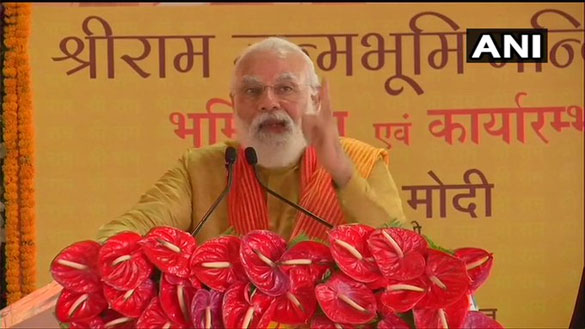 #RamMandir will become the modern symbol of our traditions. It'll become a symbol of our devotion, our national sentiment. This temple will also symbolise the power of collective resolution of crores of people. It will keep inspiring the future generations: PM Modi in #Ayodhya/ ANI Twitter Handle
-----
Today is the day to understand why so many in the so-called secular Congress party are saluting this historic moment by trying to leverage their Hindu identity. They are right in reminding us that they played a very important role in bringing this nationalist juggernaut to its culmination. Priyanka Gandhi Vadra may be a very different person from Rajiv Gandhi but what unites them is their clinical desire to be identified as Hindus who support the temple. It was Indira Gandhi who inaugurated this phase of majoritarian consolidation, first by targeting Muslims in a series of riots during the 1980s and later by targeting the Sikhs in a similar fashion. Let us not forget that she was called a Durga, not for eradicating poverty or illiteracy, but for dismembering Pakistan, a euphemism for external and internal enemy. Supremely confident of her Hindu vote, she would declare that if Muslims were unhappy over the creation of Bangladesh, then she did not need their votes. Her son Rajiv Gandhi continued this majoritarian consolidation by opening the locks of the Babri mosque, allowing shilanyas, and starting his election campaign from Ayodhya. Let us also not forget that when the mosque was being demolished, we still had a secular Congress prime minister who was busy composing erotic poetry. There are many Kamal Naths and Digvijay Singhs within this party for whom secularism meant visiting Muslim shrines only during the time of elections.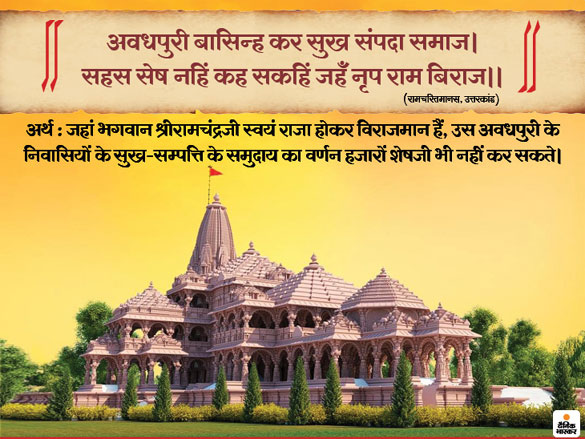 Today is also the day to remember the many parties of social justice that emerged to change the existing asymmetry of power and privileges. Their revolution ended with empowering their own castes and ultimately their own families. The effect of years of affirmative action produced a class within these castes whose aspirations became more national than regional. Having a national aspiration today is to gel neatly with the existing majoritarian discourse and this is what these classes did. It is no surprise, therefore, that all such parties, which rose to power partly as a result of Muslim votes, are today silent. Because of the myopic politics of these parties, their social base today identifies more with the Hindu cause rather than with any anti-caste transformative political agenda.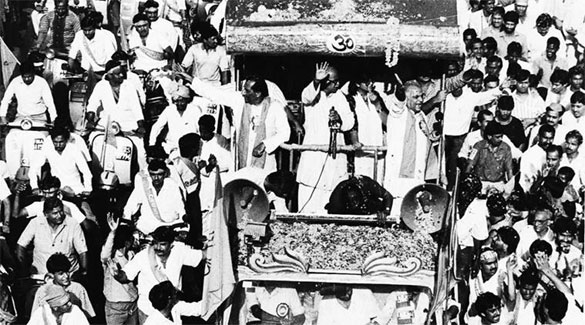 Advani's rath yatra was the most important milestone in the BJP's political journey. (Express Archive)
------
Today is the day when we should also remember the original revolutionaries of India, the communists. At the time of the temple movement, they were much bigger parties and had a say in national politics. And yet, not one of these parties saw it fit to launch a counter mobilization to challenge what they themselves claimed was politics of divisiveness and communalism. High on oratory but low on delivery, these parties were similarly afraid of losing their social support by appearing insensitive to the Hindu cause.
Today is the day to understand that there always existed a Hindu national consensus in favour of a Ram temple at Ayodhya. Any other analysis fails to tell us why there was no resistance to this movement. The secular and the so-called communal have all participated in bringing this movement to fruition. World over, nations are constructed by majorities and India is no exception. Today is the day when this reality should dawn on one and all. Today is the day when we see the chimera of secularism for what it really was.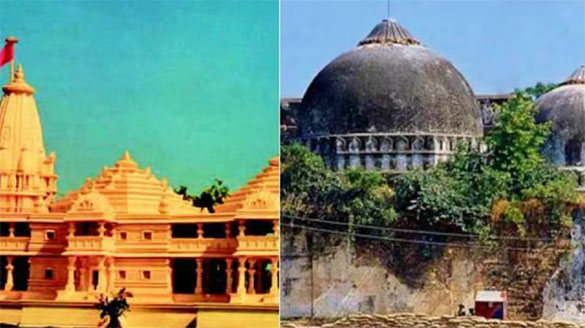 A screen grab from Anand Patwardhan's documentary film 'Ram Ke Naam' | YouTube
A momentous event, seeped in criminality and bloodshed is bound to affect everyone. But everyone will not be affected in the same way. There are many Hindus who do not identify with what is happening in their names. And yet they will never understand the Muslim experience, their angst and inner tumult, how their very hexis has been scorched by this movement. For Muslims, this is not a matter for some abstract constitutional principle, but a question of their very survival with respect and dignity. The unprecedented inner loneliness has gripped Muslims, something others can understand but can never feel the same way.
Today is not the day when Muslims should ruminate over the loss of a benign and multicultural state because it was perhaps never there in the first place. Today is the day when they realise when they are all alone; that all attempts at creating marginal solidarities will fail because the very margins have shifted. It is they, and they alone who have to confront this new situation. Today is the day when they should re-assess their location within this changed political firmament, learn from their past mistakes and search for a new grammar of self-preservation. Ram is the first to be armed politically against them but he may not be the last; there are others whose instrumental value can be put to similar use. In a land where there is no dearth of Muslim symbols, Hindu nationalism will necessarily be directed against them. Muslims have to learn to live with the very real possibility that no matter how hard they try, they will always remain the other in this national imaginary. Today is the day to remember that.
----
Arshad Alam is a NewAgeIslam.com columnist.
URL: https://newageislam.com/current-affairs/ram-mandir-inauguration-india-made/d/122546
New Age Islam, Islam Online, Islamic Website, African Muslim News, Arab World News, South Asia News, Indian Muslim News, World Muslim News, Women in Islam, Islamic Feminism, Arab Women, Women In Arab, Islamophobia in America, Muslim Women in West, Islam Women and Feminism