By Antonia Blumberg
10/05/2014
Perhaps what the world needs most now is a renewed emphasis on what it means to be a good neighbour.
For Michael Barnes, the minister of Gordon United Church in New South Wales, Australia, being a neighbour entails doing everything in his power to make sure marginalized groups feel welcome in their own homes. That's why Barnes is sending the powerful message that Muslims are welcome in his church -- and he hopes the community at large will follow suit.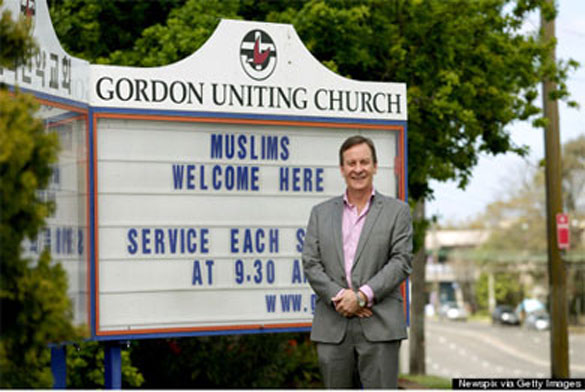 "There has been concern bubbling around in Australia for most of this year about discrimination against minorities," Barnes told HuffPost, citing suggested legislation that would have altered the protections guaranteed in Australia's Racial Discrimination Act.
"I've been aware of this issue for some time; often when I listen to comments of 'ordinary and good' people in the local community I am surprised to hear misunderstanding and anxiety expressed about Muslims."
The rise of the Islamic State has played a major role in stoking these fears, Barnes said, specifically as news of Australian recruits joining the militants' ranks surfaced. The Australian government has cracked down on suspected home-grown terror plots, with counterterrorism police conducting raids in some Muslim communities.
"Images of arrested Muslims dominated our airwaves for quite a few days," Barnes said. "I was concerned that this, unwittingly, fed into and exacerbated general fear and anxiety in the community and more importantly that it made Muslims feel unwelcome in their own country."
The motto of Gordon United Church is "Love wastefully" -- a charge to promote inclusivity at all costs. Thus Barnes took the tools at his disposal -- in this case the sign outside his church -- to promote a different kind of attitude toward Muslims in the community.
"I wanted the church to be seen to offer a different message, to be neighbourly and to offer welcome," Barnes told HuffPost.
Barnes isn't stopping with the church sign. Throughout October, Gordon United Church is celebrating "Interfaith Month" which will include services on Buddhism and indigenous traditions, in addition to a discussion lead by community member Mehmet Saral on "Why jihadists do not represent Islam."
"From my connections with the Muslim community, I know that they live with anxieties about attitudes to them in the community," Barnes explained. "So many people don't meet with Muslims and yet have strong views about them."
The national body of the Uniting Church Assembly, which Barnes' church is a part of, launched a campaign in August called "We'll Love Muslims 100 Years." The idea arose after The Australian quoted former head of Australia's army Peter Leahy saying, "Australia is involved in the early stages of a war [with "radical Islam"] which is likely to last for the rest of the century."
In a statement signed by over 100 interfaith and ecumenical leaders, the Assembly took a stand against what it called "inflammatory and divisive" rhetoric to send a message of solidarity to the Muslim community. More than 2,500 people have signed the statement, which reads in part:
We celebrate the diversity of the Australian community and recognise the valuable contribution of people of Muslim faith to our culture and community.
We know that vilification and alienation are not the way to peace or social harmony, but that authentic relationships, solidarity, listening, learning and mutual respect go a long way to building the kind of community we'd like to live in.
In his own church community, Barnes said hosting interfaith services and dialogue -- and specifically ones that expose congregation members to traditions and practitioners of Islam -- may help mitigate some of the misplaced biases people hold toward Muslims.
"I have found connection with people of other religious traditions to be fascinating and stimulating," Barnes said. "It has caused me to rethink many views on life, God and the future. While it can at times be challenging, it is very rewarding and, in our world, utterly necessary."
Source: http://www.huffingtonpost.com/2014/10/05/muslims-welcome-church_n_5928422.html?cps=gravity
URL: https://newageislam.com/interfaith-dialogue/muslims-welcome-how-one-australian/d/99537