By A. David Dahmer
November 30, 2011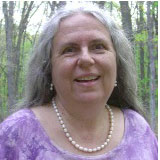 Rev. Selena Fox will be the keynote speaker at Interfaith Awareness Week
Rev. Jon-Brian Paprock feels that the only way to have real peace is to understand our differences.
Muslim, Judaism, Sikhism, Zoroastrianism, Bahai, Pagan, Buddhism, Christianity … People of different religions and faith traditions will again gather at the capitol on Wednesday, Dec. 7 as part of Interfaith Awareness Week. Reverend Selena Fox, local and international speaker and organizer, will be the keynote speaker at the noon program. Then title of her address will be "Interfaith Encounters For A Better World."
"Interfaith Awareness Week is an opportunity for people in the Madison area and throughout the state to learn about people of different faiths and to learn a little about themselves so we can be a better community," says Interfaith Awareness Week organizer Jon-Brian Paprock. "It's about moving away from misunderstanding and intolerance but it's more than that... it's about developing community and understanding that people are born different, they believe differently, and they act differently but that doesn't make them somebody to be avoided or to be scared of."
This is the 14th Annual Interfaith Awareness Week proclaimed by the Wisconsin governor and other leaders. There will be displays of world religions and interfaith groups in the capitol rotunda from Monday, Dec. 5 through Friday, Dec. 9.
"Fourteen years ago [former Gov.] Tommy Thompson signed the first proclamation of Interfaith Awareness week in the state," Paprock remembers. "Wisconsin was the first state ever to have a proclamation made. This was even before [former President] Bill Clinton signed an Interfaith document. Wisconsin was a pioneer in this idea of interfaith awareness as being important to our community."
On Tuesday Dec. 6, there will be an interfaith dialogue event in Middleton. In the evening (6:30pm), the 6th Annual Good Neighbor Interfaith Gathering will meet at the Middleton Library to discuss "Light For Dark Times."
The Capitol Celebration on Wednesday Dec. 7, in addition to Rev. Fox's address, will have the also have the Interfaith Awareness Week proclamation read aloud by senior student of Sauk Prairie High School. "They will bring the entire class down and we let one of the kids read the proclamation," Paprock says. "This year we've gone with an all-woman theme.
The event will include music from Women with Wings and an opening prayer from Muslim women's leader, Rohany Nayan. Interfaith Awareness Week co-coordinators, Rev Anne Wynne and Rev Paprock, will be making introductions and welcoming remarks.
"There's no question that humanity has diversified and is diverse," Paprock says. "Here we are in a culture that we are literally seconds from communicating around the world with Facebook, Tweeting, and Internet. We end up connecting with people all over the world — very diverse peoples. The capacity for us to know people who are different from ourselves is much greater than it ever was before, and yet when we come back to our community here in the Madison area and find that there is a lack of understanding of our neighbors and those people around us that we walk down the street with, walk in the mall with, or are competing with on Black Friday for electronic devices."
Paprock is very excited about keynote speaker Rev. Selena Fox, who has been active internationally, nationally, regionally, and locally in interfaith work for more than 40 years. She is a speaker and organizer of a variety of regional and global interfaith events, including Thanksgiving Celebration, Madison-area Winter Solstice Pageant, Charter for Compassion, and Parliament of the World's Religions. She is a member of the monthly Madison Interfaith Dialogue Group and the current president of the Greater Madison Inter-religious Association.
"It's an amazing thing because never in my wildest dream did I imagine that I would be in a regular dialog with somebody who considers themselves to be a Pagan," Paprock says. "And yet over the years she has proven a couple of key things: that Pagans are people who have a religious belief and should be treated as anyone else who has a religious belief, and that they can be very generous and helpful and kind to society and that there are real issues of prejudice and bias built into our society that doesn't allow as much freedom of expression as we thought."
Rev. Fox is senior minister of Circle Sanctuary, a Wiccan church which has been serving Nature Religion practitioners worldwide since 1974. Active in diversity education and religious accommodation consulting, Rev. Fox works with chaplains and other staff at a variety of institutions, including hospitals, hospices, military installations, prisons, and university campuses. She has a master's of science in counseling from the University of Wisconsin-Madison and does spiritual counseling as part of her work.
"Since the 70s, she's really done a great amount for society by bringing Pagan beliefs into dialog," Paprock says. "She's a pioneer in that field."
There will be many open houses throughout Madison to showcase the many faiths. Diverse faith groups will host these open houses, inviting people to learn about the diverse traditions in the Madison area.
"We use these Open Houses to show the diversity and all of the things that are going on," Paprock says. "We're giving people more chances to learn things outside of our regular programs."
Interfaith Awareness Week events are co-sponsored by Inroads Ministry and the Greater Madison Inter-religious Association as well as other Madison area interfaith, religious and faith groups.
"My personal reason for being involved is the Christian message of love of others regardless of whether they are my friend, a stranger, an enemy, or a neighborhood," Paprock says. "The bottom line issue is that we have to live with one another on this planet at this time when so many dynamic things are happening and we have to find a way to live together in harmony and peace to the best of our ability."
Source: The Madison Times
URL: https://newageislam.com/interfaith-dialogue/interfaith-encounters-better-world/d/6038