By Ayesha Hareem, New Age Islam
26 May, 2015
Since I landed in Delhi for pursuing education, on my teachers' advice, I started seeing The Hindu newspaper. It is generally appreciated and liked by those who have got a good taste for issue based, unbiased and courageous articles, editorials, and reporting. All this while one has also been seeing the waxing and waning of the paper's quality. Sometimes it goes one notch up, and in the next moment it slips down to its original position. The appointment of Siddharth Vardarajan as its editor was no doubt one of the glorious phases in the history of The Hindu. During the parliamentary election 2014, it was no brainer to get the point that this national daily got slanted towards right wing political agendas.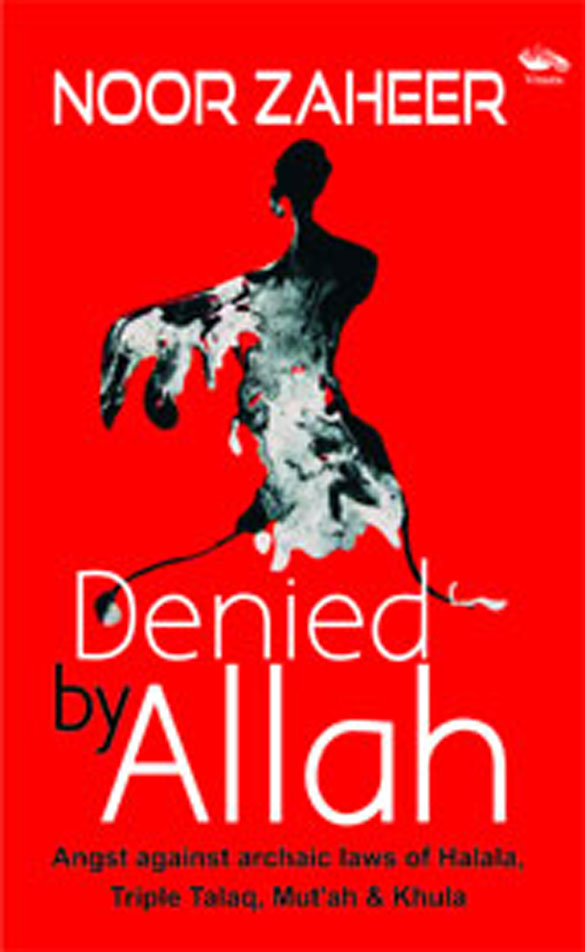 One of the people in the Hindu's coterie that one usually likes and admires is Ziya Us Salam. His precise and incisive film critiques, features on cinema, and other write-ups are simply awesome. Of late one came across his review of Noor Zaheer's book, 'Denied by Allah' (April 24, 2015). The treatment that the book has got is highly problematic at the first sight. Ziya's piece has titled it 'heresy by hearsay'! This is utterly disgusting. Any book can have flaws, factual as well as others. To err is, of course, human.
By reading the review one would ask Ziya—as he has asked to Noor— to stick to writing film critiques, and features on theatres. One gets an impression that he is also trying to enter into the uninitiated terrain. Here, it is the realm of social science, sir. And Noor's book engages with the ideas of justice, freedom and rights that have been denied by society and its custodians to women. These struggles can never be understood and comprehended by those who are trying to find them in the scriptures of any religion. Given the sensitivity of the contemporary world one simply cannot deny the rights of oppressed and marginalised. I have not read the book but still one would trust Ziya's credibility that Noor, the 'impulsive fiction writer', has contradicted herself in quoting the appropriate verses from the Quran. Does this mean that there is no predicament of Muslim women out there? Why do we not want these issues to slip in the public realm? The community's image is at stake?
Our beloved film critic advises Noor to read Surah Baqarah for getting herself enlightened on the particular issue of Adam and Eve. Agreed! A simple question: Do Muslims look up for everything in the Quran? What about the Islamic canon? The story of Eve seducing Adam is not in the holy book but still one finds such stuffs in the exegeses of the Quran. Do not the explanations of the book and a good number of apocryphal stories that make rounds in the Muslim households have an umbilical relationship with the Bible. There is nothing much in the Quran on Prophets—Joseph, Noah, Moses and others, however, still we know a good deal about them from books like Qasas-un-Nabeeyeen (The stories of prophets) and a string of such books. Noor might have mistakenly referred this instance to the Quran which does not necessarily mean that such a thing does not exist in the community's memory. Husbands are considered as Majaziy-e-Khoda (next to God!) Women are usually considered Naqis-Ul-Aql (impoverished in wisdom) and inferior because of Eve's birth from Adam's rib! And all such things circulate in the community's alleys.
Is the issue of triple Talaq that simple, Mr Ziya? Do I need to tell a person of your stature, sir, that the pronouncement of triple Talaq in 'one go' or 'at fixed interval' is a highly contentious issue among Ulema? Different schools of jurisprudence have their own versions of truth, and there is no consensus on this thorny issue. The complex and complicated issue of Halala is not that simple that the write-up purports it to be. I do not think that our beloved feature writer needs to know the wide difference between 'living/lived' Islam and 'Scriptural Islam'. To know Halala and what it does to women who suffer from it, one needs to visit Mau Nath Bhanjan in U.P., and talk to a few women [hardly anyone would talk about it]. Though this is not rampant but still this practice exists in the community. One ought not to justify or disprove the happenings around us from scriptures.
All those rights and equalities that the write-up enumerates in the second last paragraph are there. No doubt in that. Point taken! A few more questions: What about the fact that the Quran allot females half the inheritance of sons? The holy book also decrees that the testimony of a woman in a court of law is worth half that of a man's. There is certainly one verse in the Quran, though a string is also attached to it that exhorts men to rough up their wives. The power that the scripture gives to men in pronouncing Talaq to his wife without a Quazi, which is not the case the other way around, itself tells the unequal power relations between the two genders. We are fully aware of the (mis)use of this power! I hope this is not 'heresy by hearsay'?
One cannot simply deny the rights of women by scoring brownie points over others quoting superficial and irrelevant stuffs that the write-up is trying to point to. In fact, we used to do this childish nonsense during our school days for foisting the flag of Islam's triumphalism over our Hindu and Christian friends. That was really childish! We all have come of age after studying humanities and social sciences. This is certainly an age of 'Islam bashing', and in the current times one should be very cautious in speaking one's mind as there are two blocs that would not allow anybody in getting the heart of the matter. Academics, journalists, activists, students and others should steer clear of the two blocs, that is, 'Threat to Islam' and 'Threat of Islam'. The former is guarded by Muslim fundamentalists while the latter belongs to the right wingers. The motions of these two blocs are always circular, and the centripetal force is so strong that one cannot resist the temptation of joining either of them.
The Urdu poetry has the tradition of complaining to God. And poets have often taken recourse to this medium for venting their pent up emotions. Mir, Ghalib and Iqbal are the most famous ones. Besides, there are scores of poets. Iqbal's 'Shikwah' (Complaint) is very famous. 'Denied by Allah', to my mind, is an attempt in that direction, in spite of being a work of non-fiction. Speaking on God's behalf, as fundamentalists usually do, is heresy or blasphemy? I do not have an answer as this is not my area of expertise. Ask Mr Ziya Us Salam, please! The religious fanatics who were present at the book launch had accepted that that they did not study the book. Well, this should have come in The Hindu titled 'Blasphemy by hearsay'! Right?
Instead of critiquing, branding, and engaging in a polemical battle with those who dare to question inequalities, injustices and oppressions masked in the name of religion, I think, we should take such criticism in our stride, and think hard about the problem at hand. Are these women raving mad? Have they taken leave of their senses? Of course not. Such women are few and far between. In actuality, women of the community are still lagging behind in the dissent department and they need to catch up with it.
After going through the Ziya's piece twice I asked myself: Is he the same Ziya Us Salam that I have been reading for almost a decade? What is wrong with him? What went wrong? Does he want to incite religious zealots by spotting the author's mistake as 'heresy by hearsay'? No! No! He is a nice chap. Wordsmiths usually indulge in exaggeration! I was born and brought up in a traditional Muslim family where the ideal was not to engage in exchanging obscenities when one is not getting your point. We used to say: 'Salam! Excuse me'. In that spirit, I would say to our bright journalist: 'Salam! Maulana Ziya Us Salam. You are dear to me but dearer still is truth. Excuse me'.
Zulmat ko Ziya,
Sir Sir Ko Saba,
Bande Ko Khoda,
Kya Likhna !
PS: I am a believing and a practising Muslim.
Related Article:
https://www.newageislam.com/books-and-documents/ziya-us-salam/heresy-based-on-hearsay/d/103151
Ayesha Hareem is doing her graduation from Miranda House, Delhi University. She is also attached with an NGO that works for the empowerment of women.
URL: https://www.newageislam.com/debating-islam/ayesha-hareem,-new-age-islam/salam!-maulana-ziya-us-salam--noor-zaheer-s-book-linking-halala,-triple-talaq-and-gender-injustice-in-muslim-societies-to-islamic-theology-creates-controversy/d/103152