By Zeeshan Ahmed
25 Sep 2014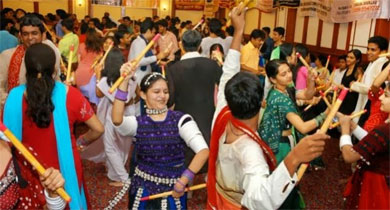 A Garba event of Navratri 2013 in Ahmedabad, Gujarat
Even as the state government has ordered police chiefs of all the districts to ensure that no one was prevented from entering the "Garba" (dance) venues during the "Navratri" (nine nights) festival beginning today (Thursday), Muslim political and social activists have issued directives to the Muslim youths to avoid going to Garba functions which is a part of local polytheistic culture to glorify some deity, prohibited under Islam.
The appeal by the government as well Muslims groups came following Vishwa Hindu Parishad (VHP) asking the 'Garba' organisers not to allow Muslim youths who, according to them, enticed Hindu girls and then married them.
A Muslim cleric Saiyed Mehndi Hasan, who made some objectionable comments in local newspapers against the Garba, was arrested by the police on Tuesday and sent to 14 day judicial custody on Wednesday. The arrest was done on a complaint by VHP. Before he was produced before the magistrate, Hasan was forcefully slapped and pushed to the ground allegedly by a VHP worker when he came out of police jeep at court premises in Kheda district.
Hasan had described the Garba as an "act of demons."
Muslims welcome ban, ask youths to keep from Garba events
Former president of the Gujarat unit of People's Union for Civil Liberties (PUCL) Prof J S Badukwala said there was no reason for the Muslim youths to go to Garbas.
"Muslim youths should stay at home and read books instead", he advised. Prof. Badukwala also condemned the comments of Hasan on Garbas. "It was an immature comment", said former PUCL chief.
President of the Board for Protection of Madrasas in Gujarat Mufti Ahmed Devalvi, said that Garba, a kind of collective dance involving men and women, was a religious function of the Hindus and there was no need for Muslims to go there as performing dance or watching it was not permitted in Islam.
On Hasan's comments, he said that Muslims should avoid making any statement that could hurt the religious sentiments of other communities. "It was not in good taste", said the Mufti.
Former Congress MLA from Bharuch Mohammed Bhai Patel, while asking Muslim youths to stay away from the Garbas, thanked VHP for imposing ban on Muslim boys participating in Garbas.
In an open letter to VHP, he said: "I am grateful that VHP has done what the Muslim organisations failed to do to prevent their youths from joining Garba festivities which is against Islam. We should guard our girls - both Hindus and Muslims."
Meanwhile, Godhra-based well-known social activist Dr. Shujaat Vali has posted a message on the official website of Prime Minister Narendra Modi, seeking his view on preventing Muslim youths from Garba venues.
"Respected Prime Minister of India, please make it clear, do you want to keep away Muslims from Garba grounds? I think a strong conspiracy is made against you", Dr Vali said in his post.
He told media persons that the intention of VHP seeking ban is to project Muslims as "anti-socials."
Vadodara-based Ameen Saiyed of the Muslim Social Group said the very idea of the ban is to create friction and tension between the two communities.
Source: http://www.indiatomorrow.net/eng/gujarat-govt-orders-police-to-defeat-vhp-ban-on-muslims-at-Garba-venues;-muslims-welcome-ban
URL: http://www.newageislam.com/current-affairs/zeeshan-ahmed/gujarat-govt-orders-police-to-defeat-vhp-ban-on-muslims-at-garba-venues;-muslims-welcome-ban/d/99252