By Zahir Janmohamed
Mat 15, 2014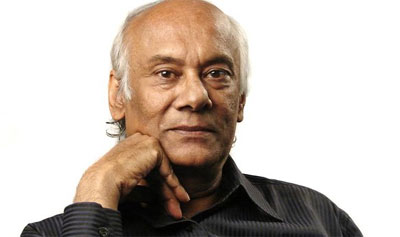 Mukul Sinha, a prominent human rights lawyer and activist, died on Monday after a long battle with cancer. Photo: Ankur Jain
The last time I saw Mukul Sinha, a close personal friend and longtime human rights activist and lawyer, was on March 8 when a local newspaper, The Ahmedabad Mirror, held a special ceremony to designate him as a "hero of Ahmedabad," the former capital of the state of Gujarat.
His appearance came as a surprise. A year ago, he was diagnosed with lung cancer and he had stopped making public appearances. That night I was devastated to see that he was rail thin, his white hair had all but disappeared, and his movements were slow. He had been a mentor to me during my three years in Ahmedabad and I spent many evenings at his house discussing Gujarati politics.
As the hosts laid out a lavish array of Gujarati vegetarian food, Mr. Sinha saw me standing alone off to the side and he walked over. "They are going to honor me as a hero of this city and they are not even going to give me nonvegetarian food," he said with a wide smile.
On Monday, May 12, Mukul Sinha lost his life to lung cancer. He was 63 and is survived by his wife, Nirjhari, and their son, Pratik. He is most celebrated for his legal work on the cases of extrajudicial killings that took place during the rule of Narendra Modi, the chief minister of Gujarat. Mr. Sinha was an ardent critic of Mr. Modi, the prime ministerial candidate for the Bharatiya Janata Party, and he believed Mr. Modi was complicit in the Gujarat riots as well as the extrajudicial killings. No court has convicted Mr. Modi of these crimes.
At a memorial service on Thursday in Ahmedabad, over 500 people gathered to celebrate his life. Mr. Sinha's close friend, the Ahmedabad-based artist Pravin Mishra, wrote in the invitation that "praying or crying is not allowed per Mukul's wishes." The crowd managed to adhere to the first rule but few could follow the second.
Mr. Sinha was born in Kolkata in 1951, the son of a railway worker. His family moved every few years and Mr. Sinha eventually completed his bachelor's degree in science in Bilaspur, Chhattisgarh, and his master's degree in engineering from the prestigious Indian Institute of Technology in Kanpur, Uttar Pradesh. After completing his Ph.D. in physics from the Physical Sciences Laboratory in Ahmedabad, he began working in the school's research center. Soon after, 133 of his colleagues were laid off.
"It was unprecedented what Mukul did next," said Amitabh Balu, who worked with Mr. Sinha in the laboratory at the time. Today Mr. Balu is a scientist in Delhi, and he traveled to Ahmedabad to attend the memorial service, where he struggled to maintain his composure. "We were white collar workers and Mukul had no idea what he was doing, but he just started organizing the workers. He could have been one of India's top scientists. He gave it all up to help others," he said.
In 1979, Mr. Sinha was laid off from his research job and he began organizing laborers while attending law school. Each time we met, Mr. Sinha credited his wife for his success. "Nirjhari is the one who made it possible," he told me in an interview at his home in 2011. "I could have been a wealthy scientist, but she said I have to keep fighting and she fought with me by my side throughout."
Many of the mourners on Thursday were bus drivers, journalists and daily wage earners who directly benefited from Mr. Sinha's work. Ignatius John Dabhi, a retired journalist who worked with the Times of India for 22 years in Ahmedabad, recalled when Mr. Sinha represented their employees' union in 1984. "Back then, the Times of India was very powerful and we were afraid. But Mukul was always calm. He approached everything like science — he was methodical, he relied on facts, and he always kept his emotions out," Mr. Dabhi said.
Another speaker, who also cited Mr. Sinha's union work, joked that, "I would tell you Mukul to rest in peace but I know you are busy organizing labors in heaven right now."
But Rajeev Khanna, a longtime journalist in Ahmedabad, believes Mr. Sinha's most lasting legacy will be his work on the Gujarat riot cases.
"Whatever we know about the Gujarat riots is because of Mukul," Mr. Khanna said. "He was the only one willing to fight these cases and he forced the Gujarat government to face the facts. No one was willing to take on Narendra Modi like Mukul."
Several of those who spoke on Thursday said they lost all hope after 2002, but Mr. Sinha kept them believing in themselves — and laughing. Rafik, who asked that I not use his last name, traveled 80 miles from the Gujarat city of Godhra, where a train carrying Hindu pilgrims was burned by a group of Muslims in 2002, Indian courts ruled, to attend Thursday's memorial. Mr. Sinha helped Rafik's relative, who was falsely accused in the 2002 Godhra train attack. "Mukul is a celebrity for us. He kept our spirits up. No one else believed in us Muslims except him," Rafik said.
Rafik only spent a few minutes at the service on Thursday. "I drove here just to do namaskar (salutations) to Mukul's wife and son," he said. He wanted to return to Godhra to his family and to his work. Besides, Rafik told me, his mind was elsewhere.
"Modi might become prime minister," he said. "I know we will be O.K., I know India will survive. I just wish I could hear these words today from Mukul.
Source: http://india.blogs.nytimes.com/2014/05/15/at-a-memorial-hundreds-pay-tribute-to-a-gujarat-human-rights-champion/?_php=true&_type=blogs&emc=eta1&_r=0
URL: http://www.newageislam.com/current-affairs/zahir-janmohamed/at-a-memorial,-hundreds-pay-tribute-to-a-gujarat-human-rights-champion/d/77042