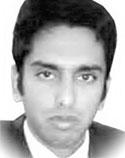 By Yasser Latif Hamdani
June 3, 2019
The reference against Justice Qazi Faez Isa is just the latest example of how the Imran Khan led PTI government has completely lost its marbles and in the process is hell-bent on destroying whatever is left of the country's institutions for the sake of the Fuhrer's own ego. For those who do not know Justice Isa, it might be worthwhile to look at where he comes from and what his credentials are in terms of his loyalty to Pakistan. Son of Qazi Isa, one of the closest confidantes of Mr. Jinnah and a first rank leader in the struggle for Pakistan, Justice Isa's commitment to Pakistan is without parallel and that has always shown in the absolutely fearless decisions he has made. That his wife – a foreign national- owns property in her own name is absolutely no reason to file a reference against him. He was not required to show that as part of his own assets under law and to suggest otherwise is idiocy of the highest order- nothing but a mockery of all rules of natural justice and fair play. It should give us an inkling of how devastatingly biased this so called anti-corruption mantra of PTI is that one of the most incorruptible and upstanding judges has been brought into the dock simply because he was fair and just enough to point out that PTI had been complicit in the grand conspiracy hatched against the previous government using the slogan of Khatm-e-Nabuwwat. Obviously PTI is not alone in this and the powers that be pulling the strings are also complicit.
My appeal therefore is not to PTI because it is an incompetent and fascist organisation and the government it is running is bound to fail miserably sooner or later. My appeal is to the powers that be behind the scenes as someone who loves this country and is troubled by the direction it is taken. It is important to place the national interest above institutional interest and ego. This is the time for it. Please do not let Pakistan down at this critical juncture by enabling the fascist tendencies of an incompetent party that is completely out of its depth. The Faizabad Dharna judgment has pointed out some major issues with how we have been running the country. The criticisms should be taken in stride and not as a declaration of war for if you are going to persecute patriots for speaking up for Pakistan, who is going to be left to defend it?
There is something very wrong in the way dissent and criticism has been handled over the last one year. Take the example of Pushtun Tahaffuz Movement. Frankly I was never impressed by Mohsin Dawar, Ali Wazir and Manzoor Pashteen and found much of what they were saying to be completely outrageous but who has made them into a force to be reckoned with? It is my considered opinion that neither NDS nor RAW have the capacity to build up such public sentiment. On the contrary it is constant mishandling by the powers that be that has led to this outcome. The more you make them into bogeymen the more you add to the numbers supporting them.
No one had heard of them a year ago but now everyone knows them. By jailing them and constantly building them up as an enemy, you are merely adding to the myth of PTM. Reasonable people are now beginning to question the heavy handed tactics employed against them. People like Mohsin Dawar and Ali Wazir have become – utterly without merit- the darlings of the global media who see them as a modern David up against your Goliath. I still submit that a handful of them cannot pose any serious threat to Pakistan. Let them vent and let them use the floor of the National Assembly to put up their grievances real or imagined. We as a country are bigger than that and stronger than that. By using force against them in any manner you are losing the war of public opinion, both nationally and internationally. You have, because of your thoughtless actions, made pygmies into leaders of international renown. This is a crisis entirely of your own making.
A deep state exists all over the world in every country. Elsewhere though it plays a role to maintain stability and from populist forces running amok and destroying the country. In Pakistan, the history of the deep state shows the exact opposite. Every fissure is exploited by our deep state and in process all anarchy and chaos has their stamp on it. From the 1953 riots, 1974 disturbances, Faizabad Dharna to the dubious selection of the current government, each of the moves of the deep state in Pakistan has only served to weaken Pakistan. Does the deep state in Pakistan not understand that as the country weakens it will weaken too? It is a case of terribly muddled thinking on their part.
Meanwhile with the economy in doldrums, Jamaat-e-Islami Chief Siraj-ul-Haq is busy getting his anti-interest banking bills passed and these have been passed without a whimper of protest or demur from anyone. The question of interest banking has been debated by many Muslim thinkers including Allama Iqbal who distinguished it from Riba. The founder of this country Mr Jinnah, ever the careful investor, on numerous occasions would advise young Muslims to keep their money in the bank to allow it to multiply – all these statements are on record. Therefore this simplistic equation of Riba with interest is not a position that has been universally accepted by all Muslims. However since such appeals are always been couched in religious language, we are given to signing our own death sentence in the name of Islam. The proposition that Pakistan was created in the name of Islam has always been dubious but one thing is certain – people like Siraj-ul-Haq will destroy Pakistan in its name.
All my adult life, I have seen Pakistan go from crisis to crisis but for the first time, I am desolate of all hope. There seems to be no light at the end of the tunnel.
Source: dailytimes.com.pk/405920/all-is-not-well-in-pakistan/
URL: http://www.newageislam.com/current-affairs/yasser-latif-hamdani/i-have-seen-pakistan-go-from-crisis-to-crisis-but-for-the-first-time,-i-am-desolate-of-all-hope/d/118780