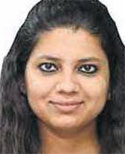 By Vijaita Singh
December 30, 2016
Currently, 450 persons are under watch for alleged links with the IS, up from 250 last year
By the end of this year, 50 young men had been arrested by various investigating agencies for their alleged links to the Syria-Iraq-based terrorist outfit, the Islamic State (IS).
In another instance, a group of 21 persons, which includes women and children, quietly left the country to live in Afghanistan, where the terrorist outfit is said to have gained a foothold.
Investigators insist the number of Indians leaning towards the terrorist group is miniscule in proportion to the Muslim population and much less when compared with countries such as France, the U.K, Russia and even China.
"Most of them were caught before they could execute their plan. Almost all of them told us that they were asked to target vital installations, religious places around them as travelling to the IS-controlled territory in Syria and Iraq had become difficult," said a senior NIA official.
Recently, during a presentation at the annual Directors-General of Police conference in Hyderabad, the Intelligence Bureau (IB) informed the participants that there had been more than a 100 per cent jump in the number of people under watch in India for their links and leaning towards the IS.
"For now, we have adopted a wait- and-watch policy. There is an unsaid policy to not press for arrests until we are sure of their plans to carry out an attack. Currently, 450 persons are under watch for their alleged links with the IS, up from 250 last year," said a Home Ministry official.
Last year, 18 persons were arrested for being inspired by the terrorist group, while this year 50 such arrests were made.
Minister of State for Home Hansraj Ahir informed Parliament earlier this month that 50 people were arrested by security agencies in 2016; 11 were from Maharashtra, 11 (Telangana), seven (Karnataka), four (Uttarakhand), six (Kerala), two each were from West Bengal, Uttar Pradesh, and Tamil Nadu and one each from Madhya Pradesh, Jammu and Kashmir, Bihar, Delhi and Rajasthan.
Social Media Policy
The Home Ministry has already prepared a blueprint and a national social media policy to counter cyberthreats in relation to the terror outfit. It is estimated that at least 25 Indians have already travelled to Syria to fight alongside the IS.
The NIA said a former Indian Mujahideen operative, Shafi Armar, a resident of Bhatkal in Karnataka, was a common handler in at least 70 percent of the arrests made this year. Though the IS has many foreign fighters, investigators were surprised at the meteoric rise of Armar.
The interrogation of the arrested men has revealed that Armar asked them to target not only Hindu political leaders, government officials, RSS workers but Shia Muslims as well, one of the charge sheets filed by the NIA said. Investigators suspect that the recent propaganda video featuring six Indians in Syria was shot by Armar. The NIA said in its report that after he fled India in 2008 amid the crackdown on IM operatives, Armar is said to have lived for a few days in the UAE.
He then reached Afghanistan via Pakistan and with the help of Al-Qaeda raised an organisation called the Ansar-ul-Tawhid (AuT), with his elder brother Sultan Armar, who was killed in a drone strike in Syria in 2015. AuT later on pledged allegiance to the IS.
Source: thehindu.com/news/national/Faint-but-unmistakable-echoes-of-IS/article16960759.ece?utm
URL:
http://www.newageislam.com/current-affairs/vijaita-singh/faint-but-unmistakable-echoes-of-isis-in-india/d/109542