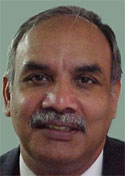 By Victor V Gill
07 Nov 2014
In Pakistan, minorities and women share a common denominator. Both are less powerful in the society as compared to their counterparts – the majority population and the men. And yet, despite having an unequal status and voice in their society, this weaker segment of the population has produced the only two Nobel Peace Laureates from Pakistan.
Abdus Salam at age 53, a physicist who belonged to the non-tolerated Ahmaddiyah minority, fetched his Nobel in loose Pakistani garb in 1979. Thirty-five years later, Malala Yousafzai, a 17-year-old battling the discrimination against women in Pakistani society, will dress up in colorful ethnic clothes to claim her Nobel at the end of 2014.
Recently, she was in United States' first capital, Philadelphia – exactly at the spot where father of the nation, George Washington, along with his fragmented army in 1776, had proclaimed Liberty for the United States over the colonial British. A copper bell – situated atop 92-foot tall Independence Hall – supposedly rang for more than 24 hours to mark the occasion, thus earning its title of the Liberty Bell. Being the youngest Nobel Peace Prize winner in history, Malala was here to receive the 2014 Liberty Medal.
Her Liberty Medal predecessors include Lech Walesa (1989), who brought liberty to the people of Poland; Nelson Mandela (1993), who brought liberty to the people of South Africa; Mikhail Gorbachev (2008) who broke the barriers of the Cold War in Russia; and three-time world boxing champion Muhammad Ali (2012), who stood for liberty along U.S. religious and civil racial lines.
Malala's stand against extremism has been both real and symbolic. Historically, extremism of different levels has been and is part of each society and each religion; and separating the good from bad is an 'uphill and ongoing' process. The event was overwhelmingly attended by students and scholars, from the Mayor's daughter to the Governor's wife.
Several students whose work had excelled them in various areas of demonstrating equality and human rights, read excerpts from Malala's journal when she struggled to get education under Taliban's rule. Mo'ne Davis, a girl of 13, outplayed all little league boys who traditionally would have 'male chauvinistic attitudes.' Her speed-throws at 70 mph gave her team a virtual 'knock-out' victory. This achievement marks respect for the opposite gender and a step forward for gender equality. Melissa Shang, a wheelchair-bound girl at age 12, stood for equality of the disabled to have toys manufactured for the disabled's needs like any other consumer.
However, Minnijean Brown-Trickey, now 73, had a story of total resilience at age 17 towards extremist's attitude of white supremacists. During a racial crisis at Little Rock, Arkansas's Central High School, many advised that Trickey and the other eight black students be kept out of the predominantly white high school in order to avoid violence. But unlike in Pakistan, where society and establishment victimizes the already oppressed minorities and women by incarcerations and forced exiles in order to ensure their safety, US president Eisenhower took a strong stand by sending the 101 airborne military unit to the school, that stayed there protecting the students until the school year was completed by those who became known as the "Little Rock Nine." Obviously, the President understood that the 'Principles of Toleration 101' must be taught to the powerful, and not to the oppressed victims.
Today, millions of global school children have been inspired by Malala's story of courage in standing up to all who would oppose the right of female children to obtain an education. With the award of the medal, Malala Fund will increase by $100,000, the donation that is awarded with the medal. But despite the sense of victory that accompanies each of Malala's achievement awards, the question remains: Will Malala's 2014 Liberty Medal bring any liberty to the depressed people of her motherland, Pakistan – especially the minorities and women? Will her slogan "One child, one teacher, one book, and one pen…" echo in the slums and terror-stricken areas of Pakistan where it is needed the most?
Victor V Gill is a Pakistani-American living in Philadelphia, Pennsylvania.
Source: http://www.thefridaytimes.com/tft/for-minorities-and-women/
URL: http://www.newageislam.com/current-affairs/victor-v-gill/in-pakistan,-minorities-and-women-share-a-common-denominator--both-are-less-powerful-than-the-majority-population-and-men/d/99907