By Ushnor Majumdar
October 11, 2013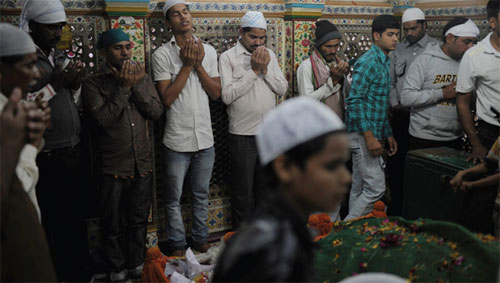 Men pray inside the Nizamuddin Dargah. Photo: AFP
There is a tradition that every visitor to the tomb of Khwaja Moinuddin Chishti in Ajmer must first visit the Dargah of Hazrat Nizamuddin Auliya in Nizamuddin Basti of south Delhi. As descendants of the 13th-century Sufi saint Hazrat Nizamuddin Auliya, the Nizamis play a key role in keeping alive the syncretic tradition of Sufism in the country. Hazrat Khwaja Hasan Sani Nizami, 84, is the spiritual head (Sajjada Nashin) of the Nizamuddin Dargah. As he mostly keeps indoors due to old age, the affairs of the Dargah are managed by his nephew Syed Mohammad Nizami.
Despite being well-known among people interested in Sufi culture including many national and international celebrities, the Nizami household today is the victim of a vicious ploy to snatch their ancestral property.
The Nizamis own 20 separate properties around the Dargah, with a total floor space of about 15,000 sq yards. But the total monthly rent from these properties amounts to less than Rs 10,000, as the tenants have been around for decades and pay between Rs 5 to Rs 3,000 as rent. "My ancestors let out the properties at nominal rents to help out people. If someone said they were unable to pay Rs 500, my grandfather charged them Rs 25 just to ensure that no one went homeless," says Mohammad Nizami.
On 6 March, says Nizami, one Mohammad Tahir Ishmail, nephew of one of the tenants, approached him with a proposal to buy one of the properties, known in the locality as the "imli wala makan" (the house with the tamarind tree). Tahir offered a ridiculously low Rs 10 lakh for the 1,000 sq yard plot. The house had been let out to Tahir's uncle. The uncle, Salamutullah, is a former chairman of the Delhi Haj Committee. Tahir and his family had moved into the house — "illegally", according to Nizami — after Salamutullah moved out.
Nizami refused to sell the property. "If I ever get possession of this property, I will turn it into a museum of relics with an archive of the writings of my ancestors," he says.
Tahir, however, was adamant. "He threatened to implicate me in false cases and get me jailed. He said the police would help him," claims Nizami. Following this, Nizami decided to start eviction proceedings against Tahir. "But Tahir got wind of it and we started getting threats over the telephone. I began to record his threats and told him to stop, but he continued to bully me, saying he would implicate me in false cases in Uttar Pradesh, Haryana and other places," says Nizami.
Tahir, though, denies he had ever threatened Nizami.
The conflict over the property took a bitter turn on the afternoon of 15 March, claims Nizami, when Tahir barged into his house along with goons and beat him up, leaving only after the domestic helps came to Nezami's rescue. When Nizami went to the police station, he was shocked to learn that Tahir had already lodged a complaint against him, accusing him of assaulting his mother, Fahmida. The police refused to record Nizami's complaint or send him for a medical test. Later, he sent the complaint by post, but no action has been taken on it yet. He also wrote to the President of India Pranab Mukherjee and Prime Minister Manmohan Singh, asking for their intervention.
The police did not arrest Nizami as there were no neutral witnesses to establish that he had gone to Tahir's house and assaulted Fahmida. But, since then, two policemen — Constable Dharamveer and Sub-Inspector Ajay Sharma — became regular visitors to Nezami's house. "They come to ask me questions about the case and insist that I should apologise. Sometimes, they call me to the police station. They even suggested that I should accept Tahir's offer," says Nizami. The police still believe that Nizami had gone to Tahir's house and manhandled his mother, but Nizami claims that he had not visited that house for a long time.
One of the witnesses mentioned in the FIR against Nizami is Yamin, Tahir's associate. But Yamin later told Nizami that he was in Mewat, Haryana, on 15 March. Nizami had video-taped this conversation.
Ten days after being allegedly thrashed by Tahir and the goons, Nizami was in for another shock. On 25 March, three policemen from Uttar Pradesh barged into his house, claiming his car had been used in a dacoity in that state. They refused to divulge their names or ranks. Two days later, Dharamveer and Ajay Sharma told Nizami that two separate complaints had been lodged against him for intimidating people using a weapon. They did not reveal the names of the complainant or details of the complaint.
On 1 April, Nizami wrote to the National Commission for Minorities, stating that the Nizamuddin police had been harassing his family based on false complaints and that all this had to do with a property dispute. The commission wrote back saying the matter should be resolved in court. It also asked the Deputy Commissioner of Police (South East) to file a report within 14 days.
Meanwhile, Tahir and his goons continued to intimidate Nizami repeatedly. Nizami made a video of one such incident that happened on 6 April when two of Tahir's associates had come to his house to threaten him.
On 11 April, Nizami initiated eviction proceedings against Tahir's family in a Delhi court and also asked for police protection. Tahir informed the court that he had bought a portion of the property. "But he had no documents to prove it," says Nizami. "He claims to have bought the property from fictitious people. We have never sold him any property." The court ordered a local commission to survey the property. The commission noted that there was no substance in Tahir's claims.
But this was not the end of Nezami's ordeal. A few days later, he got a call from Sub-Inspector Sumer Singh of the Delhi Police Special Cell (the counter-terror wing of Delhi Police). Singh told him that they had received an "anonymous tip" that he "provides shelter to Pakistani nationals" and receives frequent calls from Pakistan.
"Many foreign tourists come to the Dargah and I get a number of international calls," says Nizami. "But I never received any calls from Pakistan and that's what my call details too revealed." Subsequently, the Special Cell cleared Nizami of all suspicion and mentioned in its report that the matter arose out of a civil dispute.
Meanwhile, the threats from goons made it difficult for Nizami to even step out of his house. So, on 6 May, he moved a writ petition in the Delhi High Court asking for protection for himself and his family, besides an investigation into why they were being hounded. Along with the petition, Nizami also submitted copies of the videos he had made of the goons threatening him. The court asked the Nizamuddin Station House Officer if there were any pending warrants against Nizami. The SHO said there were none.
The high court disposed of the writ on 4 July, stating that all previous complaints had been dealt with and that the local police would help Nizami in case of any further threats.
But, on the evening of 23 August, a posse of policemen landed up at Nezami's house to arrest him in a case of attempted murder in Muzaffarnagar district of Uttar Pradesh. Sarfraz, a resident of Gomti Nagar village in Lucknow district, had filed a complaint at the Jhinjhana Police Station in Muzaffarnagar district that someone had fired upon him from a car. He had noted down the car's number and given it to the police. That number belonged to Nezami's car.
The Uttar Pradesh Police had not served Nizami any prior summons. Two policemen from Jhinjhana PS just went to the local police station and took some local policemen along to Nizami's house. At that time, there were several guests, including women, in the house. The police were accompanied by Tahir's brother, Yakub alias Kashan alias Kaka, and the goons, who allegedly harassed the women, including Nezami's wife Arjumand Bano and his mother. There were no women policemen, but Dharamveer and Ajay Sharma from the local police station had come along.
The goons thrashed Nizami and Yakub snatched his cell phone. The police, though, deny that any cell phone was snatched, so there's no question of trying to locate it using its IMEI number.
The UP Police dragged Nizami to a waiting police car, which was then escorted to the city limits by a Delhi Police car. Three other cars with Yakub and his associates followed the police car right up to the Jhinjhana Police Station.
On the way, the policemen stopped for a snack break, where, according to Nizami, Yakub's associates tried to negotiate with them for handing over Nizami to the goons in lieu of a bribe. Anticipating trouble, the two policemen called up the Jhinjhana SHO from the police car, asking for reinforcements. The request was denied. On being contacted, the Jhinjhana police refused to divulge the name of the two policemen or give their phone numbers, so this allegation could not be verified.
Nizami was remanded to judicial custody in the Muzaffarnagar district jail. The hearing on his bail plea was delayed because of a lawyers' strike and then the prosecution asked for 10 days to study the case papers. Soon after, communal riots broke out in Muzaffarnagar and curfew was declared, while Nizami remained in jail.
"There was no place to sleep. Three hundred people were cramped in a ward meant for 150 people. You have to be very careful because of the jailed gangsters. There was some violence in the jail during the communal riots as well," Nizami recounts the horror of his days in jail. His mother says the communal riots made it difficult for the family to help Nizami get bail.
That was when Nezami's uncle, the old and ailing Hazrat Khwaja, sprung into action. Along with Nezami's wife Arjumand, he met Samajwadi Party chief Mulayam Singh Yadav. Yadav promised help but, later, his personal assistant told them not to expect much. They also met a Delhi High Court judge and some other influential people, but could not get much help.
Fortunately, however, a senior officer of Delhi Police called up the Inspector General of Police, Meerut Zone, and the Muzaffarnagar Superintendent of Police, requesting them to ensure proper investigation of the case. "How could they arrest anyone without proper investigation?" says the officer.
The most glaring discrepancy in the case is that the shooting incident is supposed to have taken place at 8.30 pm on 15 April. Call detail records of Nezami's phone shows that he made telephone calls to the Nizamuddin SHO's Reader at 8 pm and again sometime after 9 pm. Both calls were made from the Nizamuddin area. There is no way Nizami could have made these calls as well as be present in Muzaffarnagar district when the alleged incident took place.
The IGP, Meerut zone, and the then Muzaffarnagar SP Abdul Hamid ordered a re-investigation into the case. "The SP had realised that we were victims of a malicious ploy," says Arjumand.
The new investigating officer, Dinesh Chand Sharma, was also convinced that it was a false case. "I just have to go to Lucknow and speak with the complainant, whose cell phone has been switched off for the past month or so, and another person in New Delhi. He seems to have disappeared. There are too many flaws in the case," says Sharma.
Finally, Nizami was granted bail after nearly a month in jail. But that very day, another warrant for his arrest was produced in court. He was accused of threatening two persons and attempting to extort Rs 5 lakh from them, while he was in the court. The court did not find merit in the accusation and ordered Nezami's release.
This is not surprising as Uttar Pradesh tops the list of states in the number of false cases that are filed. According to the National Human Rights Commission, the state accounted for 85 percent of the 703 false cases filed across the country last year.
Following his release, Nizami went with his wife to meet the Delhi Lieutenant Governor Najeeb Jung. Though Jung didn't meet them, they managed to meet his aide-de-camp Ajay Choudhary, who referred them to Deputy Commissioner of Police (South East) P Karunakaran. Karunakaran has started an investigation into the matter, but things are not moving fast enough for the Nizamis, who fear there could be more false cases against them. Meanwhile, Nizami has hired private security guards to protect his family from goons.
Tahir, the other lead character in this story, has had a dubious past. In 2006, the High Commission of Lesotho had lodged a complaint against him in the Vasant Vihar Police Station, accusing him of forgery. As per the FIR, Tahir went to Lesotho using false names and used a non-existent company's letterhead to obtain visas for five people. The case is pending for the last seven years in a Delhi court.
"I am a businessman and there are many cases against me. That doesn't mean anything. I was a travel agent when this case was filed against me," says Tahir, who claims to be a former journalist. He is a property dealer, a restaurateur and runs a media institute. The Vasant Vihar police, though, refused to share details of the status of investigation in the forgery case against Tahir.
As for Nezami's complaints, the Nizamuddin SHO Sunil Sharma says they arose from a civil dispute and that all the cases are with the appropriate courts.
"We do not feel safe in Delhi, where my ancestors lived as a symbol of peace and propagated communal harmony for centuries," says Nizami. "My grandfather was brought up in Haridwar. He wrote books on the life of Sri Krishna and against cow slaughter. We ensured that every person, without discrimination, has access to the Dargah." His uncle, Hasan Sani Nizami, the spiritual head of the Nizami order that comprises millions of people, is on the governing body of the National Amir Khusro Society and was the Sufi representative from India at the UN Millennium Religious Summit. A recipient of the 'Dilli Gaurav' award, he has been a guest lecturer at the Aligarh Muslim University, Jawaharlal Nehru University, Delhi University and the School of Oriental and African Studies in London.
It is uncanny how justice and security continues to elude such an old, distinguished family of Delhi. In 1993, a committee headed by the then Union home secretary NN Vohra had come out with a report that drew attention to the nexus among criminals, politicians and bureaucrats. One paragraph of the report is particularly relevant to this story: "In the bigger cities, the main source of income relates to real estate — forcibly occupying lands/buildings, procuring such properties at cheap rates by forcing out the existing occupants/tenants etc. Over time, the money power thus acquired is used for building up contacts with bureaucrats and politicians and expansion of activities with impunity."
The authorities could have at least expedited the investigation to get to the root of the matter, but that didn't happen. So the Nizamis have no choice but to continue living in fear.
Assaulted and Intimidated In the Line of Duty
While I was working on this story, the people I interviewed for this story told me repeatedly that it would bring me trouble. On 8 October, I went to the area along with photojournalist Vijay Pandey. We called up Mohammad Tahir Ishmail, requesting him to meet us and provide his version of the events. He said he was out of town and added that we were doing the story on behalf of the "wrong person". Claiming that he was a freelance journalist, he "advised" me to verify everything and insisted that I was making a mistake.
A man in a blue t-shirt and jeans (who was later identified as Tahir's brother, Yakub) was standing near Tahir's house (owned by the Nizamis). When we were leaving after taking photos from the outside, he objected to our photographing the house and asked us to identify ourselves. We showed him our press IDs and told him about the story we were working on. He called the PCR (Police Control Room). While we were waiting for the PCR van to arrive, Yakub wanted us to show him the photos we had clicked. When Vijay was showing him the photos on the camera, Yakub snatched the camera and pushed me when I objected. I lost my balance and fell, but still asked him to wait for the police to arrive. I called the Nizamuddin SHO Sunil Sharma and then the PCR.
Meanwhile, Yakub went into the house with the camera and kept it there. He then came out with other people and called for more. They first assaulted Vijay and started dragging him inside. Then it was my turn. They started beating me up, dragged me into the premises and locked the gate from inside. They wanted to make it seem as if we had entered their house before the police got there.
On the driveway inside the premises, while the others held us, Yakub started kicking his bikes and pushed them over to make it seem that we had vandalised their house. He resumed punching us and that is when we heard the wail of the PCR van's siren. Over the wall, I could see that the PCR van was turning the corner and so I shouted for the police. Even after the policemen had entered the premises, Yakub was still trying to beat us up and threaten us. Both Vijay and I got bruises because of the beating. There were several witnesses all through this episode.
The PCR van took us to the police station while I informed my office of what happened. At the police station, the policemen were initially uncooperative and treated us like criminals, but somehow the tone changed as the day progressed because my seniors and other journalists had by then informed some senior police officers. But Yakub was not brought to the police station.
The police asked us to write our complaint and made us wait there for more than an hour. At 7 pm, we were sent to the AIIMS trauma care centre for a medical check-up, accompanied by a policeman. We were there until almost 10 pm and saw Yakub roaming around the hospital.
With a lot of pressure on him, the SHO lodged our FIR but did not add the relevant section of the IPC for theft of the camera.
When we became journalists, we knew there is always some danger attached to investigative reporting. I have experienced this in several other places, especially in the remote interiors of the country. However, having to face this kind of hooliganism in the heart of the country's capital, despite identifying ourselves as journalists, makes me wonder if the common man is safe.
The authorities have promised action. And we are waiting.
Source: http://www.tehelka.com/property-dealer-hounds-nizamuddin-dargahs-caretakers/
URL: http://www.newageislam.com/current-affairs/ushnor-majumdar/property-dealer-hounds-nizamuddin-dargah's-caretakers/d/13963