By TwoCircles.net Staff Reporter
13 January 2015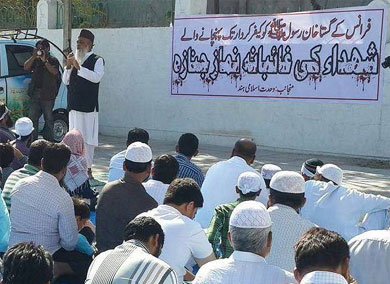 Controversial cleric Maulana Naseeruddin led a 'Gayabana Namaz-e-Janaza (funeral prayer in absentia) here for two brothers – Cherif and Said Kouachi – who attacked the French satire magazine Charlie Hebdo last week killing 12 people.
Naseeruddin leading the funeral prayer in absentia on Sunday afternoon has immediately drawn critical comments from community leaders and academics, all of whom have unequivocally condemned the act. S Q Masood, city convener of All India Secular Forum, described the act as mere fanaticism as he said, "What happened in France was an act of terror, there cannot be two opinions on it."
The funeral prayer was held under the banner of Wahdat-e-Islami, a small organisation founded by Maulana Naseeruddin, and attended by 50-odd people, including young children, assembled at the Eidgah ground at Syedabad. The presence of media persons carrying still and video cameras gave an impression that it was a 'made for media' event held to garner publicity.
Kouachi brothers had attacked Charlie Hebdo purportedly for publishing cartoons of Prophet Mohammed (PBUH) and killed 12 people, including the cartoonists. Later both Cherif and Said, who claimed to be members of Yemen unit of Al Qaeda, were shot down by French security forces on January 9, two days after the attack.
A banner at the funeral prayer meeting read: "Absentia funeral prayer of martyrs who took insulters of prophet to logical end." (as translated from Urdu). Maulana Naseeruddin, an expelled Jamat-e-Islami leader, incidentally, is known for his controversial stances and has had run-ins with the security agencies in the past.
Praising the 'Quatilan-e-Dushmanan-e-Rasool (killers of the enemies of Prophet)' in a post-prayer meeting sermon, Maulana Naseeruddin asked the attendees to raise their hands in prayer for attackers and prayed, "May Allah pardon Saeed and Shariff, those two youths who have avenged the enemies of our beloved prophet. May Allah protect their family, relatives and friends from torture and arrest. Those Muslims, who have been arrested on the basis of suspicion, may Allah grant them release."
Supporting the action of French magazine attackers Naseeruddin said, "There is a fatwa that if a person mocking our beloved prophet is still standing alive than our (Muslims) lives are worthless. Insulting Prophet Mohammed (pbuh) is a heinous crime, and Allah ordered death sentence for the person in the Quran," he said without quoting any reference to any verse from the Quran to substantiate his claim.
Condemning the act of Maulana Naseeruddin, Abdul Jabbar Siddiqui state general secretary of the Association for the Protection of Civil Rights (APCR), said it cannot be a representative of the Muslim community. "Islam is a civilized religion with procedural law in place. Killing without facing trial is against Islam and teaching of Prophet himself. What he is propagating, is irrational, completely wrong and un-Islamic. Paris killings were appalling, but support for those killers is shameful."
Advocating that elements such as Naseeruddin be ignored as they try to claim legitimacy in the society where they have no hold or following at all, Siddiqui warned, "Naseer and company taking law into their hands and propagating the same should also stop."
The controversial Maulana was arrested by city police in Sai Baba temple blast case, by Gujarat police in Haren Pandya assassination case over last few years. But in both the cases, he was acquitted after spending time in jail. His two sons were also arrested by Madhya Pradesh ATS in SIMI conspiracy case but were later acquitted. His youngest son is currently in Karnataka prison for another serious terror conspiracy case.
Speaking to reporters at the venue after the funeral prayers, Naseeruddin also criticized the Paris march and assembly of world leaders in support of Charlie Hedbo attack victims. "When 12 persons get killed, the whole world leaders are marching in unity. When thousands of Muslims get killed, none even speaks."
Claiming that attack on magazine office was a legitimate act, the Maulana said, "It was in accordance to human values and according to Shariat." Explaining the logic of 'human values' behind the carnage, he said "A child is not allowed to insult his father, same applies for a student and a teacher ... then Prophet deserves highest order of respect, no one can mock him."
Drawing parallels in further support of the act (of killing), Naseeruddin said, "In ancient India, when low-caste people spoke against Brahmins, their tongues where chopped off. Supporters of Holocaust are punished across several countries. In European countries, who ever defame Jesus, are liable for punishment."
Naseeruddin contentiously instigated that Muslims should take law into their hands to protect the integrity of Prophet as he said: "When there is no Islamic government, it is the individual Muslim's responsibility to execute the punishment. We fully support their (Paris killers) act and hence we are here for funeral prayer."
Dr Lubna Sarwath, an expert in Islamic economics from the Center of Wellbeing, said she can't recall any verse in the Quran prescribing punishment for ridiculing the Prophet as claimed by the Maulana. Instead, she said, "Quran's chapter 25 Furqan-verse 41, chapter 38-Saad verse 4, chapter 73 Muzamil-verse 21 mentions that Prophet has been called lunatic, a magician and many other bad names by his enemies but Prophet never harmed anyone in his life for those abusive words and actions used against him."
Sarwath advice the Maulana to follow the magnanimity of what Prophet have actually taught us, "Allah directed Muslims to follow the path of Prophet (chapter 33 Ahzab-verse 21). So we need to see how Prophet behaved during the preaching difficulties in Ta'if, the nobility he showed after conquering Mecca and treatment of his enemies."
Observing that there can be no argument in favour of taking vengeance when there is a redressal and criminal justice system in place, Masood from the All India Secular Forum, said: "India is a democratic country and the Maulana should realize the contentious prayer he offered was only because of the democracy he is living in, where freedom of expression is guaranteed. Propagating anarchy by suggesting taking law into hands for protecting Prophet's honour is disgraceful."
Dr Lubna Sarwath also said Muslims should condemn '2000 killed in Gaza' and '12 killed in France' in the same breath as Prophet Muhammed (pbuh) would have done the same thing as "his teaching and concern was for the whole humanity."
Source: http://twocircles.net/2015jan13/1421152923.html#.VLj6PtKUffI
URL: http://www.newageislam.com/current-affairs/twocirclesnet-staff-reporter/controversial-cleric-holds-absentia-funeral-prayer-at-hyderabad-for-paris-attackers/d/101055