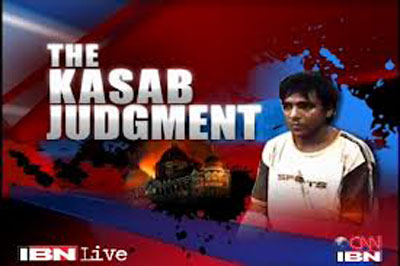 By Surabhi Malik
November 21, 2012
Mohammed Ajmal Amir Kasab, 25, the only terrorist caught alive during the 26/11 attacks on Mumbai, was hanged at Pune's Yerwada Jail at 7:30 this morning, in a swift and secret execution. Doctors confirmed that he was dead.
An hour later, Maharashtra Home Minister RR Patil announced the hanging and said "I sincerely believe this is a tribute to all innocent people and the officers who lost their lives in the Mumbai attacks." 166 people were killed over three days of terror, when 10 men from Pakistan sailed into Mumbai in November 2008. They split into pairs and spent 72 hours targeting the city's landmarks. A hospital was attacked; so was a Jewish centre. Kasab was the only terrorist who was caught alive.
The abiding image is of him captured on a CCTV camera at Mumbai's Chhatrapati Shivaji Terminus station, strapped with ammunition and holding a deadly Kalashnikov rifle. He was intercepted at Girgaum Chowpatty by assistant police inspector Tukaram Ombale, who was killed while grappling with him.
Mr Patil recounted that the death sentence handed to him by a special trial court was upheld both by the High Court and the Supreme Court; Kasab faced charges ranging from treason to waging war against India.
President Pranab Mukherjee had rejected Kasab's mercy petition on November 5, but the execution was kept under wraps and the announcement was made only after he was hanged. The Lashkar-e-Toiba terrorist was shifted from Mumbai's Arthur Road Jail to Pune's Yerwada Jail this Monday. Yerwada Jail is one of the two jails in Maharashtra where prisoners on death row are hanged.
The execution comes one day before the Winter Session of Parliament begins and five days before the fourth anniversary of a day that will haunt Mumbai for many days. The BJP's Muqtar Abbas Naqvi said it was "better late than never."
Since his arrest in 2008, Kasab was kept in a high-security bulletproof cell in Mumbai's Arthur Road jail. He had moved the Supreme Court on February 14 this year against the High Court verdict of October 10 last year, which upheld a lower court order sentencing the terrorist to death. The lower court had pronounced its judgement on May 6, 2010, 18 months after he was captured.
Kasab's mercy petition was filed first with the Maharashtra Home Ministry, which rejected it in September, and forwarded it to the Union Home Ministry. Then, In October, the Home Ministry recommended that President Pranab Mukherjee reject his plea.
In his plea before the Supreme Court Kasab had said that he had not been given a fair trial. But the Supreme Court had rejected that contention and Justice CK Prasad had observed, "I am more than certain that the planning and conspiracy to commit the crime were hatched in Pakistan, the perpetrators of crime were Pakistani trained at different centres in that country, and the devastation which took place at various places in the city of Mumbai, were executed by the appellant in furtherance thereof."
There had been an overwhelming demand among people in India since 2008 that Kasab be executed for his role in the Mumbai attacks.
Also, as Kasab's trial continued, the cost of keeping him alive had been a huge burden on the state exchequer. While the Government has spent over Rs. 5 crores on his high security cell at Mumbai's Arthur Road jail, his security, entrusted to the Indo Tibetan Border Police (ITBP), has cost the state over Rs. 19 crores.
http://www.ndtv.com/article/india/ajmal-kasab-hanged-at-pune-s-yerwada-jail-this-morning-295016
------------------
Pak 'Respects' India's Judicial Process over Kasab Death
By FP Staff
November 21, 2012
The first reactions to Kasab's death have come in from Pakistan, with press sources saying that they respect India's judicial process.
CNN IBN quoting a Pakistani press source as saying, "We respect judicial process in India. We have everything is done under proper scrutiny. Our understanding says President has jumped the queue in rejecting the mercy petition of Ajmal Kasab and till last minute it was under wraps. We don't deny any repercussion on Sarabjits pending mercy petition on this."
Meanwhile one of the lawyers on the Pakistani panel probing the 26/11 attacks saying that had Kasab been alive, he could have provided them with invaluable evidence, and questioned if the hanging had a political dimension.
"If Kasab was produced in a Pakistan court or if he was produced access to the commission for the recording of his evidence, then it might have been a piece of evidence . This may have a political dimension, whereas in Pakistan, we have an independent judicial system. I believe Kasab would have an absolute chance to a fair trial here.
The new panel was constituted after a Pakistani anti-terrorism court declared illegal the findings of a Pakistani commission that probed the attacks immediately after 26/11.
Pakistani authorities had sent two requests to India in August, asking it to allow Pakistani defence lawyers to cross-examine key witnesses including Ajmal Kasab, saying any failure to do so could allow the accused in the country to go scot-free.
In a message sent to Indian authorities through diplomatic channels on 20 July, the Federal Investigation Agency asked that the defence counsel should be allowed to cross-examine surviving attacker Ajmal Kasab, chief investigation officer Ramesh Mahale, and Ganesh Dhunraj and Chintaman Mohite, the two doctors who performed the autopsies of slain attackers.
9.23 am: 'President used his constitutional powers to reject Kasab's mercy plea'
The Press secretary to President Pranab Mukherjee said Mukherjee had used his constitutional powers to reject Ajmal Kasab's mercy petition. Speaking to the media he said, "This decision was taken a few weeks back. And communicated to the ministry of home affairs consequent to which necessary action was taken. After examining the pettion and taking into consideration the views expressed by the Government of India, the President has rejected the petition.
9.07 am: Kasab had no last wish or will
CNN-IBN quoting jail sources had said that Kasab had reportedly told them that he had no last will or wish before he was executed, and that the entire procedure had been explained to him before it was carried out.
Meanwhile reacting to the news, the BJP said that the welcomed the execution, but that it had come very late. They did say however that the execution was a strong response to terror from across the border.
Jammu and Kashmir Chief Minister Omar Abdullah used the occasion to display his cynicism for the media.
8.58 am: Kasab to be buried in Pakistan?
Even as the nation reels from an early morning revelation that the lone surviving gunman from the 26/11 attacks, Ajmal Kasab, was executed in great secrecy, there is already heavy speculation on where he will be buried. Executive Editor of IBN 7, Mritunjoy K Jha tweeted that he would be buried in his native Pakistan:
Home Minister Sushil Kumar Shinde told media that they would hand over Kasab's body to Pakistan if they asked for it. "We have informed the Pakistan government", he said.
8:45 am: 'Due process of law was followed', says RR Patil
Maharashtra Home Minister RR Patil in a media interaction confirmed that Kasab's plea had been rejected by the President on 8 November and that he being the only militant to have survived the 2008 attacks,was hanged at 7:30 am this morning. He added that the due process of law had been followed as the special 26/11 court awarded death penalty to Kasab, which was upheld by the Supreme Court. He filed a mercy petition, but it was rejected, following which the government took around three weeks to prepare for his execution.
Following the President's rejection on 8 Nov, Kasab was moved from the Mumbai Arthur Jail to Yerawada Jail in Pune on Monday night.
Patil also said that Kasab has been declared dead by doctors., but the location of his burial is yet to be decided.
Ajmal Kasab hanged at Yerawada Jail in Pune, confirms R R Patil
8:27 am Lashkar-e-Toiba terrorist Ajmal Kasab, convicted for the 26/11 Mumbai terror attack, was today hanged at the Yerawada Jail in Pune at 7:30 am after President Pranab Mukherjee rejected his mercy petition.
Maharashtra Home Minister R R Patil confirmed that Kasab was executed this morning and that the President had rejected Kasab's mercy plea on 8 November. Union Home Minister Sushil Kumar Shinde too confirmed the hanging.
The ministry will soon address the media to formally announce the execution.
Majid Memon, senior lawyer, in an interview with Times Now said that Kasab's execution should have happened earlier but better late than never."This will be a good message to Pakistan."
In September, the Maharashtra Home Ministry had recommended that the mercy plea be rejected.
Kasab was discreetly moved from Mumbai's Arthur Road Jail to Pune's Yerawada Jail last night.
The President's rejection came two months after the Home ministry rejected Kasab's mercy petition.
Kasab's death sentence had been confirmed by the Supreme Court and his clemency petition was pending with the President's office.
Kasab and nine other Lashkar-e-Taiba terrorists had sailed into Mumbai on November 26, 2008 from Karachi and killed 166 people.
The Mumbai trial court had on May 6, 2010 awarded death sentence to Kasab which was upheld by the Bombay High Court on February 21, 2011. The apex court rejected his appeal on August 29.
Source: http://www.firstpost.com/india/live-ajmal-kasab-had-no-last-wish-or-will-before-execution-529858.html
URL: http://www.newageislam.com/current-affairs/surabhi-malik/ajmal-kasab-hanged-at-pune's-yerwada-jail-this-morning/d/9369