By Sudheendra Kulkarni
14 August 2015
L K Advani, senior leader of the Bharatiya Janata Party, likes to recount an important conversation he had in 2011 with India's then Prime Minister Dr Manmohan Singh. The occasion was the birth anniversary of Dr Ram Manohar Lohia a great personality of India's freedom struggle and a prominent socialist leader. They had come to the Central Hall of Parliament to offer floral tribute at Dr Lohia's portrait. Dr Singh casually asked Advani, who was then the Leader of the Opposition, "How well had you known Dr. Lohia?" The BJP leader replied, "Quite well."
His interaction with Lohia had begun in the early 1960s when he was a journalist with the RSS weekly Organiser. One day Lohia shared with Advani his concern over the belief of the Jana Sangh (previous avatar of the BJP) and the RSS in the concept of "Akhand Bharat" (India Undivided). Advani told him: "I would like you to meet Pandit Deendayal Upadhyaya (philosopher-leader of the Jana Sangh) and hear him explain the Jana Sangh's interpretation of Akhand Bharat."
Advani arranged a meeting between Lohia and Upadhyaya, who had a candid and intensive discussion on the relations between India and Pakistan relations, as well as between Hindus and Muslims in India. Lohia told Upadhyaya that the concept of Akhand Bharat had put Muslims in Pakistan at unease and posed a hurdle in the progress of Indo-Pak relations. "Many Pakistanis believe that if the Jana Sangh came to power in New Delhi, it would forcibly reunify Pakistan with India." Upadhyaya replied: "We have no such intentions. We are willing to put to rest Pakistani people's concerns on this score."
At the end of the dialogue, and in a remarkable demonstration of consensus-building among leaders with different ideologies, Lohia and Upadhyaya signed a historic joint statement on 12 April, 1964. Apart from appealing for equal protection for Hindus and Muslims in the subcontinent, the two leaders urged the governments of India and Pakistan to hold frank, and not "piecemeal", talks to create mutual goodwill and make a "beginning towards the formation of some sort of Indo-Pak Confederation."
Jinnah and the Idea of a Confederation
The idea of an India-Pakistan Confederation (which in today's context should also include Bangladesh) may seem far-fetched, even thoroughly impractical given the unremitting mistrust and hostility between our two countries. However, as the two South Asian neighbours celebrate the 68th anniversary of their independence from British rule -- a joyous occasion that was accompanied by the horrific Partition-induced communal bloodbath -- it is useful to remember that some sort of India-Pakistan federation or confederation was a distinct possibility when the British left our subcontinent.
Jinnah's Lahore Resolution (1940) Had The Seed Of A Confederation.
In other words, the blood-soaked Partition of August 1947 could have been avoided, while, at the same time, fulfilling the Muslim League's core demand, as stated in its Lahore Resolution of 1940, for a separate state or states in Muslim-majority areas in British India. It was a win-win opportunity for all the diverse communities to whom India was the common motherland.
Sadly, Congress and Muslim League leaders buried the opportunity due to their series of blunders and misjudgements. In the end, the violent vivisection of united India was not inevitable, but a tragic accident of history that could have been avoided.
It is instructive to briefly revisit the chequered pre-1947 debate to know how Pakistan could have been created without Partition peacefully, within a mutually agreed federal or confederal framework.
The idea propounded by the Muslim League that ultimately led to the partition of India -- namely, that India is not one nation but two nations, Hindu India and Muslim India-- did not originate with Mohammed Ali Jinnah, the architect of Pakistan. Before him, several Muslim and even Hindu leaders (Sir Syed Ahmed Khan, Sir Mohammed Iqbal, Lala Lajpat Rai, Vinayak Damodar Savarkar) propounded it in their own ways. However, none of them (not even Jinnah initially) advocated the division of India.
Iqbal, in his presidential speech at the Muslim League session in Allahabad in 1930 had called for the merger of the four Muslim-majority provinces in the north-west, with the exception of some non-Muslim districts, into "a Muslim India within India". Ironically, Iqbal, whom Pakistanis regard as their national poet, had in 1904 written "Saare Jahaan Se Achchaa, Hindustan Hamara...", which is still one of the most popular patriotic songs in India.
It would not surprise many to know that the famous Lahore Resolution, which most Pakistanis regard as the basis of the creation of Pakistan, mentioned "Pakistan" nor had any reference to the Two Nations theory. In fact, the resolution was kept so deliberately vague that it called for the creation of "independent (Muslim) States", and not one State, "in the North-Western and Eastern zones of India".
Just two months before the adoption of the Lahore Resolution, Jinnah was still talking of India as the "common motherland" of Muslims and Hindus. In his article in Time and Tide of London, on January 19, 1940, he wrote:
"A constitution must be evolved that recognises that there are in India two nations who both must share the governance of their common motherland. In evolving such a Constitution, the Muslims are ready to co-operate with the British Government, the Congress or any other party so that the present enmities may cease and India may make its place amongst the great countries of the world."
Pakistan-born historian Ayesha Jalal, in her widely acclaimed book The Sole Spokesman - Jinnah, the Muslim League and the Demand for Pakistan, tells us some revealing things about the thought process of Jinnah and other Muslim leaders at the time of the Lahore Resolution. For example, H V Hodson, a British officer who was the Reforms Commissioner in India in 1941, reported after speaking to many League leaders that they "interpreted Pakistan as consistent with a confederation". Ismail Ibrahim Chundrigar, a Muslim League leader and trusted follower of Jinnah who went on to become Pakistan's prime minister in 1957, said that the object of the Lahore Resolution was not to create "Ulsters" (a reference to the violent separatist movement aimed at Northern Ireland's independence from the United Kingdom), not to "destroy the unity of India", but to get the "two nations (Pakistan and Hindustan)... welded into united India on the basis of equality".
What Jalal writes further is even more powerful.
"That Chundrigar's interpretation was on the right tracks is suggested by the fact that Jinnah himself, Chundrigar's neighbour in Bombay, often stated that 'Pakistan', with its connotation of partition, was not the League's idea but a caricature thrust upon it by the Hindu press: 'They fathered this word upon us,' Jinnah complained at Delhi in 1943. As he told Nawab Ismail (a pioneer of the Pakistan movement who stayed back in India) in November 1941, he could not openly and forcibly come out with these truths 'because it is likely to be misunderstood especially at present'. In a line which reveals more than a thousand pages of research and propaganda, Jinnah admitted: 'I think Mr. Hodson finally understands as to what our demand is'."
All available evidence shows Jinnah's true intention was not to have the kind of Pakistan that was ultimately founded -- "a shadow and a husk, a maimed, mutilated and moth-eaten Pakistan" he called it in dejection -- but a kind of Hindustan-Pakistan Confederation. Remarkably, all through the partition debate, he always used the word "Hindustan" to refer to what was not Pakistan, and "India" to refer to what he often described as the "motherland" of both.
Even after Jinnah promised, and demanded, Pakistan as a separate and sovereign "Muslim Nation", the absurdity of a separate "Nation" or "Homeland" for Muslims who live in all parts of the subcontinent was as apparent then as it is now. He was also prepared to accept, at different points of time between 1940 and 1947, different kinds of federal or confederal constitutional arrangements that would keep Pakistan within India. For instance, in June 1946, he accepted the Cabinet Mission Plan proposed by the British which specifically ruled out the partition of India. The plan proposed independence for India as a federation comprising three largely autonomous groups or sections, with a Central government, located in Delhi, empowered to handle national affairs such as defence, currency, foreign affairs, etc. In June 1947, Jinnah proposed that the constituent assemblies of India and Pakistan should meet in New Delhi.
Partition: A Tragedy Written By the Muslim League, Congress and British
It is only after the Congress (rather, Jawaharlal Nehru, without consulting Mahatma Gandhi) rejected this plan that the Muslim League also withdrew its acceptance. The Congress had also passed a resolution in March 1947 demanding division of the Punjab and Bengal, which was its tacit acceptance of the division of India. This too was done without Gandhiji's concurrence.
In Maulana Abul Kalam Azad's book India Wins Freedom, parts of which were released 30 years later in 1988, he clearly blamed Nehru for his role in the partition. Azad, who remained the staunchest opponent of Partition till the very end, writes: "I warned Jawaharlal that history would not forgive us if we agreed to Partition. The verdict would be that India was not divided by the Muslim League, but by the Congress."
Jaswant Singh, in his widely debated book Jinnah: India - Partition - Independence, endorses this view: "It has to be said, and with great sadness, that despite some early indications to the contrary, the leaders of the Indian National Congress, in the period between the outbreak of war in 1939 and the country's partition in 1947, showed in general, a sad lack of realism, of foresight, of purpose and of will."
In a similar vein, Jalal persuasively demonstrates that the 1947 partition of India was an accident, "a colossal miscalculation", and that Jinnah initially did not want a separate Muslim Nation. Rather, he was using the threat of Pakistan as a bargaining point to strengthen the voice and stake of the Muslim minority within a united India. Sadly, this truth is not accepted either by most Pakistanis (for whom Jinnah is a blemish-free hero) or by most Indians (for whom he is an unpardonable villain).
This incontrovertible truth drills holes in the entrenched belief both in India and Pakistan that the Muslim League was solely responsible for Partition, whereas the Congress always stood for a united India. History's verdict casts the responsibility for India's Partition on both the parties, although the Muslim League's guilt is decidedly greater on account of the fact that it anchored its demand for Pakistan on the hollow, dubious and extremely dangerous Two Nations theory.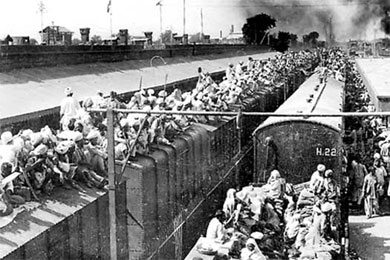 Shameful Flight: Partition caused chaos and violence in which nearly 5, 00,000 Hindus, Muslims and Sikhs were killed. In the largest trans-border migration in human history, as many as 14 million people were uprooted from their homes
A still greater share of the guilt lies at the feet of the British government for the needlessly hurried, and wholly insensitive, manner in which it executed the Partition without either anticipating, or making necessary security provisions. It was the duty, primarily, of the British rulers to ensure a smooth and peaceful transfer of power. Their failure to discharge this duty was principally responsible for the killing of more than 2, 50,000 Hindus, Sikhs and Muslims (other estimates put the figure at 5, 00,000) and for the uprooting of 14 million people from their homes and their migration across the borders that divided India and created Pakistan.
In his admirable book Shameful Flight, Stanley Wolpert has chronicled how Britain, and especially Lord Mountbatten, the last viceroy of India, were guilty of ill-planned, sudden and insensitive disengagement from India in 1947. The British government's previous self-declared deadline to exit from India was January 1948. By needlessly advancing it to August 1947, and by drawing the boundaries separating India and Pakistan in an extremely hurried manner -- the Radcliffe Commission appointed by Mountbatten completed its job of demarcating a vast territory of 450,000 sq km with 88 million people in just three months -- the British created avoidable chaos and panic. This greatly exacerbated the killings and forced displacement of people on both sides of the border. Had this tragedy been avoided - and it was indeed avoidable − the relations between India and Pakistan would not have been as bitter and hostile as now.
This British culpability made Gandhiji rue: "Partition has come in spite of me. It has hurt me. But it is the way in which Partition has come that has hurt me more."
"I am convinced that Jinnah is a good man" - Mahatma Gandhi said at the end of their failed talks after 14 meetings in 18 days in Bombay in September 1944
Mahatma Gandhi's Vision: Two States, Not Two Nations
The one man, who did his utmost to prevent India's Partition, while granting the Muslim League's core demand for Pakistan as a separate State, was Mahatma Gandhi.
Between 9 and 27 September in 1944, Gandhiji met Jinnah as many as 14 times at the latter's residence in Bombay. The Mahatma stated that the purpose of these talks, which were held at his request, was to understand Jinnah's mind and to make him rethink the demand for Pakistan on the basis of the Two Nations theory. Simultaneously with these meetings, the two leaders also exchanged 24 letters, which are of immense educative value for both Indians and Pakistanis.
In his very first letter to Jinnah on 11 September, 1944, Gandhiji stated:
Jinnah was unimpressed. He wrote back:
"The only solution of India's problem is to accept the division of India as Pakistan and Hindustan...In order to achieve the freedom and independence of the people of India, it is essential, in the first instance, and that there should be a Hindu-Muslim settlement."
Jinnah's stand was thoroughly untenable, insofar as he equated the creation of Pakistan as a separate and sovereign nation with a settlement of the Hindu-Muslim relations. In doing so, he simply took it for granted that the Muslims in Muslim-minority provinces also constituted the "Muslim Nation", without explaining that his absurd formula would leave this part of the "Muslim Nation" behind in Hindustan. Similarly, if, according to him, the Hindus constituted a separate nation, he did not care to explain how the Hindus in Hindu-minority provinces in the north-western and eastern zones of India would cease to be a "Hindu Nation" once they became a part of his "Muslim Nation".
Jinnah's assertion that Hindus and Muslims have nothing in common, and hence constitute two separate nations, was a complete and uncharacteristic U-turn on all that he had said and passionately striven for in the first 25 years of his life. Once hailed as an "Ambassador of Hindu-Muslim Unity", this secular Indian nationalist leader was now championing a hazardous theory which was bound to ignite combustible communal hostility between Hindus and Muslims.
Therefore, four days later, Gandhiji wrote in a tone of dismay:
"You must admit that the (Lahore) Resolution itself makes no reference to the Two-Nation theory. In the course of our discussions, you have passionately pleaded that India contains two nations, i.e., Hindus and Muslims, and that the latter have their homelands in India and as the former have theirs. The more our argument progresses, the more alarming your picture appears to me. It would be alluring if it were true. But my fear is growing that it is wholly unreal. I find no parallel in history for a body of converts and their descendants claiming to be a nation apart from the parent stock. If India was one nation before the advent of Islam, it must remain one in spite of the change of faith of a very large body of her children."
Gandhiji endorsed the principle of sovereign states, on the basis of self-determination, in areas predominantly inhabited by Muslims in the north-western and eastern parts of India. "You can call it Pakistan if you like," he told Jinnah. To this extent, he accepted the kernel of the Lahore Resolution. He even admitted that he was deviating from the All India Congress Committee's resolution in Bombay in August 1942, which he had himself endorsed in his famous "Quit India" speech. He was doing so in order to ensure that free India remained united India.
In other words, Gandhiji accepted the Muslim League's demand for Pakistan as an independent state, with four crucial caveats. Firstly, Pakistan would be formed not on the basis of the Two Nations theory, but the two States theory. Secondly, the formation of the new State "should be accompanied by bonds of friendship and alliance between Hindustan and Pakistan... there should be a common policy and a working arrangement on foreign affairs, defence, communications and similar matters, since this is manifestly vital to the welfare of both parts of India." Thirdly, the treaty of separation "shall also contain terms for safeguarding the rights of minorities in the two States". Fourthly, before the formation of Pakistan and the simultaneous alliance (a form of confederation) between Pakistan and Hindustan, the first condition is to gain independence for the whole of India "by the joint action of all the parties and groups composing India".
In his letter of 19 September, 1944, Gandhiji asked Jinnah a pertinent question: "Can we not agree to differ on the question of 'two nations', and yet solve the problem on the basis of self-determination? It is this basis that has brought me to you."
On 22 September, 1944, Gandhiji made his opposition to the Two Nations theory even more emphatic, while at the same time offering a practical and reasonable basis for a solution based on the Lahore Resolution.
"The more I think about the two-nation theory, the more alarming it appears to be... I am unable to accept the proposition that the Muslims of India are a nation distinct from the rest of the inhabitants of India. Mere assertion is no proof. The consequences of accepting such a proposition are dangerous in the extreme. Once the principle is admitted, there would be no limit to the claims for cutting up India into numerous divisions which would spell India's ruin. I have therefore suggested a way out. Let there be a partition as between two brothers, if a division there must be." (Emphasis added)
On 24 September, 1944, Gandhi Wrote To Jinnah:
"I proceed on the assumption that India is not to be regarded as two or more nations but as one family consisting of many members, of whom the Muslims living in the north-west zones i.e., Baluchistan, Sind, North-West Frontier Province and that part of the Punjab where they are in absolute majority over all the other elements and in parts of Bengal and Assam where they are in absolute majority, desire to live in separation from the rest of India."
The talks broke down because Jinnah was unwilling to yield even an inch, in spite of Gandhiji showing utmost flexibility and patience. Had Jinnah shown the kind of flexibility that he showed later, the history of 1947 would have been different. Similarly, history would have been different if the Congress leaders, especially Nehru and Sardar Patel, had not been dismissive about the Muslim League, arrogantly regarding it as a "headache" and a "nuisance", and had the Congress offered to have talks with the League on the future constitutional arrangement for post-British India. The Congress did offer such talks in early 1947, but it was too late.
After the breakdown of talks, Gandhiji said in a press interview to Stuart Gelder of News Chronicle on 29 September, 1944: "I want to make it clear that I believe Mr. Jinnah is sincere, but I think he is suffering from hallucination when he imagines that an unnatural division of India could bring either happiness or prosperity to the people concerned."
We should be truly grateful to C Rajagopalachari, who was not only instrumental in facilitating the Gandhi-Jinnah talks, but also devised a formula, which came to be known as the "Rajaji Formula", aimed at securing "the largest quantum of acceptance on both sides" (the Congress and the Muslim League). After the talks failed, Rajaji wrote in the preface to the collection of the letters exchanged between the two leaders during the course of their meetings: "Gandhi has gone to the farthest limit by way of modifying the national aspiration in order to accommodate the League." He showed how Gandhiji had endorsed his formula and, in the course of his talks with Jinnah, further amplified it. It hence came to be known as the Gandhi-Rajaji Formula.
Rajaji's farsightedness can be gauged from the following summation of his preface.
"I do not think that there is any real difficulty in the way of a courageous acceptance by the Muslims of the responsibilities of a separate State as envisaged in the Lahore resolution and in conformity with the reasonable conditions under which it can be given effect to, namely, those set out in my formula. But if there should be any nervousness or unwillingness to take the grave step of separation, there is nothing to prevent the following of a middle course. Alternative plans could be devised, and confederation could be one, whereby sovereign status could be secured without the disadvantages of outright partition." (Emphasis added)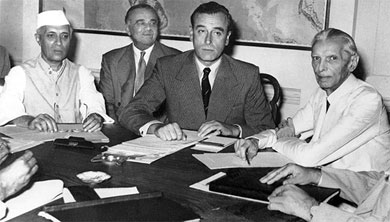 Jawaharlal Nehru, Lord Mountbatten and Mohamed Ali Jinnah, 1947: All three are responsible for the avoidable division of India
Ironically, even Nehru, one of The Guilty Men of Partition (which is the title of an incisive book by Dr. Ram Manohar Lohia) expressed contrition over Partition after it had happened. He also favoured a federation between India and Pakistan. In his reply to Nawab Sahib of Bhopal, who had questioned him on the division of India, Prime Minister Nehru wrote on July 9, 1948: "...perhaps we acted wrongly. It is difficult to judge now. And yet, the consequences of that Partition have been so terrible that one is inclined to think that anything else would have been preferable...Ultimately, I have no doubt that India and Pakistan will come close together....some kind of federal link....There is no other way to peace. The alternative is ...war."
It May Not Be Too Late: Kashmir Is the Key
We have seen that India and what later became Pakistan missed many opportunities to simultaneously achieve three inter-related goals in 1947: freedom from the British rule, unity of India, and a confederal constitutional set-up with two largely independent and autonomous States.
Now, nearly 70 years later, is an India-Pakistan Confederation (with the inclusion of Bangladesh) still possible? Is it necessary?
The necessity is beyond doubt. Together, our three countries account for a population of over 1.6 billion, the largest segment of global population with a common civilisational ancestry and socio-religious-racial-cultural complexion. The problems of poverty, socio-economic backwardness, protection of the environment, guarantee of equal rights and security to all sections of the plural societies in the three countries, safeguarding and strengthening of inter-religious harmony, development of robust democracy and institutions of good governance, peace within and along the borders - these too are common. It is delusional to think that any of the three countries can fully surmount these challenges on its own.
On the contrary, their ability to overcome these challenges will be greatly enhanced by maximising cooperation in a confederal framework. Indeed, the failure of the South Asian Association of Regional Cooperation (SAARC) to realise its vision and potential, even 30 years after its inception, clearly shows that what is lacking is cooperation between India and Pakistan. If Europe has become a zone of peace, after fighting two horrific World Wars in the last century, it is principally because most European countries have come together in a cooperative, confederal framework called the European Union.
There are of course large and dark clouds of doubt over the possibility of an India-Pakistan Confederation, given the enormous trust deficit between our two countries. Nevertheless, these clouds can be dispelled if we rediscover and strengthen the unifying examples in our shared history.
It is a supreme irony that one of these examples was provided by Jinnah himself when he addressed the inaugural session of the Constituent Assembly of Pakistan in Karachi on August 11, 1947. Speaking extempore, the soon-to-become Governor General of Pakistan sketched a highly appealing vision of Pakistan based on religious tolerance and national unity. In other words, soon after he created Pakistan, he jettisoned the divisive Two Nations theory!
Let's hear Jinnah speak:
"I cannot emphasise it too much. We should begin to work in that spirit, and in course of time all these angularities of the majority and minority communities, the Hindu community and the Muslim community -- because even as regards Muslims you have Pathans, Punjabis, Shias, Sunnis and so on, and among the Hindus you have Brahmins, Vashnavas, Khatris, also Bengalese, Madrasis and so on -- will vanish. Indeed if you ask me, this has been the biggest hindrance in the way of India to attain the freedom and independence, and but for this we would have been free people long long ago. No power can hold another nation, and specially a nation of 400 million souls, in subjection; nobody could have conquered you, and even if it had happened, nobody could have continued its hold on you for any length of time, but for this. Therefore, we must learn a lesson from this.

"You are free; you are free to go to your temples, you are free to go to your mosques or to any other place or worship in this State of Pakistan. You may belong to any religion or caste or creed -- that has nothing to do with the business of the State. As you know, history shows that in England conditions, some time ago, were much worse than those prevailing in India today. The Roman Catholics and the Protestants persecuted each other. Even now there are some States in existence where there are discriminations made and bars imposed against a particular class. Thank God, we are not starting in those days. We are starting in the days where there is no discrimination, no distinction between one community and another, no discrimination between one caste or creed and another. We are starting with this fundamental principle: that we are all citizens, and equal citizens, of one State. The people of England in [the] course of time had to face the realities of the situation, and had to discharge the responsibilities and burdens placed upon them by the government of their country; and they went through that fire step by step. Today, you might say with justice that Roman Catholics and Protestants do not exist; what exists now is that every man is a citizen, an equal citizen of Great Britain, and they are all members of the Nation.

"Now I think we should keep that in front of us as our ideal, and you will find that in course of time Hindus would cease to be Hindus, and Muslims would cease to be Muslims, not in the religious sense, because that is the personal faith of each individual, but in the political sense as citizens of the State."
This speech is iconoclastic in many ways; here Jinnah breaks his own "icon", deliberately sculpted during the days of the Pakistan movement. What is most remarkable is that he still seemed to refer to India ("a nation of 400 million") as his own motherland.
If today's, and tomorrow's, Pakistan returns to embrace this inclusive and tolerant vision of its own Father of the Nation, the doors of rapprochement with India will surely open. It goes without saying that there can be absolutely no place for religious bigotry, extremism, exclusivism and terrorism if Pakistan's rulers and people wish to faithfully follow this founding vision of Jinnah. Pakistan. For its own survival as a nation at peace with itself, and also for wiping out the image in the international community of a nation that harbours terrorists who kill innocent people both at home and in countries near and far, Pakistan must adopt and implement a policy of zero tolerance towards "Islamist terrorism". The term "Islamist terrorism" is indeed self-contradictory in its essence because Islam was founded by a prophet who was a messenger of peace and universal brotherhood.
Happily, an urge to abjure the entrenched anti-India sentiment is currently growing in Pakistan. Here is an example. Farzana Shaikh, a renowned Pakistani historian based in London, writes in her book Making Sense of Pakistan:
"There is a strong pressure on Pakistan to re-orient itself away from its perennial stance of confrontation with India. The aim is not only to ease relations with New Delhi, but to distance Pakistan from the appeal of a type of militant Islam that is at odds with Islamic traditions indigenous to South Asia. Historically, these traditions, characterised by their strong syncretistic bias in favour of exploring common ground between Islam and India's indigenous religious, have been judged to be especially responsive to the region's culturally plural character....Reviving these traditions, with their strong syncretistic foundations, could alleviate the pressures on Pakistan. By recasting its enduring quest for religious consensus in terms of a cultural heritage rooted in the discourse of Indian Islam, Pakistan may yet salvage a pluralistic alternative consistent with democratic citizenship. Though any such endeavour will be forced to confront (and adapt to) the challenge of orthodoxy in Pakistan, it remains the only meaningful model for a country that seeks still to project an identity founded on reconciling Islam's universalist message with respect for the rich diversity of its peoples."
What enlightened scholars like Farzana Shaikh are proposing is recognition of the "cultural and spiritual confederation", based on the values of tolerance, acceptance of diversity and social harmony, which are the bedrock of Indian Islam. Surely, this is consistent with Jinnah's own vision for Pakistan, as articulated in his 11 August, 1947 speech, and it is inconsistent with much of what has happened in Pakistan's history thereafter.
However, alleviating the trust deficit is not the responsibility of Pakistan alone. India too must play its constructive role -- in three ways. First of all, it must bury the divisive and hegemonic concept of "Hindu Rashtra". India never was, and never will be, a Hindu Nation. By continuing to espouse it, the RSS and BJP give legitimacy to Jinnah's flawed and toxic Two Nations theory. The "Hindu Rashtra" concept played no insignificant role in India's partition in 1947. Its continued espousal will not only raise the spectre of India's future division, but it will also further antagonise Pakistan and Bangladesh. Therefore, if the RSS-BJP are still dreaming of "Akhand Bharat", they need to renounce the idea of "Hindu Rashtra" -- India cannot be reunited by making Pakistan and Bangladesh extinct, but a tri-nation confederation is still possible.
Secondly, the people and government of India must accept, without any hesitation, the reality of Pakistan as a separate, independent and sovereign nation, and also sincerely wish for Pakistan to remain united, stable, and peaceful and to become prosperous. India must consistently convey a credible message to its estranged neighbour that it poses no threat to Pakistan's security and unity. This is especially important due to Pakistan's concerns after the secession of Bangladesh, in which India played a role. Even though the liberation of East Pakistan and creation of Bangladesh was inevitable, and even though India was forced to intervene on the side of the liberation forces, the fact remains that this has made Pakistan worry that India remains inimical to its existence. New Delhi must address Islamabad's concerns, real or imaginary, on this score.
Thirdly, India - and Pakistan too -- must realise that an early and amicable solution to the dispute over Jammu & Kashmir is a precondition for any genuine reconciliation and abiding peace between our two countries. The two governments must stare at, and accept, the reality: neither can India ever recapture the Pakistan-held part of Kashmir, nor can Pakistan hope to get the part of Kashmir that is with India. No military solution can secure this goal in favour of India or Pakistan.
The only viable and workable solution to the Kashmir dispute, therefore, is for India and Pakistan to merge the two sides of Jammu & Kashmir, and co-administer its affairs with a large degree of autonomy for the people of the merged state. Indeed, this is what the interlocutors of Dr Manmohan Singh and his Pakistani counterparts were negotiating, with a fair degree of progress, a few years ago.
Dr Singh had said in 2008: "While we cannot change borders, we can make them irrelevant... I invite Pakistan to work with us to usher in a new era of sub-continental cooperation." This was a wise and innovative stance. Prime Ministers Narendra Modi and Nawaz Sharif (with the cooperation of the Pakistani army and Pakistan's opposition parties) should pursue this approach vigorously, especially since there is simply no other solution to the Kashmir problem. This will surely be welcomed by a large majority of Kashmiris too, since it meets their aspiration to be reunited. Moreover, this solution will lead to large-scale demilitarisation of Kashmir by both India and Pakistan, thus making it possible for Kashmiris to live in peace and security.
If the people of Jammu and Ladakh wish to stay out of this arrangement, their wish should be respected through a suitable democratic mechanism.
The governments of India and Bangladesh recently adopted a creative approach of mutual accommodation by implementing the "land-swap" deal, which has been welcomed by the people in both countries. Why can't the governments of India and Pakistan adopt a similar out-of-the-box approach to solve the Kashmir problem? Yes, then can. They must.
Here, both India and Pakistan should learn a few lessons in pragmatism from China. When Hong Kong ceased to be a colony of Britain in 1997, Beijing adopted a scheme of "One country, two systems", allowing Hong Kong to have its own economic system. In the case of Taiwan, too, it is following this principle. It has even tolerated, to a large extent, Taiwan's existence as a separate country with its own independent government, while promoting rapid economic integration between Taiwan and mainland China.
After making the border in Kashmir irrelevant, the remaining stretches of the Indo-Pak border can also be made porous (making them irrelevant will take time) through modern transport and trade connectivities, both land- and sea-based, linking Punjab, Rajasthan, Gujarat, Sindh and Maharashtra. Today the China-Pakistan Economic Corridor (CPEC) has created concerns in India because parts of it go through PoK. Once PoK and Indian J&K are brought together, and once we create new and smooth connectivities elsewhere between India and Pakistan, we can envision CPEC extending into India and becoming CPIEC. On the eastern side, India and China are already having talks on the BMIC (Bangladesh-Myanmar-India-China) project that plans to build modern infrastructure linkage connecting the four countries. It is clear that China stands to benefit from closer integration between countries of South Asia and South-East Asia. The benefit for Bangladesh is even more self-evident because it is landlocked on three sides by India.
If India and Pakistan can make this creative solution work in Jammu & Kashmir, it will immediately open up tantalising possibilities of moving towards a confederation, as envisioned in the Gandhi-Rajaji Formula in 1944.
In 2015, "Confederation" does not mean undoing the Partition of 1947; rather, it means creatively re-defining and recasting Partition. If we are wise enough to do so, before the dawn of August 15, 2047, hundred years after India's bloody division, our subcontinent will have seen three independent and sovereign countries coming together and pursuing a common policy on defence, trade, environment, infrastructure linkages, religious tourism, cultural cooperation and people-to-people contacts. India, Pakistan and Bangladesh would be free to exist as separate entities. However, they will be, as they have always been for thousands of years, "one (South Asian) family consisting of many members", to recall the words of Mahatma Gandhi, the wisest man produced by our common motherland, in his letter to Jinnah seven decades ago.
Sudheendra Kulkarni is Chairman of the Observer Research Foundation, Mumbai. He was an aide to India's former Prime Minister Atal Bihari Vajpayee.
Source: huffingtonpost.in/sudheendra-kulkarni/pakistan-without-partitio_b_7986022.html?utm_hp_ref=india
URL: http://www.newageislam.com/current-affairs/sudheendra-kulkarni/pakistan-without-partition--let-s-revive-the-buried-idea-of-indo-pak-confederation/d/104284