South Asian News Agency
08 June, 2014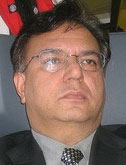 Sardar Shoukat Ali Kashmiri, Chief of United Kashmir Peoples National Party
Awami Workers Party and United Kashmir Peoples National Party have proposed the establishment of Joint constitutional Assembly for Azad Kashmir and Gilgit-Baltistan.
Fair solution of Kashmir issue is the only guarantee/way out of sustainable peace in South Asia, Awami Workers Party's President, well known lawyer Abid Hassan Manto, United Kashmir Peoples National Party's central Senior Vice Chairperson Naila Khaneen said during a press conference.
Awami workers party and united Kashmir people's national party will struggle collectively in Pakistan and Pakistani Administered Kashmir to promote friendly relations between Pakistan and India. The Kashmir issue should be resolved according to the principle of self determination and aspirations of Kashmiri people. They were addressing to the audience in press conference at National Press Club, Islamabad on the historical occasion of alliance building between two left wing parties.
United Kashmir Peoples National Party central secretary general Thair Shah Gardezi and central spokesperson of Awami Workers Party Nisar Shah were also present on the occasion. Abid Hassan Minto urged, that time has come to address the Kashmir issue and to lasting peace in the region by trigger it out in accordance with the wishes and desires of Kashmiri people .
He further said that one and half billion people of both countries are facing unrest, Ignorance, poverty, unemployment, religious extremism and sectarianism due to Kashmir conflict. Every year the Governments of both countries are spending a huge amount of budget on the name of national defence due to having constant/permanent tensions between Pakistan and India.
While a large number of people are compelled to live below of poverty line. Militant forces are increasing due to sustaining of Kashmir conflict in both countries for 67 years, he said adding that establishment of both countries are creating hurdles for the peace loving people and progressive democratic forces who want solution of people's issues and development of the region.
We support the round table dialogue between Pakistan and India and demand from both countries to remove hurdles among divided parts of Jammu and Kashmir for the freely movement of peoples. Abid Hassa Manto said. Pakistan Government should recognize the fully autonomous status of it's under control Kashmir and Gilgit Baltistan and call back Pakistani lent officers, he added.
He said that the government should stop to harassing the nationalists and progressive activists of Kashmir and Gilgit Baltistan, to allow exile political leadership including Sardar Shoukat Ali Kashmiri to come to their land and organize political activities by following their ideologies. The Azad Jammu & Kashmir act 1 74 should be abolished and the Government of both regions fully empower on their natural resources.
Nationalist political parties should be allowed to take part in electoral process. To address article 370 by the Government of India can provoke the violence in Indian occupied Kashmir. Till the solution of Kashmir conflict, keep the article 370 implemented/restored in Kashmir.
The only way out of Kashmir conflict is recognize the independence of Jammu & Kashmir. The collation between both parties will be a step forward towards the peace, prosperity, democracy and progress of the region. This collation will ensure counter the extremist forces those are creating hatred between the masses of Pakistan and India on the basis of religious grounds. Both parties also condemn the recent launching of sectarian groups of Pakistan towards the Pakistani administered Kashmir.
Source: http://www.sananews.net/english/joint-constitutional-assembly-for-ajk-gigit-baltistan-demanded/
URL: http://www.newageislam.com/current-affairs/south-asian-news-agency/joint-constitutional-assembly-for-ajk,-gilgit-baltistan-demanded/d/87416