By Soudhriti Bhabani
1 April 2015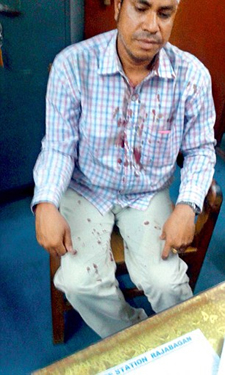 Masum Akhtar
Can the Urdu language be associated with any one religion? It seems the Mamata Banerjee government in West Bengal believes it has a close connection with Islam.
So, time and again, Banerjee and her Trinamool Congress had promised to make Urdu the second official language in those areas of the state where there are at least 10 per cent Muslims.
And after gaining power in the state the Trinamool government did just that, ostensibly eyeing the Muslim vote bank. The demand over Urdu's status was put forward during the previous Left Front government.
However, despite making promises in this regard, successive Left Front governments stayed away from the language-religion question.
The Mamata government has deviated from that and adopted a strategy that clearly showed the ruling dispensation is not averse to playing the 'Muslim card'.
To date, several initiatives have been taken by the Trinamool government to woo the Muslims in the state. From granting special status to the Urdu language to allowing an honorarium for Muslim clerics, Chief Minister Banerjee has gone the whole hog to flaunt her so-called "secular" credentials.
However, her perceived "appeasement" policy - often slammed by the Opposition parties here - has started to backfire.
The latest incident involving Masum Akhtar, a headmaster of a Kolkata madrasa, indicated that the hardline elements among West Bengal's Muslims are not keen to practise tolerance.
On March 26, Akhtar was allegedly beaten up by some Muslim hardliners here who felt that the headmaster had an agenda to malign Islam.
Akhtar had been vocal about taking stringent action against those Madrasas in the state that allegedly indulged in anti-national activities. He had written several articles in leading dailies here to share his point of view.
That, and his interpretation of historical events, didn't go down well with the far-right among the Muslims, who are increasingly acting with impunity across West Bengal.
Akhtar's Ordeal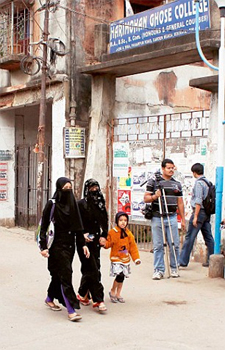 The Metiabruz locality in Kolkata where madrasa headmaster Masum Akhtar has lodged police complaints after being assaulted by Muslim hardliners
Referring to the assault on him, Masum Akhtar said he was attacked by a group of radicals who were unhappy about his writings and views.
These radicals thought Akhtar was anti-Islam, though he himself repeatedly countered that perception.
One may recall that recently in March, a football match of women players had to be called off in Malda district due to opposition of Muslim hardliners.
The Muslim clerics were opposed to women playing the game wearing "tight dresses". The local administration buckled under pressure and eventually the match was cancelled "to maintain law and order".
Observers here say that the Mamata government's "soft approach" has encouraged the Muslim hardliners to impose their diktats on several social issues. This was not the case earlier when the Communists ruled the state for 34 years, observers added.
"There is a complicated blend of religion and politics in West Bengal. A particular section of people with vested interests is actually using it for their own agenda. Those who believe in true religion will never do such things. But a group of people is using religion as a tool to fulfill their shallow political gains," said Miratun Nahar, a social activist and Muslim intellectual.
"Everyone should have the freedom of thought," she said, adding that representatives of the minority community are not free from religious customs and superstitions.
-------------
Madrasa Head Terrified After Threat Calls
By Soudhriti Bhabani in Kolkata
Masum Akhtar, a Madrasa headmaster who was brutally thrashed by a section of Muslim hardliners on March 26 for his liberal views on Islam, on Wednesday claimed that he was receiving threat calls.
"My life is in danger. My professional life is also in danger as the managing committee of the madrasa has expelled me, saying I was teaching anti-Islam ideologies. But I said no such thing which may go against my religious belief," Akhtar told Mail Today.
Akhtar was allegedly attacked by a mob led by Muslim fundamentalists, after which he was hospitalised. He claimed that he was attacked for his liberal views on Islam, which he shared through articles in leading Bengali dailies here.
Akhtar had also written an article about madrasas soon after the 2014 Burdwan blast. In his article Akhtar sought stern action against madrasas that were allegedly involved in illegal activities across West Bengal.
"I am now residing at an undisclosed location. A conspiracy has been hatched by a section of hardliners from our community who are instigating people against me by distorting facts about my teaching techniques. They misinterpreted what I taught my students about Islam at the madrasa and asked my students not to accept what I said," he said.
Akhtar lodged two police complaints with the Rajabagan police station at Metiabruz locality in Kolkata, but no arrest has been made so far in connection with the case.
Sources said a counter FIR was also registered in which it was alleged that the madrasa teacher had hurt the religious statements of Muslims.
Referring to the attack on him, Akhtar said that he did call up the Rajabagan police station as an irate mob had surrounded his school. Police arrived at the scene quite late and when they were trying to get Akhtar out of the school premises the mob attacked him. He was beaten up with an iron rod.
Asked if he spoke to the administration, Akhtar said that he had a telephone conversation with West Bengal Panchayat Minister Subrata Mukherjee.
"I also tried to speak to minister Firhad Hakim to inform him about my helpless state. But I could not reach him. However, Mukherjee assured that he would look into the issue," Akhtar added.
------------
RSS Spreading Its Wings In Bengal
By Soudhriti Bhabani in Kolkata
The Rashtriya Swayamsevak Sangha (RSS), the ideological mentor of the Bharatiya Janata Party (BJP), is fast increasing its footprints in various parts of West Bengal.
If sources are to be believed, the trend had started a few years ago but has significantly gained momentum since 2013 with people from different social strata joining them willingly.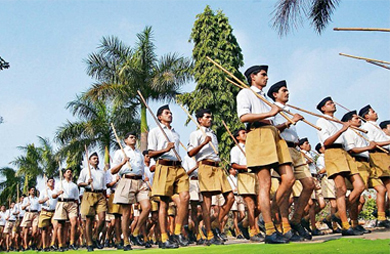 The RSS has expanded its presence across south and north Bengal
The pattern started following the Trinamool Congress-led administration's appeasement drives for the Muslims in Bengal, which virtually gave birth to various fundamentalist elements allowing them to play the religious card.
In a move to reach out to people, the RSS also devised various modules to involve people in their daily programmes.
"By nature Bengalis are argumentative. They prefer logical discussions. The young generation of Bengal has realised the politics of appeasement which is continuing for such a long period. No political party is raising any voice against it thinking of petty voting interests," RSS spokesperson (West Bengal chapter) Jishnu Basu told Mail Today.
He said no political party ever raised the issue of monthly allowances to Imams (proposed by the Trinamool government), or the issue of Madrasa education and illegal migration from the neighbouring Bangladesh to West Bengal.
"Now people have realised why we are taking about these issues, especially after the accidental Khagragarh blast in Burdwan in October last year," Basu said.
Sources said the organisation has expanded its presence across both south and north Bengal by opening as many as 1,500 branches - the figure that stood at nearly 850 just two years ago.
The RSS also opened over 1,000 Saptahik Milan (weekly assembly units) and more than 2,500 Sangh Mandali primarily in the rural outskirts.
Besides these, there is an IT wing of the RSS also which operates in Kolkata and other towns across Bengal.
This particular wing comprises IT professionals and students and there are operational at eight locations including Kolkata, Siliguri, Malda, Asansol, Durgapur, Santiniketan and Kharagpur.
http://www.dailymail.co.uk/indiahome/indianews/article-3022164/Islamic-hardliners-dictate-terms-Didi-s-Bengal-thanks-government-s-soft-approach.html#ixzz3WB6xuwED
-----
West Bengal Bans Togadia Entry
Special Correspondent
KOLKATA, April 2, 2015: The West Bengal government on Wednesday banned the entry of international working president of the Vishwa Hindu Parishad Pravin Togadia into the State stating that his closed door or public meetings would lead to "communal tension and disruption in public tranquillity."
Commenting on the development, senior BJP leader Murli Manohar Joshi said, "This is wrong, he should be allowed to enter the State."
A notification signed by State Home Secretary Basudeb Banerjee said orders under Section 144 Cr.PC had been promulgated throughout the State prohibiting entry of Mr. Togadia.
"These orders have been issued by district magistrates and Police Commissioners on the basis of information available to them," Mr. Banerjee said. According to reports, Mr. Togadia is scheduled to visit the State later this month. Last month, he was banned from entering Udupi district of Karnataka.
In January, a police complaint was lodged against Mr. Togadia and other VHP leaders at Birbhum for allegedly hurting religious sentiments and creating enmity between the communities.
Ranajit Sur, an activist of the Association for Protection of Democratic Rights, described the order as "undemocratic."
Source: http://www.thehindu.com/news/national/other-states/west-bengal-bans-togadia-entry/article7059168.ece
URL: http://newageislam.com/current-affairs/dhriti-bhabani/islamic-hardliners-dictate-terms-in-west-bengal-thanks-to-government-s--soft-approach-/d/102228