By Shoma Chaudhury
November 8, 2013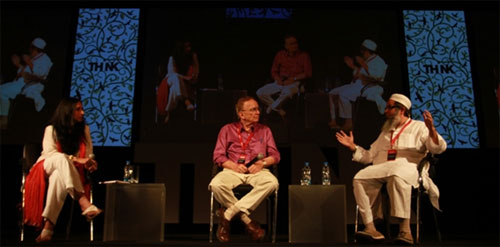 Shoma Chaudhury with Richard Eaton and Mahmood Madani Photo: Vijay Pandey
At the heart of India, simmering beneath the surface is the heated question of Islam and its place in India. Shoma Chaudhury spoke to Richard Eaton, the stalwart Islamic historian along with Mahmood Madani, the man who decided to embrace the idea of India at the dawn of partition, on the first day of THiNK 2013 in a session titled 'The Flint Stones – How Islam Changed India and was Changed by it'.
Talking about religion conversions and temple destructions by the early Muslims in India, Eaton argued that these were political acts rather than acts of religious fanaticism. He emphasized the fact that not all temples were destroyed by Mughal invaders. Only those associated with the royalty that suffered defeat were destroyed, as was the norm back in the day. "They were political, not religious desecration", said Eaton categorically.
Eaton shed light upon religion conversion stating that those lying on the peripheries were prone to conversions as they were not a part of the mainstream idea of unity and equality. He shared his belief that conversion was the wrong word to use to describe the process as it was not a sudden change. "The first person who came and preached Islam in Bangladesh was the person who came and taught agriculture and hence there was an important link between economics, agriculture and religion", he said.
Speaking to Madani, Shoma Chaudhury enquired if he felt betrayed by India looking at the plight of Muslims in the country. A fierce advocate of harmony and unity, Madani insisted that it was not just the Muslims in the country but India as a whole that has failed to reach its potential. "Though systematically targeted, Muslims in India are in a better state as compared to those living in the other parts of the sub-continent", said Madani.
And admitting that Islamic women must be treated with more respect, Mahmood declared, "India's Islam is nearest to the actual teachings of Islam. And the world needs the real Islam, one that is based on tolerance."
Source: http://www.tehelka.com/the-flint-stones-how-islam-changed-india-and-was-changed-by-it/
URL: http://www.newageislam.com/current-affairs/shoma-chaudhury/'india's-islam-is-nearest-to-the-actual-teachings-of-islam,-and-the-world-needs-the-real-islam'/d/14353