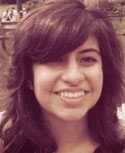 By Shibani Mahtani
Dec. 30, 2014
Sitting in a small rattan shack, Aye Khaing holds out her most-valued new possession: a pink identification card, indicating she is a full citizen of this country after years of statelessness.
Ms. Aye Khaing is one of 40 ethnic Rohingya in the area who now—in theory—have the ability to move freely around Myanmar, attend university, hold political office and enjoy other rights that were once a distant dream for the country's long-suffering Muslim minority.
Yet more than two months since receiving her citizenship, Ms. Aye Khaing and others in the pilot program haven't been allowed to leave the squalid displaced-persons camp they have called home since religious violence broke out in Myanmar two years ago.
Border guards and police, perched on watchtowers above, say that it is too dangerous for them to exit, and that they must keep the Rohingya Muslims in camps to maintain the area's security.
"It is like I am under house arrest," said Ms. Aye Khaing.
Myanmar's government is experimenting with an unprecedented program to grant citizenship to some Rohingya, among the world's most-oppressed minority groups. The effort is designed to resolve bitter divisions over the more than one million Rohingya—deeply unpopular among Myanmar's Buddhist majority—that have threatened to destabilize Myanmar in recent years and poisoned its relations with Western governments.
But the process is already running aground as local opposition spreads. A 15-minute motorcycle ride from the camp where Ms. Aye Khaing resides, members of the Arakan Women's Network, a Buddhist-rights group, has held protests with placards warning "No Rohingya in Our Land."
Many Buddhists also refused to leave their homes in protest on the day the first Rohingya got their citizenship cards in September, shutting schools and businesses.
"We cannot accept [them] as citizens," said Khin Thein, founder of the Arakan Women's group, which formed in the wake of the 2012 riots that pitted Buddhists against Muslims.
A friend of hers, chiming in, said he would kill any Muslim he sees on the street—then, with a laugh, added that he was "just kidding."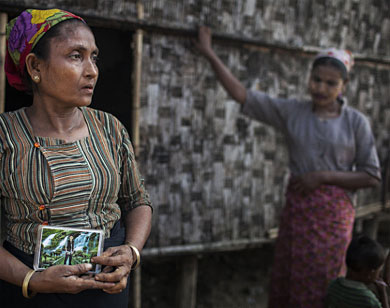 A woman in a displaced-person camp in Sittwe, capital of Rakhine state, holds a photo of her son who fled Rakhine state on a boat in October. Lauren Decicca For The Wall Street Journal
The impasse has forced the government to suspend the project—introduced so far only in the Myebon camp—until security improves.
Some critics are questioning the government's sincerity—and whether it has the capacity to protect Rohingya if the program expands. Some Rohingya are losing hope entirely, with record numbers fleeing the country by boat in hopes of finding better conditions elsewhere.
Win Myaing, a spokesman in Rakhine state, where most Rohingya live, said officials were increasing security in the area but added that it is "difficult to say" when so-called citizenship verification will restart.
The question over what to do with Myanmar's Rohingya has simmered for years since large numbers migrated to the country from South Asia during British colonial rule.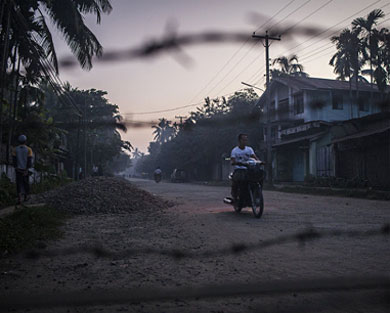 A Rakhine man enters the Aung Mingalar quarter of Sittwe, Myanmar, in November 27, 2014. Only Rakhine people can enter and leave this neighborhood freely. Lauren Decicca For The Wall Street Journal
Many Buddhists consider Rohingya Muslims as illegal immigrants who get a disproportionate share of goodwill and aid from the international community. Rohingya say they have been living there for generations and deserve better treatment.
Divisions exploded into the open with the end of Myanmar's military regime several years ago. Anti-Rohingya violence left at least 160 dead and displaced more than 140,000 Rohingya from their homes, leaving them dependent on international aid in camps like the one where Ms. Aye Khaing lives.
Their growing desperation has prompted stern warnings from Western officials, including President Barack Obama during a visit to Myanmar in November.
The Myanmar government's "failure to take adequate, let alone decisive, action has led to continued underdevelopment for the Rakhine people, a deteriorating human rights and humanitarian situation for Muslim populations. and insecurity for all," a senior Western diplomat said recently.
Myanmar's plan offered citizenship to Rohingya who could prove three generations of residence in Myanmar. The residents also had to agree to be called "Bengali" rather than "Rohingya"—a provision many Rohingya object to as implying they are from neighboring Bangladesh, which they fear could be used against them later.
The plan said those who refuse the Bengali classification would be relocated to another country, and asked for United Nations assistance to do so.
International groups have criticized the deportation goals. Still, the U.N. High Commissioner for Refugees called the residency-verification exercise a "positive step towards addressing the issue of citizenship," while calling on officials to follow through with more freedom of movement for those who qualify.
Myanmar leaders have said they would refine the plan to ensure it conforms to international humanitarian standards, but haven't said whether the deportation aspect would be changed.
The program in Myebon, a town of just 8,000 people a two-hour speedboat ride away from the Rakhine state capital of Sittwe, was designed to test the plan's workability.
State officials say 1,218 people applied for citizenship, or 93% of the camp's eligible adult population. A verification committee granted 40 people full citizenship. Some 169 others were classified as naturalized citizens, also an upgrade from their former status as foreign residents.
Myebon was expected to be a relatively easy place to implement the plan because Muslims there face unusually tough living conditions, making them more likely to go along with the government's insistence they classify themselves as Bengali.
In Sittwe, by contrast, dozens of Muslims interviewed who described themselves as Rohingya said they would not accept any government-imposed name change.
"The government has tried to convince us that if we accept the term Bengali, we will not be persecuted, but we don't believe them," said Armin, a 20-year old student there who only goes by one name. "They are trying to trick us."
The government says that accepting the Bengali classification is the only way to ensure better treatment and rights.
Back in the Myebon camp, Rohingya who cooperated with the government are getting impatient.
Aung Lwin, a Rohingya, said Rakhine state's chief minister and other senior officials have visited several times in the past six months, each time stressing they will prioritize citizenship claims.
But he said the new documents are meaningless until the government can assure their safety and let them leave their camp.
"They have lied to us," he said, surrounded by dozens of Rohingya, nodding in agreement.
—Myo Myo in Yangon contributed to this article.
Source: http://www.wsj.com/articles/myanmar-rohingya-see-little-benefit-from-new-citizenship-effort-1419983854
URL: http://www.newageislam.com/current-affairs/shibani-mahtani/myanmar's-rohingya-see-little-benefit-from-new-citizenship-effort/d/100823