By Shanoor Seervai
Mar 19, 2014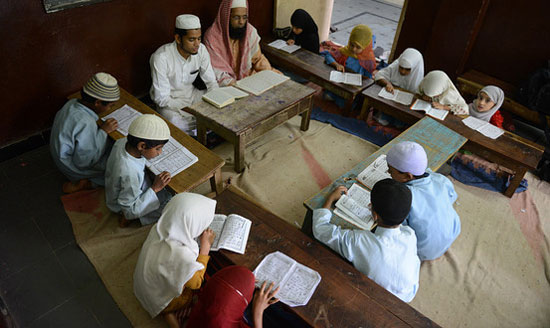 Religious law continues to trump civil law in cases related to adoption, marriage, divorce and inheritance in India. Noah Seelam/Agence France-Presse/Getty Images
When India's Supreme Court ruled in February that a Muslim woman was free to adopt despite being a Muslim, one reasonable response was "Why wasn't she allowed to do so already?"
The judges called the decision to allow civil rights activist Shabnam Hashmi to adopt a child after an eight-year court battle, "a high watermark in the development of the law relating to adoption."
In India, Islamic law, which does not recognize adoption as equal to biological parenthood, had trumped federal laws on adoption in previous cases.
The system of different laws for different religions dates back to pre-colonial times. The British, in order to establish uniform governance, developed criminal and civil laws to apply to all Indian citizens. But because religion remained such a sensitive and important aspect of personal life, the colonial rulers did not attempt to create uniform personal laws. This dual system remains in place because India still does not have a uniform civil code governing matters such as adoption, marriage, divorce and inheritance.
Sixty-five years after the Indian Constitution promised that "the State shall endeavour to secure for the citizens a uniform civil code," Muslims, Parsis, Christians, Jews, and Hindus all follow different family laws.
Activists' attempts to advocate for a uniform civil code have routinely been overridden by concerns from religious groups, who cite the freedom to practice their religion, which is a fundamental right under Article 25 of the Constitution.
Political leaders are wary of introducing a uniform civil code for fear that they will be criticized for failing to protect the rights of minority religions.
"Personal law always prevails in family matters unless it conflicts with the Constitution, or a later act," said Veerendra Tulzapurkar, a Mumbai-based lawyer.
The conflict between personal laws and fundamental rights is both a legal and sociological issue, said Mr. Tulzapurkar, adding that legal reform remains futile unless social norms about adoption, inheritance and marriage change.
In the recent adoption case, the Juvenile Justice Act of 2000, which allows all religions to adopt children, prevailed over Islamic law because it is more recent, said Mr. Tulzapurkar.
The Juvenile Justice Act is the closest India has to an adoption law, but depending on how a judge chooses to interpret it, it does not always trump personal law, said Rakesh Kapoor, a Mumbai-based lawyer.
In Ms. Hashmi's case, the All India Muslim Personal Law Board argued in court that in Islam, a child remains the true descendant of his or her biological parents even if he or she is legally under the care of someone else.
The system, known as Kafalah, is recognized by the United Nation's Convention of the Rights of the Child in cases where a child is temporarily or permanently deprived of his or her family environment.
The AIMPL said that all Child Welfare Committees, which govern adoption decisions in India, should follow the principles of Islamic Law before declaring a Muslim child available for adoption, according to the judgment.
But judges ruled that although personal beliefs and faiths must be honoured, those beliefs "cannot dictate the operation" of or "stultify" national law.
Ms. Hashmi argued in court that the right of a child to be adopted and that of the prospective parents to adopt should be protected under Article 21 of the Constitution, which offers citizens protection of life and personal liberty.
The court ruled to protect those fundamental rights instead of upholding Islamic law, in this case, but did not go as far as raising the right to adopt or be adopted to the status of a fundamental right, or to rule that the right be encompassed by Article 21.
"The fact that the court held back, [and] did not make this a law… shows that it is not trying to enter into the domain of legislation," said lawyer Mr. Kapoor. "The court concluded that it could not tamper with personal laws," he added.
In any future cases of a similar nature to Ms. Hashmi's, the Supreme Court judgment could be drawn upon, but, since the law remains the same, the ruling could also be ignored.
Source: http://blogs.wsj.com/indiarealtime/2014/03/19/why-muslims-still-cant-adopt-in-india/
URL: http://www.newageislam.com/current-affairs/shanoor-seervai/why-muslims-still-can't-adopt-in-india/d/56202