Saudi Gazette Report
14 October 2014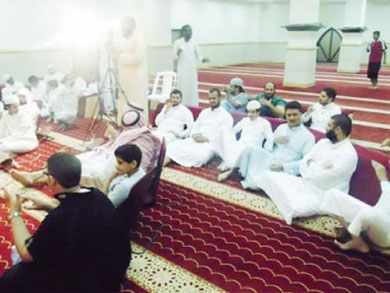 Hearing-impaired worshipers attend a special program at Khadija Baghalaf Mosque in Al-Naseem district of Jeddah. — Courtesy photo
A mosque in Jeddah that has started delivering Friday sermons in sign language and uploading them on YouTube has become a social media hit.
Khadija Baghalaf Mosque in Al-Naseem district is attended by 250 hearing-impaired people every Friday who wish to benefit from the special programs developed especially for them.
Also, these programs are being followed through social media by thousands of people from over 70 countries, Makkah daily reported.
Imam of the mosque Sheikh Abdullah Al-Ghamidi said he used to see a number of hearing-impaired people praying at the mosque, interacting with him and greeting him.
After communicating with them he found out that they did not understand what was recited in the prayer and what he said in the Friday sermons.
The program for the hearing-impaired worshipers started by providing them with an interpreter for the Friday sermon and some lessons in the mosque delivered in sign language.
The idea was expanded by delivering these lessons through social media and YouTube.
Al-Ghamidi said the program targets deaf people and relatives and teachers interested in learning sign language, as well as muezzins (people responsible for the call to prayer) and official authorities.
"Through interaction with the worshippers in the mosque I realized the suffering of deaf people and the lack of services for them.
"I also recognized the inability of deaf people's families to communicate well with them. "We thought about a program aiming to train these people."
Discussing the relationship of the mosque with this category of people, Al-Ghamdi said the mosque is an important school of life and plays a big social role.
"Also, people who cannot speak or hear do not receive a lot of support. "They represent a forgotten category of people. One does not understand their suffering except those who are close to them."
He said those in charge of the program aimed to instill Shariah teachings in people who are deaf and integrate them in society.
The aim is also to change attitudes toward the deaf in society and enhance their sporting, social, cultural and vocational skills to ultimately enable them to work.
Source: http://www.saudigazette.com.sa/index.cfm?method=home.regcon&contentid=20141013221039
URL: http://www.newageislam.com/current-affairs/saudi-gazette-report/how-a-jeddah-mosque-became-disabled-friendly/d/99565