By Sanjay Sharma
17th Aug 2013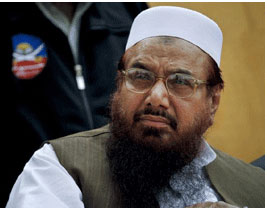 Hafiz Muhammad Saeed chief of Lashkar-e-Taiba (LeT) and head of the Jamaat-ud-Dawa
Hafiz Saeed, the chief of the banned terror outfit Lashkar-e-Taiba (LeT) and head of the Jamaat-ud-Dawa, is believed to have been told by "higher authorities" to "try politics". This new direction is being given to Hafiz Saeed's career in an apparent bid to pull him out of direct terror conspiracies. "Hafiz Saeed has been asked to plunge into politics and distance himself from all terror links," sources having access to Pakistan government, military, diplomatic and intelligence agencies, told The Sunday Guardian in Lahore.
Though officially it is not known what Saeed has been told, but sources say that he has been asked to keep off Kashmir. Sources also say that Saeed is slowly losing control over the LeT, which is now completely under Zaki-ur-Rehman Lakhvi. Lakhvi and Saeed jointly founded the LeT and were accused of plotting the November 2008 Mumbai attacks. Pakistanis claim that the LeT is now directly fighting alongside Al Qaeda in Afghanistan and has even carried out attacks on the Pakistan Army.
As the Pakistan establishment scripts Saeed's rehabilitation in politics, it is also backing JuD's flood relief activities.
Interestingly, Hafiz Saeed is himself trying to shed his anti-minority image by associating with leaders from the minority communities. His "political" rally on 14 August in Lahore saw the presence of a prominent Pakistani Sikh leader, Sham Singh. Singh has been president of the Pakistan Sikh Gurdwara Parbandhak Committee (PSGPC) several times and completed his term on 31 July. Minorities have been feeling unsafe in Pakistan and Saeed's attempt to join hands with them will help the Pakistan establishment whitewash his deeds.
Talking to The Sunday Guardian, Sham Singh claimed, "We do not have any complaints against Hafiz Saeed or Muslims. Sikhs faced the destruction of the Akal Takht and the Golden Temple in India, just as Muslims saw the demolition of the Babri mosque at the hands of Hindu zealots." Singh added that this was the first time that he joined hands with Hafiz Saeed.
Saeed's "planned shift to politics" suits Indian concerns as it has been asking Pakistan not to let its soil to be used by terrorists. Pakistan Prime Minister Nawaz Sharif had promised the same immediately after his victory.
In August, Hafiz Saeed, for the first time, promised to offer himself to a joint commission of jurists belonging to India and Pakistan to prove his innocence against terror charges. He, however, attacked India on Kashmir, for the trouble in Balochistan and the floods in Pakistan. The perception in Pakistan is that he will maintain an anti-India stance politically at a time when all major political parties are openly talking about good relations with India.
Saeed carries an award of $1 million on his head from the US for his involvement in Mumbai attacks. He has been arrested several times since the Parliament attack in India, but Pakistani courts have released him for lack of evidence.
Saeed had shown his political intentions during Pakistan's national elections earlier this year, by inching toward Imran Khan's Pakistan Tehrik-i-Insaaf (PTI).
Saeed has also been going to court against conventional politicians.
Source: http://www.sunday-guardian.com/news/hafiz-saeed-invited-to-join-politics
URL: http://www.newageislam.com/current-affairs/sanjay-sharma/hafiz-saeed-invited-to-join-politics/d/13164