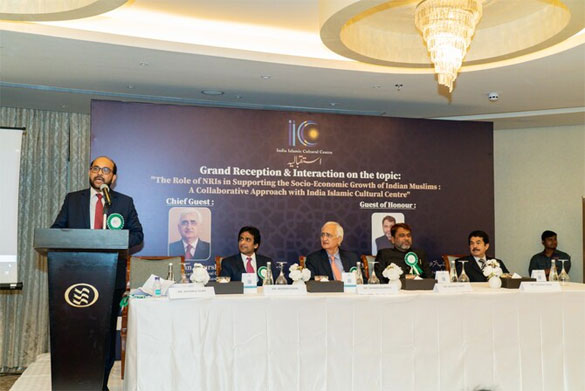 By Salman Khurshid
27 April 2020
Our fight against COVID-19 is not an option. It is an imperative that needs absolute unity of purpose and complete trust amongst all humankind. How we confront the menace will not only make a life-and-death difference to us all but will go down in posterity as our contribution to succeeding generations.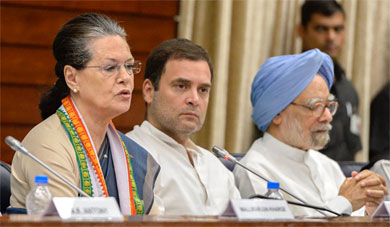 Flie photo of acting Congress president Sonia Gandhi, Rahul Gandhi and former prime minister Manmohan Singh. Photo: PTI
-----
To see some people, continue to underscore imagined communal divergence in this dark hour makes one wonder if we have decided to be suicidal. Whatever the purveyors of hate might think they are achieving by the toxicity of their discourse; it is not going unnoticed across the globe. People elsewhere might have taken to conservatism but inclusive democracy has not been repudiated entirely. Populism might lead countries to pay a price they not have anticipated but nowhere in the world will current decisions cause irreversible damage to civilisational values. Sadly, in India we are on the verge of losing our liberal moorings as we go adrift in an unfathomed sea of hate disguised as imagined victimhood, myopic minority appeasement and self-centred majoritarianism.
Having for years discouraged people from seeking exclusive community representation because of alleged communal implications, Muslim public figures are being asked to comment on and condemn real or imagined transgressions of people and organisations co-incidentally associated with their community.
The Tablighi Jamaat is an extreme case, given their mysterious credentials and character as indeed the over zealous attempts of their detractors to amplify their short-sightedness and insensitivity. Prima facie, it will be impossible to pin criminal liability given the facts that are available in the public space. Even negligence will have to be stretched somewhat to make them culpable without establishing mens rea. Of course, one person infected is certainly one too many but the figures that we hear are either grossly exaggerated or a result of concentrated testing of Jamaat members. Be that as it may, they have certainly walked into a storm and not helped themselves or the Muslims at large.
And yet the blame or responsibility most objective observers place on the Jamaat will not explain the false allegations about a guard in Defence Colony, the vegetable seller somewhere in Delhi, or the tragic lynchings that have taken place in India in the name of COVID-19. Is it not true that vendors are being warned not to enter streets if they are Muslim?
The BJP had good reason to be comfortable with its majoritarian agenda and believes it to be its guarantee for winning successive elections. Party leaders might yet be wrong on this, at least in many states. But they seem to have secured a safe haven in Uttar Pradesh, where the BSP-SP combine has handed over the state to the BJP, wiped out the Congress and squeezed themselves into a meaningless, minor presence in the Lok Sabha. The Congress has been doing badly for a while but not entirely due to the rise of the BJP. Our decline started with the riots of the 1980s and Ayodhya; the BSP and SP ruthlessly clawed our traditional vote and now with fresh rounds of violence that had an imprint of state sponsorship and Ayodhya a done deal for the BJP, we hear not a whisper from them – just as in Delhi, Arvind Kejriwal distances himself from Shaheen Bagh and JNU students, and unselfconsciously paints the Tablighi Jamaat in the darkest colours.
Congress leaders and workers who are Muslim but chose not to be mere 'Muslim leaders' are expected virtually daily to speak up against some indiscretion some Muslim has indulged in. Every report of rape and murder is read with anxiety and trepidation in the hope that the perpetrator is not a Muslim. Every assault or lynching of a Muslim makes them look around for a colleague from the majority community to speak out lest a communal colour be given. When party colleagues welcomed the judgment in favour of the Ayodhya temple, we demurred on appreciating the 'balancing' exercise by the court granting land for a mosque. When triple talaq was criminalised, we kept quiet despite having compelling arguments on why the new law was unnecessary. When Article 370 was abrogated, we pretended it had nothing to do with us, even as some young party colleagues echoed the BJP line. On the Uniform Civil Code, we remain perplexed.
Shaheen Bagh came as a burst of energy shattering pre-conceived notions but showed us how irrelevant we were to our community's aspirations. Now, as the police retaliates by resorting to vague charges of sedition and terrorism, we remain helpless bystanders.
For years we have engaged in strategic expression because we know that polarisation hurts us and our party. And then we are told that we cannot mould our community to modern requirements. Meanwhile, the community thinks it can happily bypass us and deal with the party, even the BJP, directly on a need basis.
Of late, some have even gathered under the banner of 'Indian Muslims for India First', as though we need to present our certificates of allegiance afresh. If we are of India and India is ours, why the need to say such things again and again? From Akbar to Bahadur Shah Zafar, Brig Usman to Havaldar Abdul Hamid, Maulana Azad to Zakir Husain, Dilip Kumar to Shahrukh Khan, Meena Kumari to Shabana Azmi, Ustad Bade Ghulam Ali to Amjad Khan, Mirza Ghalib to Javed Akhtar, Nawab Pataudi to Azharuddin, Syed Zahoor Qasim to Abdul Kalam, Chief Justice of India Hidayatullah to Chief Justice Badar Ahmed of J&K High Court et al, there are unending legions who never placed India any less than first.
Changes in politics and emerging social conditions have made people like us virtually unelectable. Farrukhabad, the constituency that elected me twice and even in defeat gave me more than a lakh votes, relegated me in 2019 to a position where voting for me would be a waste. But it matters not. The daunting barricades of political indifference I confront will not persuade me to look for greener pastures. Rather, circumstances force me to search for a sense of belonging in a seemingly long march to freedom from our current predicament.
India retains a place for inclusive, secular politics but we cannot secure that for ourselves if we do not believe, as is the case with some friends, that there is such a place. It is true that too many of us have seen the political world from the prism of what there is in it for us. It makes sense too, given that politics is a full-time career in our country. But ideological comfort is also about self-esteem and intellectual ambition. As ideology takes a back seat and allows transactional politics to drive us all,, we have an existential choice to make.
It matters not who the preferred soldiers are in our army of volunteers so long as we know that together we are honestly and unreservedly fighting for the Gandhian and Nehruvian vision of India. If some of our colleagues and comrades are persuaded that we need to move on to modern day machinations minus ideology, we must get rid of them, no matter their numbers, or else they must vanquish us. The battle for the Idea of India will not be lost because we chose to compromise our conscience, for other valiants will take our place. We have to choose between going down fighting for a noble cause and surrendering timorously to the ignoble trends of our times.
The fight for democracy cannot be premised on limited democracy. The imperfections of democracy, of course, must not be an alibi for ditching democracy. But equally, its imperfections should not be caused by our own weaknesses. People who assume a brave new world will unfold by itself in the post COVID-19 era should not nurture the illusion that it will be business as usual for their ambitions. Justice as fairness must inform all our actions; constitutional morality must be our guide; equal respect and consideration must be our credo. The pilot project of these building blocks of new India must be earnestly implemented in our party to make it the vehicle of transformation once again. No longer should we fear defeat and death, having seen it both from near. It is time to be re-born.
Original Headline: Unless the Congress is Reborn, It Can't Be the Vehicle for Transformation India Needs
Source: The Wire
URL: https://newageislam.com/current-affairs/salman-khurshid/our-fight-against-covid-19-needs-absolute-unity-of-purpose-and-complete-trust-amongst-all-humankind/d/121690