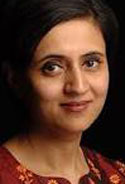 By Sagarika Ghose
August 13, 2013
'I was born Hindu, and I am a nationalist. So you can call me a Hindu nationalist.' So said Gujarat Chief Minister Narendra Modi. His social media armies call themselves "proud Hindus" and "unapologetic Hindus".
Your humble columnist has the dubious honour of coining the phrase 'Internet Hindus'.
Author Salman Rushdie has said he finds the rise of Hindu intolerance in India at the moment just as worrying as the rise of Islamic intolerance.
There is large-scale Hinduisation of popular culture, as seen in the best-selling novels by Amish on the life of Shiva, the hit TV serial Mahadev, the thronging temples, the high-decibel festivals and export-quality Hinduism in the form of yoga gurus and wellness spas.
From the ritualistic to the lifestyle statement, to the faith of million at the Kumbh, to the cultural nationalism of the Hindu Right, Hinduism today expresses itself in a myriad ways as it has done through the ages.
The assertion of majoritarian Hindu identity dominates the political space. In the cultural space the celebration of festivals has become a tad too consumerist.
We need to ask ourselves who exactly can call himself or herself the 21st century Hindu? Does Hinduism today permit any complex interrogation by those born Hindu? Is simply an RSS-style assertion of 'national identity' taking the place of a realistic appraisal of what Hinduism means, what it should mean, in the modern era?
After all, traditions are best kept alive if revitalised for newer generations. Apart from the politics, at an individual level, it seems as if we are still in search of the 21st century Hindu.
Books, articles, paintings, interviews on Hindu themes are inevitably met by vociferous attacks from the Hindu Right seeking to 'protect' Hinduism.
But is this continual protest, actually preventing Hinduism from being popularised, from being thrown open to newer and younger audiences?
The repeated attacks and persecution of writer and scholar Wendy Doniger is a case in point. Historian Ramachandra Guha, who recently wrote on the need to revive the reformist spirit of Hinduism, was similarly denounced on the Internet as the 'anti Hindu' ravings of the Macaulayputras.
Apart from the politics of Hindu assertion, surely there is a need to evolve a charter of the modern Hindu, for whom pride in his faith and traditions can co-exist with the needs of a modern multi-faith democratic society.
Today there are protests by Hindu outfits against western culture, against art exhibitions, against films, plays, books and authors.
Given this culture of incessant protest and outrage, few of us Hindus stop to think whether the religion of our birth has been reduced to a banner of protest against Islam, against westernisation, and against so-called pseudo-secularism.
Why are many of those who declare they are Hindu perpetually offended?
Today, Hindus may carry out Pujas and pilgrimages with a vengeance, but how many of us actually examine what our religious beliefs actually are? Do festivals centred exclusively on male relatives need to be questioned? Do hymns like the Purusa sukta embody social hierarchy?
Individual spiritual leaders may provide welfare, solace as well as knowledge of yoga. But on an intellectual level, on caste, meaning of rituals, what gods exemplify, what temples stand for, what mantras mean, there is so little intelligent examination, exploration or even curiosity.
Should Sabarimala allow women? Do the teachings of Hinduism carry within them an imperative to interrogate caste? Does the dialogue of Gargi and Yajnavalkya show how we must question preconceived notions? How do we interpret the killing of Meghnad in the Ramayana from the viewpoint of morality?
How can the relationship of Ram and Sita be interpreted in a modern context? What are the environmental lessons to be drawn from the notion of the pilgrimage? Should a pilgrimage become raucous mass tourism? Or is pilgrimage about hardship, solitude and a retreat from the world?
The multilayered Ramayana story has hardly been examined in a modern light, or been allowed to be explored in films and theatre again because of the fear of the Hindutvawadis.
The persona of Ravana may have been adopted by the Dravida movement, the persona of Ram may have become an article of faith as well as politics, but how can Ram and Ravana talk to a modern citizen? What does Hinduism say about love, ambition and family?
Caught between unthinking ritualism, western style exoticisation and the culture of often violent political protest, an exciting wealth of wisdom contained in Hinduism's legends lies untouched, prohibited by political gatekeepers and the culture police from being enlivened and re-interpreted for a new generation.
How enriched our popular culture would be if Bollywood was free to mine the stories of Bhim or Sita for a modern young audience. Will the Hindu Right ever permit a Ramayana equivalent of Jesus Christ Superstar?
Tragically, even a scholarly work like Ramanujam's essay Three Hundred Ramayanas was attacked by outfits seeking to 'protect' Hindu culture.
The modern Hindu is denied the freedom to re-interpret and interrogate his religion because of fear.
As a journalist in Delhi, I report daily on Hindu nationalists and Hindutva politicians. But reporting from Sabarimala, Jagannath Yatra, Kumbh Mela and Kalighat temple, I find that the avalanche of legends, practices, shrines, stories totally dwarf the politics played in their name.
It's time to try and liberate Hinduism from politics, identity and perpetual protest, and delve instead into its plurality of doctrines, stories and dilemmas.
There's no reason why explorations in Hinduism should not be a serious input into modern debates on caste, environment, sexuality and gender rights.
To give Hinduism new life, the modern Hindu should resist simply remaining a political Hindu.
Sagarika Ghose is Deputy Editor, CNN-IBN
Source: http://www.hindustantimes.com/editorial-views-on/SagarikaGhose/Look-beyond-politics/Article1-1107770.aspx
URL: http://www.newageislam.com/current-affairs/sagarika-ghose/look-beyond-politics/d/13041