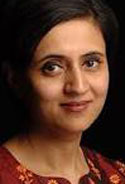 At a Tipping Point
By Sagarika Ghose
July 09, 2013
Whatever the proof, or the lack of it, on Ishrat Jahan's terrorist links, the case has the potential to expose the ugly side of policing in a state that prides itself on governance
When a woman is assaulted or killed, inevitably her morality is in doubt. The Park Street rape victim was 'asking for it' because she was fixing a deal with her 'clients'.
When Jessica Lall was killed at a Delhi party, defence lawyer Ram Jethmalani argued that Jessica Lall had insulted the 'manhood' of her murderer Manu Sharma.
Ishrat Jahan was, according to the CBI charge sheet, abducted, sedated, confined and then killed in cold blood by officers of the Gujarat police.
Once again, the morality brigade asks what a 19-year-old girl was doing travelling with a male companion and what is possibly wrong if a 'terrorist' was murdered in cold blood?
The killing of Ishrat seems to satiate the inner beast of a middle class stupefied by the narrative of terrorism, violence and power. We have collectively forgotten that only a court can rule who is a 'terrorist', not politicians, police or media.
The 'encounter killing' or the 'fake encounter' is an obscenity that should be unacceptable, indeed repugnant to a civilised society. They are criminal acts of bad policing.
Only a society mesmerised by perverse fantastical machismo lends moral sanction to policemen killing suspected 'terrorists' on the street.
Yet the encounter killing in India, horrific as it is, when located in the context of insurgency, civil war and the underworld, has been seen as an effective instrument of the law. '
Encounter specialists' like Daya Nayak and Pradeep Sharma of the Mumbai Police, apparently responsible for the deaths of criminals of the Mumbai underworld, were part of the Mumbai Encounter Squad created to eliminate criminals. Bollywood films Ab Tak Chappan and Department, loosely based on Daya Nayak, have created an unthinking brutal cult of spurious heroism around Dirty Harrys, who killed or were forced to kill without due process of law.
In insurgency-hit regions of Punjab, Kashmir and the North-East, 'fake encounters' and encounter killings are seen by many as legitimate acts of law enforcement.
When Maoist ideologue Kishenji was killed in an encounter in Jungle Mahal, it was seen as a result of the war raging between security forces and armed rebels, so was the 'encounter killing' of Maoist leader Azad. The shocking fake encounter in 1997 in Delhi's Connaught Place, when two businessmen were gunned down by the Delhi Police on the mistaken assumption that they were gangsters, was an act of murder by cops and led to 10 police officials and assistant commissioner SS Rathi being sentenced to life imprisonment in 2007.
Thus 'encounter killings', illegal as they are, have differing levels of sanction given the nature of the context. A 'fake encounter' in an insurgency-hit zone is often seen as a policeman's right to self-defence.
But Ishrat Jahan is not like any other encounter death so far in India. Reams of media coverage on Ishrat's life, social media debates, a poem entitled Ishrat by well-known Hindi poet Laltu, interviews with Ishrat's family, her sister's press conference, have conferred on Ishrat a 'personhood' that so far no anonymous encounter victim in the North-East or Kashmir has had.
The faceless man Salar, killed by the UP police after the Varanasi blasts of 2006, is not Ishrat. Kishenji is not similar to Ishrat. The two businessmen killed in Connaught Place, before the 24X7 media revolution, are not Ishrat either.
The argument that encounter-killings-happen-in-India-so-why-single-out Ishrat Jahan, somehow does not hold for many reasons. Why is Ishrat's killing not just another fake encounter? First, the context is very different. Peaceful Gujarat is not insurgency-hit Kashmir or Punjab.
Second, the visibility of Ishrat's family, the fact that her mother and sister are giving their version of events, has made Ishrat a recognisable person, not just an unknown statistic of a distant encounter. A 19-year-old urban college student, the sole breadwinner of her hand-to-mouth family, who goes on a trip with an old associate of her father's, apparently in a bid to earn a little extra cash in her holidays, is surely recognisable, even identifiable for the urban middle class.
Third, Ishrat's case has been inspiringly and systematically monitored by the judiciary. Once Ishrat's mother, Shamima Kauser, filed a writ petition in the High Court of Gujarat seeking the registration of an FIR against the rogue policemen, the Division Bench of the high court monitored the case with determination.
SP Tamang, the stout-hearted Gorkha, conducted a magisterial enquiry into the Ishrat case and, in a remarkable 243-page handwritten order, concluded that the encounter was fake and that 21 policemen should be held responsible.
The Ishrat Jahan case has come this far not because of the Congress' obsession with Modi, but because of the judiciary and activists who pursued the case.
Whatever the evidence, or the lack of it, on Ishrat's Lashkar/terrorist links, the fact that so many senior Gujarat police officers are accused of murdering a moon-faced teenager from Mumbra, has the potential to expose the ugly side of policing based on violence and prejudice in a state that prides itself on governance.
The Congress and the BJP must not play politics over the dead body of Ishrat Jahan. The CBI and the IB must stop selective leaks in order to discredit the other. Instead, there must now be a national catharsis on encounter killings by letting the law take its course.
What is a tipping point? A tipping point changes the discourse on an issue. A tipping point is when the feeling arises, however subliminally, that enough is enough. A tipping point shatters the manufactured consent and introduces an element of doubt in prevailing prejudices. A tipping point is reached when the high and mighty can no longer escape the law.
Like Jessica Lall, like Delhi's Braveheart, Ishrat Jahan too is a tipping point in that repulsive reality known as the 'fake encounter'.
Sagarika Ghose is Deputy Editor, CNN-IBN The views expressed by the author are personal
Source: http://www.hindustantimes.com/News-Feed/Columnists/At-a-tipping-point/Article1-1089725.aspx
URL: http://www.newageislam.com/current-affairs/sagarika-ghose/like-jessica-lall,-like-delhi's-braveheart,-ishrat-jahan-too-is-a-tipping-point-in-that-repulsive-reality-known-as-the-'fake-encounter'/d/12531