By Saeed Naqvi
May 25, 2014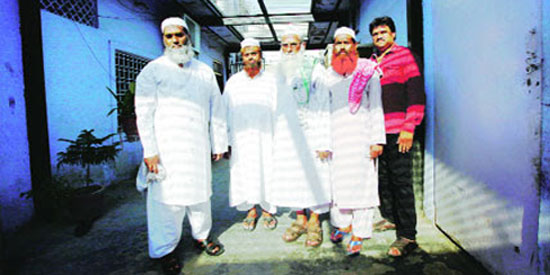 Five of the six men who were freed by the court in the Akshardham temple terror attack case in Gujarat, in New Delhi on Tuesday. Tashi Tobgyal
Just when the nation was preparing itself for Narendra Modi's swearing in ceremony on Monday, all Indian newspapers published a story the Prime Minister must find time to read.
It is a story of Mohammad Saleem and five others set free, after 11 years in jail, by the Supreme Court for having been falsely implicated in the Akshardham temple attack case. In fact the police had earlier offered them a choice: would they like to be charged for the Godhra train burning, Haren Pandya's murder or the Akshardham attack? This is exactly what the six said at a press conference in New Delhi on 20 May, implicating the state.
Can we persuade the Prime Minister to ensure action against officials who, by their callousness destroyed so many lives?
The story was fresh in our minds when the very next day, on 21 May, another saga began of Muslims being arrested. The story on page one of the Hindu and other newspapers read: "The National Investigation Agency on Wednesday claimed to have unravelled the conspiracy behind last year's Patna and Bodh Gaya blasts with the arrest of four persons (one a juvenile) on Tuesday. In the past seven months the NIA has arrested 14 suspects.
"Those arrested include the top fugitive Haider Ali, alias Black Beauty who carried a reward of Rs. 10 lakh on his head."
He was the link between the Students Islamic Movement of India and the Indian Mujahideen.
"Haider Ali was arrested along with Mojibullah Ansari. Their disclosures led the agency to Numan Ansari. Other arrests are Tehsin Akhtar, alias Monu and Waqas (Pakistani national and alleged bomb making expert)."
This strange amalgam of names, aliases, frightening job descriptions, nationalities etcetera, the entire story has been attributed to the NIA chief, Sharad Kumar, who has been quoted in inverted commas.
With lightning speed, the 7/11 serial train blasts in Mumbai have also been solved. Page one of the Indian Express carries the story as an anchor. It is a miraculous sequence of cases cracked just days before the swearing in. Strange, unlikely names tumble down.
One had to grow up in old Lucknow to know the difference. The best perfume manufacturers of Awadh were Asghar Ali-Mohammad Ali, but the best tobacconist, particularly manufacturers of tobacco for the hookah or hubble-bubble, were Mohammad Omar-Mohammad Siddiq. It is elementary that the first set of names is Shia and the rest, Sunni.
Obviously, sleuths on NIA payroll have had no such drill. In the Patna and Bodh Gaya blast cases, a Shia name, Haider Ali, has been listed along with patently Sunni names. Is there a Shia-Sunni joint assault on India? Nothing like it has happened anywhere in the world. Two years ago, when Mohammad Ahmad Kazmi, an unabashed Shia, was detained for being an Iranian agent, who was allegedly involved in an attack on the car of an Israeli embassy employee, his religion was given as "Sunni" by the police in the First Information Report. And it was an extremely high profile case.
My petition to the Prime Minister would be simple: those convicted in acts of terrorism must be severely punished. But we must avoid at all costs the lengthy media trials which end in no convictions.
In these cases, officials must be penalised for callousness. Media trials implicating innocent Muslims lead to a sense of helplessness, a total alienation of the minorities. They begin to see the establishment as their enemy. The majority community, on the make in the neoliberal environment, finds the minorities an irritating distraction, spoilsport, anti national.
Jamia Teachers Solidarity Association has compiled a remarkable book, Framed, Damned, Acquitted: Dossiers of a Very Special Cell, under the UPA. It is a catalogue of court judgements which acquit Muslims who have been framed and detained, sometimes in excess of decades for crimes they never committed.
Nothing in recent history has aggravated communalism more than these media trials, particularly the ones which run into a dead end. All that the state has to do is to restore the decencies which conditioned Indian journalism a few years ago. Names were never published or announced on TV unless the accused had been proved guilty.
If the new government can help clear up the unholy mess left by the Congress and the UPA on this score alone, Muslims will be freed from the anxiety and fear they live in.
Saeed Naqvi is a Distinguished Fellow at the Observer Research Foundation and a senior journalist.
Source: http://www.sunday-guardian.com/analysis/to-gain-muslim-confidence-discard-upa-tokenism
URL: http://www.newageislam.com/current-affairs/saeed-naqvi/to-gain-muslim-confidence,-discard-upa-tokenism/d/87181
Related article:
'They asked me to choose: Godhra, Pandya or Akshardham'
Summary:
Acquitted by SC, Akshardham attack accused say they were framed by Gujarat Police.
Written by Abantika Ghosh , Muzamil Jaleel | New Delhi | May 21, 2014 12:50 am
Gujarat Police gave him the "choice" of being implicated in the Godhra train burning, Haren Pandya murder and Akshardham terror, one of the men acquitted by the Supreme Court in the temple attack case alleged on Tuesday.
Mohammed Saleem was eventually sentenced to life under POTA for involvement in the Akshardham case.
On May 16, the day Prime Minister designate Narendra Modi won his historic mandate, the Supreme Court set Saleem and five others free, pulling up the Gujarat Police for framing innocent people, and blaming the then home minister — Modi — for "non-application of mind". Four of the six men had already spent over 10 years in jail.
"I had been working in Saudi Arabia for 13 years, when they picked me up alleging there was a problem with my passport. They beat me brutally — I still have scars on my back, and I suffered a fracture in my foot. They asked me which case I wanted to be charged under — Akshardham, Haren Pandya or Godhra. I did not know what to say," Saleem told a press conference addressed by five of the six men in Delhi.
Saleem's daughter was born four months after his arrest. He picked her up in his arms for the first time only after his release — the child is 10 years old now.
The world of Abdul Qaiyum Muftisaab Mohammed Bhai alias Mufti Abdul Qaiyum has changed completely in the 11 years that he spent in jail. His father is dead, and his family no longer lives in their old home. His acquittal by the Supreme Court, Qaiyum said, was "mere release from prison; justice had been buried at every moment in these 11 years".
to help us personalise your reading experience.
Qaiyum said the main charge against him was that two letters recovered from the two fidayeen killed in the terror attack had been written by him. He was framed, Qaiyum alleged.
"For three days and nights, they made me copy a letter that they had given me. They (the police) would bring an expert each day to check whether I had copied it well. They would ask me to copy the turns and twists of the Urdu letters so that they looked exactly the same as in the letter. I was very afraid, and did what they told me to do," he said. "Then they claimed in court that I had written the letters."

Qaiyum said that in jail, he met the police officers who had framed him, and asked them why they had done so. "I met G L Singhal. Though they (police officers) were kept separately, we sometimes bumped into each other. I told him (Singhal): 'Please tell me why did you do this to me.' His young son had committed suicide, and that had made him feel what grief was. He had no answer."

Arshad Madani, president of the Jamiat Ulama-i-Hind which organised the press conference, said, "I am willing to talk things over with anybody to ensure such things do not happen, but I fear that there is a real chance that this will actually happen more often."
He said the Jamiat would approach the Supreme Court to seek punishment for the officers who had framed the men. "Supreme Court and judiciary is our last hope. The government and the media have been biased, and an atmosphere has been created in which every Muslim is seen as a terrorist," Madani said
Source: http://indianexpress.com/article/india/gujarat/they-asked-me-to-choose-godhra-pandya-or-akshardham/
URL: http://www.newageislam.com/current-affairs/saeed-naqvi/to-gain-muslim-confidence,-discard-upa-tokenism/d/87181