By Sadia Dehlvi
28 Mar 2014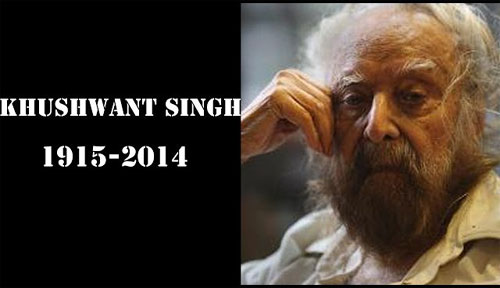 "Rau Mein Hai Raksh-e-Umar Kahaan Dekhiye Thamey, Nai Haath Baag Par Hai Na Pa Hai Rakaab Mein…I am on my way out, it is time for me to go, I know it. I would not be surprised if it happened any day now". This was one of my last conversations with Khushwant. When I said that we were not ready to let him go, he laughed. "Main Ne Bade Miyan Se Ijjazat Maangi Hai Ke Ab Mujhe Bula Lo, Par Woh Kehta Hai Ke Abhi Kuch Waqt Theher". Then he recited another Ghalib favourite, "Go Haath Main Jumbish Nahin, Aankhon Main To Dam Hai, Rehne Do Abhie Saghar o Meena Mere Aagey".
Nott missing his peg of single malt whisky the previous evening, mentally alert till the end, Khushwant breathed his last on the afternoon of March 20th. The end came after lunch as he lay down for his routine afternoon nap. He had told me he wished to go away in his sleep, just like his brother had gone some months ago. Khushwant went just as he wished to go. There was a media frenzy outside the home. In the drawing room, the famous 'evening durbar' was full of family and close friends. Sonia Gandhi, Manmohan Singh and some other dignitaries came to bid him farewell. Khushwant would have called it a 'Tamaasha', but would have certainly loved all the attention!
According to his wishes the doctor was taking his eyes away for donation
I wept as they readied him for the final journey. His bedroom door was closed, as according to his wishes the doctor was taking his eyes away for donation. I thought of how difficult it would be for me to come here again. The house with that famous sign: 'Please do not ring the bell unless you are expected.' I had broken that rule hundreds of times. One of the few allowed to do so. Though I never rang the bell on these occasions, choosing to slip in from the kitchen entrance instead. Recently, when I had popped in to give him a hug, he said, "I was expecting you". "Really?" I replied, "I did not tell you I would be coming". He smiled, "I am always expecting you, Jaldi Jaldi Aya Kar, I don't have much time". The words continue to ring in my ears.
I realize how fortunate I am to have had such an extraordinary friend for more than thirty years. Khushwant impacted my life in so many ways, becoming the mirror of my conscience. I often asked myself if Khushwant would approve of my actions, before taking small or big decisions.
"I never turn away a Muslim or Pakistani from my door"
I have lost my best friend, mentor and Humraaz, my secrets gone with him. Indian Muslims, Pakistanis and secularists too, have lost their best friend. Khushwant often reiterated, "I never turn away a Muslim or Pakistani from my door. My house is always open for them". He pleaded the case for good relations, questioning why visas were needed to visit relatives and friends across the border. Remembering his last visit to Hadali, his ancestral village in Pakistan, Khushwant would become emotional, 'Mai to Hajj Kar Aya. Mera To Makkah Pakistan Mai Hai'.
When Muslims visited him, he would proudly show them the Islamic symbols all over his house. A small round wooden piece with an "Allah" calligraphy that he picked up in Tunisia forty years ago. The wooden panel on the passage to his bedroom with the calligraphy, 'La Ilaha ill al la Muhammad Rasool Allah' on it. If invited for a meal, he would assure Muslims that his food was 'halal', and that the family butcher was a Muslim. He would happily tell them how he would listen to the recitation of the Quran and its meaning from a radio station in Pakistan each dawn. The cream curtains in the house have 'Assalam-u-Alaikum, Valaikum-as-Salaam' in black calligraphy all over them.
His affection and soft corner for Muslims often earned him the wrath of Hindu fundamentalists. He enjoyed their abuse and continued to write against any form of religious intolerance. The Fundoos, as he would say, really bothered him. Muslims too, recognized he was their friend and hundreds would write to him. Till sometime ago, Khushwant would reply to each letter individually. Once he read out a letter to me in Urdu from a Muslim fan, who wrote that since Khushwant knew so much about Islam and was such a good man, it would be a pity if he went to Jahannum. With all sincerity, the fan advised him to become a Muslim!
About two months ago Khushwant told me he wished to give a cheque towards the rebuilding of Babri Masjid. "I wish to set an example as a Sikh contributing to the rebuilding of the mosque".
Reflecting on his life, Khushwant said, 'I have written around a hundred books. As writer and columnist I have never missed a single deadline in my entire career.' He added, 'In all my life I have never asked anyone for a favour or an award'.
Over our last meetings he would tell me how reading Ghalib had become his passion and evening companion, the Diwan always by his side. We often discussed death, which continued to fascinate him. He affirmed that he was not an atheist, but an agnostic. 'I don't know', he would repeat. Despite his disbelief in a defined God, Khushwant lived his life with a God-consciousness that is rare. I knew no one more generous, kind, genuine, humble, truthful and compassionate. A man who touched the lives of millions, those he knew and those he never knew.
Source: http://www.thefridaytimes.com/tft/farewell-my-friend/#sthash.A6eVEvW0.dpuf
URL: http://www.newageislam.com/current-affairs/sadia-dehlvi/farewell,-my-friend…/d/66320